September 20, 2021
Posted by:

Love Uganda Safaris & Tours Ltd

Category:

Blog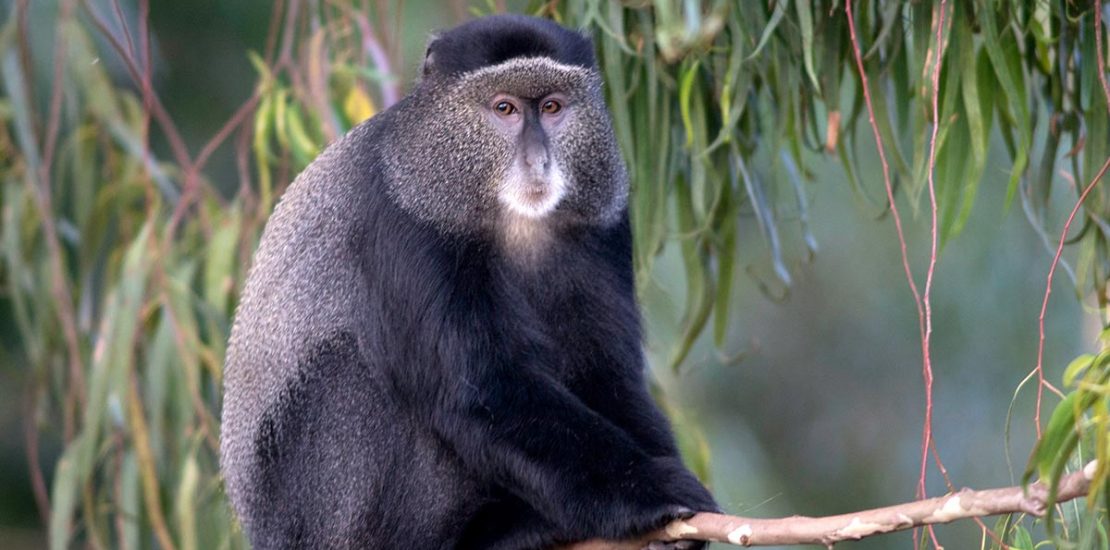 Everything that you need to know about Uganda primate safari
Uganda has continually taken up ownership of its title as "the pearl of Africa" with evident natural beauty. And a primate safari in Uganda is nothing less than a captivating adventure. The bountiful wildlife species in the Uganda national parks are one of the major attractions that the Pearl offers. The big five game together with other wildlife species makes up the pearl a perfect sport for wildlife lovers.
Are you passionate about seeing mountain gorillas, chimpanzees, Columbus monkeys, and many other primate species? Uganda is the favorite African destination that you should look up to. Uganda's top forest national parks such as Bwindi Impenetrable national park, Kibale national park, and Mgahinga gorilla national park have been the best primate destinations in Africa and the world as a whole. Uganda is home to the majority of endangered primate species some of which have been put on the Red list since they are on the verge of extinction.
Why you should embark on a Primate safari in Uganda.
Embarking on a primate safari in Uganda gives you the best primate safari experience with the major highlights being gorilla trekking, chimpanzee tracking, and golden monkey trekking. It is an opportunity for you to spend time with some of the world's most elusive species. It is important to note that for some of these primates, the remaining big numbers are found in Uganda. For instance, Uganda has three-quarters of the remaining mountain gorilla population in the whole world.
These gorillas can be found in what is known as the Virunga Massif which is a chain of 4 national parks stretching from Uganda via Rwanda to the Democratic Republic of Congo. The parks that make up the Virunga Massif are; Bwindi Impenetrable national park, Mgahinga gorilla national park (found in Uganda), Volcanoes national park (found in Rwanda), and Virunga national park (found in the Democratic Republic of Congo.  These national parks' beauty is framed by a chain of volcanic mountains which include Mt. Nyiragongo – the most recent and active volcano in Africa.
The beauty of a Uganda Primate safari
The beauty of embarking on a Uganda primate safari is that they can easily be combined with wildlife safaris across Uganda, Rwanda, and the Democratic Republic of Congo.
Additionally, gorilla trekking and chimpanzee trekking on a Uganda primate safari gives travelers an opportunity to spend one hour in the presence of these beautiful apes upon encountering them. It is such a spectacular moment that every Ugandan travelers talk about. You get to watch gorillas and chimpanzees play, mate, dine and on occasionally fight especially adult males. Male mountain gorillas (silverbacks) fight over dominance and territories. Imagine spending time with these apes!
Lastly, Uganda chimpanzee and gorilla tracking permits are relatively cheap. Compared to how much money and time is invested in the conservation of the habitats and these primates, gorilla and chimpanzee tracking permits are relatively cheap and affordable.  In Uganda Chimpanzee tracking permits go for USD 200, 150, and UGX 150,000 only for foreign non-residents, foreign residents, and members of the East African Community respectively as of January 2023. On the other hand, gorilla trekking permits go for USD 700 600, and UGX 250,000 only for foreign non-residents, foreign residents, and members of the East African Community respectively as of January 2023.
Primate destinations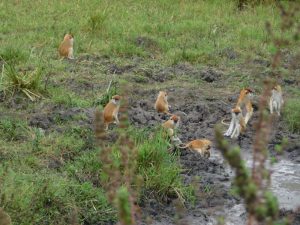 Besides the wild game, the sight of the primates of the pearl is not be forgotten on a Uganda safari. Uganda has six major primate destinations located in the western circuit of the country. The beauty of these primate destinations is that they can all be combined in a single Uganda safari. Using an expert tours operator such as Love Uganda safaris and tours gives you a chance of designing your safari in the best way possible. We are here to advise you where to go and what to do during your Uganda primate safari.
Bwindi impenetrable national park
Located in western Uganda Kanungu district, is the famous home for gorilla primates of Uganda – Bwindi Impenetrable national park. The major highlight for tourists the visit this national park is gorilla trekking.
The different gorilla families of the park are located in the four sectors of the Bwindi forest. These include Buhoma, Rushaga, Ruhija and Nkuringo sectors. The primate experience in these sectors in unmatched to any in the world, little wonder it has been described by many travelers as a "once in a lifetime" safari experience. Visiting any of these sectors gives you an opportunity to venture into the life of mountain gorillas. Mountain gorillas are more like human beings since they live in families, they can live up to 50 years, they do not attack unless provoked, their body structures resemble that of a human being, they are herbivores and eat insects to change diet and they are spread and contract human illnesses such as flue, and Ebola. In other words, mountain gorillas share 99.4% of their DNA with human beings.
Gorilla trekking in Bwindi Impenetrable national parks starts with a briefing for 30 minutes and kicks off at 8:00 am. It can take 2 to 8 hours per day. Only eight people are allowed to trek mountain gorillas in a single day.
Other than mountain gorillas, Bwindi Impenetrable national park is home to other primate species such as monkeys. The park has a variety of birds and on a lucky day, one can spot forest buffaloes.
Bwindi Impenetrable national park is famous for cultural safaris which involve visiting the Batwa communities. The Batwa community tour is a blessing in that it offers traditional cultural encounters such as traditional dance, making fire, local beer brewing, and hunting, to mention but a few.
Mgahinga gorilla national park
Located near Kisoro district in western Uganda, the Mgahinga gorilla is Uganda's second gorilla destination. It has only two habituated gorilla families available for trekking in its forest that is Nyakagezi gorilla family and the Hirwa gorilla family. The first one is the ancient dweller of the park and the Hirwa gorilla family came from Rwanda's Volcanoes national park. It was habituated in 2019.  Other primate species can be easily seen in the forest of Mgahinga gorilla national park as well.
Kibale national park
Dubbed as the "primate capital of the world" is Kibale national park home of abundant primate species. Chimpanzee tracking in Kibale Park is a no-miss when visiting this primate-filled area. There is higher visibility and tracking of chimpanzees in this national park compared to other primate destinations in Uganda.
Other primates in Kibale include L'hoest monkeys, red Colobus monkeys, Grey checked mangabeys, red-tailed monkeys, black and white Colobus monkeys, etc. Not forgetting the olive baboons.
During a safari to Kibale national park, do not miss visiting the top of the world and enjoying spectacular views of the surrounding areas such as the crater lakes region and the Rwenzori Mountains. The park is also a prime birding destination, especially in the areas of Bigodi wetland.
Near Murchison falls national park in northwestern Uganda, is another primate destination of the pearl known as the Budongo forest. Chimpanzee tracking is the most prominent activity that takes place in this forest. The densely populated forest with giant mahogany trees and other fauna favors the primates such as chimpanzees. This area is not yet recognized as part of Murchison falls national park but the plans are in the making. It can be easily combined with a safari to Murchison falls national park which is the oldest and biggest national park in Uganda. It is also the home of Murchison Falls – the strongest waterfalls in the world. A visit to Budongo forest for a primate encounter can enhance the safari experience at Murchison Falls National Park.
Kyambura gorge
The Kyambura Gorge which lies northeast of Queen Elizabeth national park is yet another chimpanzee destination together with Kibale and Budongo forests.  The thick, dense forested gorge in Queen Elizabeth Park offers the chimpanzee tracking activity on a primate safari in Uganda. Compared to the previously mentioned primate destination, Kyambura Gorge is small in size but never in experience. It is usually combined with safaris to Queen Elizabeth national park – the Medley of Wonders and the home of the rare tree-climbing lions.
The chimpanzees and other primates in the Kyambura Gorge are somehow hard to spot due to the thickness of the forest. Tracking chimps in this area is quite different from all other mentioned places. However, the more challenging the activity, the more rewarding it gets. By the time you land on the apes, you will have explored all the diverse species within including trees, birds, and insects, to point out just a few.
Nevertheless, to complement a wildlife visit in Queen Elizabeth national park, an en route visit to Kyambura Gorge surely rewards from the breathtaking views of the gorge to the nature walks.
UWEC
The Uganda wildlife conservation education center cannot be forgotten when mentioning primate destinations in Uganda.
A lot of wildlife and primates are located at the center. A simple excursion in a day is enough to sight all the primate species at the Uganda wildlife conservation center. Primates at this center include the red-tailed monkey, the common Patas monkey, the olive baboon, Rwenzori black and white Colobus as well as chimpanzees.
The Uganda Wildlife Education Center (UWEC) was established to preserve Uganda's elusive species as well we as be a demonstration center for wildlife conservation in Uganda and the whole world. It is here that you can get a chance of seeing the Bengal tigers in the whole of Africa except South Africa. Click here for more information about Bengal Tigers in Uganda
Ngamba Island Chimpanzee Sanctuary.
Ngamba island chimpanzee sanctuary is another home to the chimpanzees in Uganda. An up-close encounter with the 49 chimpanzees of the sanctuary is a rewarding experience while on this island. This sanctuary was established purposely to restore life to chimpanzees that have fallen sick or lost their mothers at a tender age. All Vulnerable chimpanzees are taken care of here. When they are ready to survive on their own, they are taken back to their natural habitats.
Visiting the sanctuary will give you an opportunity to learn some of the touching stories concerning these chimpanzees. You will realize that being an orphan is not a problem to human beings only but all the creatures in the world.
Permits Costs
Primate safaris in Uganda are available whole year round. Tourists interested in gorilla, chimpanzee and golden monkey tracking are requested to possess paid permits to engage in these activities.
Here's one valuable tip; purchase gorilla tracking permits in advance of travel to avoid sell-out disappointments.
Prices of Gorilla permits for Mgahinga Forest and Bwindi Impenetrable Park;
NFR – non-foreign residents permits cost $700,
FR – foreign residents costs $600
EAC – East African Community 250,000ugx
A chimpanzee tracking permit in Kibale national park costs as follows;
NFR – non-foreign residents permits cost $200,
FR – foreign residents costs $150
EAC – East African Community 150,000ugx
What else can I do on a Uganda Primate safaris?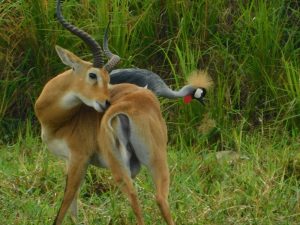 Embarking on a Uganda Primate safari does not mean that you will not do any other safari activities. There are hundreds of safari tour experiences that you can do alongside a Uganda primate safari. For instance, you can do Cultural tours. Visit the Uganda Equator, horseback riding safaris (in Lake Mburo national park). Lion tracking, hot air balloon, experiences at the source of the River Nile. Visit Ziwa Rhino Sanctuary, hiking to the top of the falls, mountain climbing. Guided nature walks, birding safaris, white rhino tracking, Kampala city tour, visiting religious sites, etc. The list is endless.
Combining such safari activities may be quite challenging. This is why you need an experienced tour consultant from a safaris company that can make your plan easier and have the best Ugandan experience.
Uganda is a habitat of over 20 primate species distributed beautifully across the country. Primates in Uganda include; eastern mountain gorillas, golden monkeys, chimpanzees, white and black Colobus monkeys, L'hoest monkeys, and vervet monkeys.  Others include olive baboons, red-tailed monkeys, blue monkeys grey checked mangabeys, patas monkeys, De Brazza's monkey, and the bushbaby.
For enquiries contact us