May 17, 2017
Posted by:

Administrator2

Category:

Wildlife News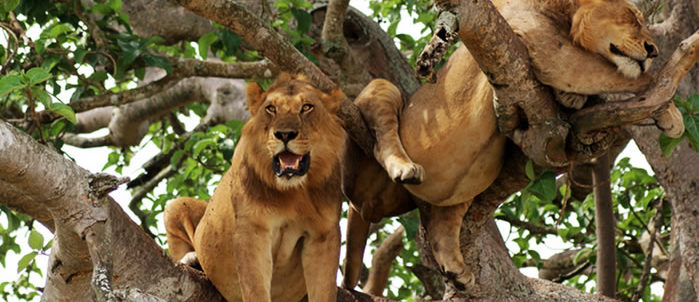 TREE CLIMBING LIONS IN UGANDA'S QUEEN ELIZABETH NATIONAL PARK
Uganda is blessed to be home to one of the most elusive species, the tree climbing lions, second to only Tanzania's Lake Manyara National park in Africa. Undertake an African safari in Uganda or Tanzania, to encounter these rare species as they lie flat on fig trees in a chilly afternoon. The tree climbing lions in Uganda can be viewed only in the Ishasha southern sector of popular Queen Elizabeth National park. This national park in addition to being home to the 'Big 4', it also boasts of the providing habitat to the rare tree climbing lions in Uganda.
Facts behind the tree climbing lions in Uganda:
It is some how not certain as to why lions climb trees, but a major lying factor in the need to hide themselves from Tse Tse flies. Ishasha sector is somewhat comprised of mainly woodland vegetation, and usually infested with numerous Tse Tse flies, so these lions as a way of hiding away they tend to climb trees while resting.

Other sources however believe that these lions climb trees as a way of escaping the woodland vegetation high temperatures, and the scorching sun of Ishasha sector, and they hope to get a cool breeze and shade up in the fig trees.

The climbing lions in Queen Elizabeth National park are quite different from the ones in Manyara national park, in that the fig trees of Ishasha are short and so the lions can be easily seen in early after noon, during a game drive in Queen Elizabeth national park on a Uganda safari tour.
They are believed to be entirely not more than 2 populations of tree climbing lions in the world, and Uganda being a diverse tourism destination is proud to have them.
The Ishasha sector is predominantly known for its flat undulating plains and woodland vegetation which habour various animal species including Elephants, Buffaloes, Monkeys and numerous species of antelopes. A night game drive will reward you with views of nocturnal species, and big cats including Leopards and Hyenas.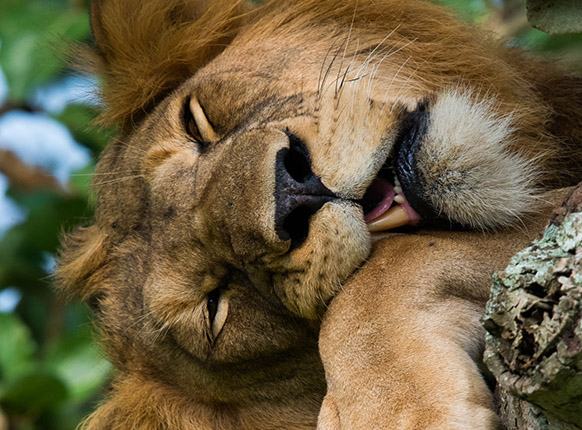 Undertake a safari in Uganda and explore this hidden gem in Queen Elizabeth national park.