Queen Elizabeth National Park Uganda safari
Queen Elizabeth National Park is located within the Albertine Rift in Bukonjo region, western Uganda overlooking the Rwenzori Mountains. Queen Elizabeth National park is arguably Uganda's premier and the most popular savanna reserve. additionally, it is the second largest safari park after Murchison falls national park covering a total area of 1,978 km2 of hills, plains, forest, and swamp.
Queen Elizabeth National park is continuous with Parc National des Virunga in Congo and therefore forms one of the largest protected area systems in eastern Africa, in the Greater Virunga Landscape.
In 1979, it was acknowledged as a bios-sphere reserve on purpose to matching human settlement and activities with conservation and protection of wild life, wet lands and natural resources.
The northern section of the park, along Lake George was first gazetted in 1906 as a game reserve following evacuation of the Basongola cattle keepers who occupied the place previously and in order to control what the colonial administration believed to be uncontrolled hunting by Africans and Europeans and growing pressure for development of cotton and wheat production.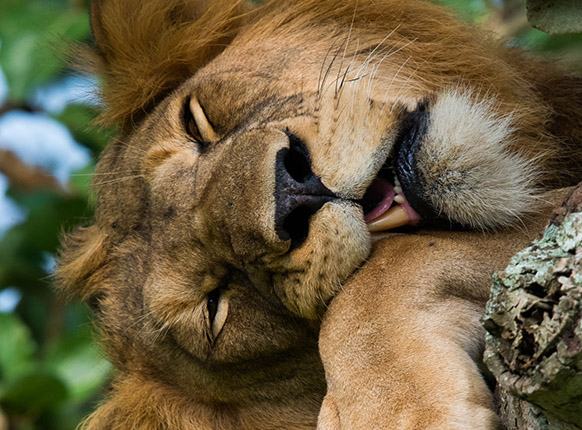 Besides being acknowledged for Savannah, in some places Queen Elizabeth park is studded with an impenetrable cover of acacia and euphoria trees but also embraces large area of thick swamps in the region of Lake George. The widespread Maramagambo Forest in the southeast, and the forested Kyambura Gorge bordering with the Kyambura Game Reserve . With at least ten crater lakes within the spark.
With highly accessible cluster right north of the main road to Mweya safari lodge, as well as at Lake Edward shores, western and northern shores of L. George, plus the connecting Kazinga channel. Queen NP has more to put forward to any tourist and it's one of Uganda`s Eco tourism destinations. It's circumscribed by Lake Edward and Ishasha River to the west along DRC boarder, by Kasese and, to the east by Lake George, Rwenzori foothills to the north Kyambura/Kyambura Gorge and Kalinzu forest reserve, and by the Kigezi Wildlife Reserve to the south.
Tourist attractions in Queen Elizabeth National park
Animal species in Queen Elizabeth National park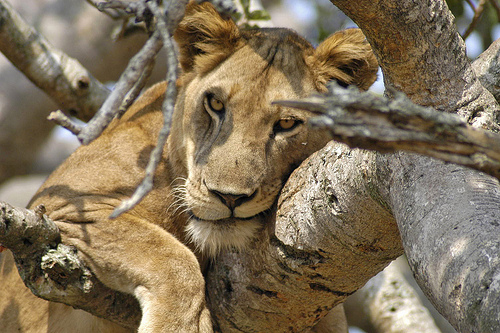 This park boasts an astounding 5000 hippos, 2500 elephants and over 10,000 buffaloes flourishing in its grasslands and shorelines, this is the only safari park that guarantees sightings of some of Africa's most elusive species. Hearing the echoes of elephants' calls across Queen's valleys filled with craters is an amazing experience.
Other common herbivores include warthogs, waterbuck, Uganda kob and topi, as well as the Sitatunga antelope.
One of the most popular species among the primates within this park is undoubtedly the chimpanzee and other ten species of primates that enjoy the park's diverse habitats. Vervet and black-and-white colobus monkeys are always in the trees where they can be easily spotted, but the boldest of all are the baboons –car windows ought to be kept closed to avoid likely food thefts!
Most of queen's inhabitants are its felines which are so rare and hard to find; these include lions, leopards, civet, genial and Serval cats.
The park's most renowned attractions are the big cats, notably the elusive climbing lions which thrive in the southern sector of Ishasha, where they rest on the limbs of fig trees as well as an incredible number of up to 200 readily sighted Lions. Solitary leopards are nocturnal and fiendishly clever, well camouflaged, while making those fierce glimpses making the experience all the more rewarding! The smaller cats are also predominantly nocturnal and spotted more clearly during night game drives.
Queen Elizabeth park habituates about 610 species; an incredible aspect for a reserve of that size basing on continental standards. It defines why it is Uganda's wildlife safari leading park.
With about 95 mammal species, this makes this park a remarkable Uganda wildlife safari spot. These species comprise of; the Olive Baboon, the Vervet blue, Chimpanzee, Black -and- White Colobus, Red-tailed and L'Hoest's monkeys, and around 21 predators are native to this park. Furthermore, it also comprises of; the side-stripped jackal ,the spotted Hyena, Bushbuck, Topi, Lion and Leopard, the beautiful Uganda Kobs, and Defassa water bucks- all antelope species. Buffaloes are the common dwellers and are usually Reddish in colour due to interbreeding with the Congolese forest redder forest buffalo. In the papyrus swamps around Lake George; dwells the elusive semi-aquartic sitatunga Antelope and Four Duiker's species.
Bird diversity in Queen Elizabeth National park
In addition to her 54 raptors, Queen's great variety of habitats means it shelters to over 600 species. This is the greatest of any east African national park, and a magical number for such a small area. Queen Elizabeth National Park has almost every water bird species found in Uganda. With a diversity of woodland and forest birds and these include; African Skimmer, Grey-headed Kingfisher, Great white and Pink-backed Pelicans,Papyrus Canary, White-winged Terns, the Grey-capped Warbler, African beautiful Black-headed Gonolek, Open-billed Stork, African Jacana, Malachite and Pied Kingfishers, Swamp Fly-catcher. More species include; Pin-tailed Whyda Martial Eagle, Black-rumped Buttonquail, Common Squaco Heron, Gabon and Slender-tailed Mourning Dove, The Nightjars, Great and Long-tailed Cormorants, Black Bee-eater, White-winged Warbler, Papyrus Gonolek, Shoebill Stork, African Fish Eagle, African White-tailed Lark.
Culture and local people in Queen Elizabeth national park
As a biosphere reserve, the park is neighboured by numerous tribal groups which are practically close to this area including the Bakonjyo, Banyankole, Bakiga, which perform a range of traditional and fashionable economic activities- I.e. crop, animal farming, salt mining and have greatly attained a variety of languages, Fashions and interesting innovation to attract tourist.
With such a combination of attractions, Uganda's Queen Elizabeth National Park is truely a Medley of Wonders that offers an excitement of a great safari in Uganda.
Tourist activities in Queen Elizabeth National park
Game drives and scenery viewing in Queen Elizabeth National Park
Enjoy a spectacular Uganda Safari experience while in Queen Elizabeth National park, along the tracks through Kasenyi plains, the amazing Queen's pavilion,the Kazinga plains and Katwe crater fields and the Ishasha Sector; It apparently becomes inevitable to have guaranteed Buffalo, Antelope and Elephant Sightings, Along with Warthogs and baboons that roam the place.
The most successful way to track down a pride of lions, and the odd Leopard is mostly through taking an experienced guide in the early morning at 7am and in the evening at 4pm and the game drive usually lasts between 3 – 4 hours.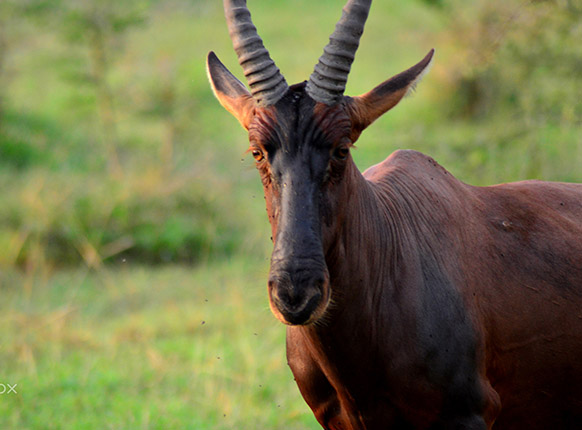 Kyambura gorge Chimp trekking and nature Walk in Queen Elizabeth National park
Kyambura gorge was created by the turbulent waters of the thunderous Kyambura River. The gorge offers a flourishing revering forest which is a home to Chimpanzees, Black -and – White Colobus Monkeys, Lions, Olive Baboons; and more Primates. It is also a home to snakes and many others as well as plenty of forest birds.
The 'kyambura gorge experience' is more than just discovering chimpanzees in their natural habitats: it teaches visitors about the ecosystems of kyambura gorge's atmospheric "underground" rainforest, including vegetation types and stunning views of this curved gorge; bird identification and behavior; chimp and monkey ecology.
Kyambura forest is also home to 3 saline crater lakes. They attract a big number of Flamingoes- not found anywhere.
Chimp permit in kyambura costs $50 while kalinzu forest it goes for $40

A visit to the Traditional Katwe Salt lake
Here, natives have made a fortune from salt mining, salt is mined locally and sold to manufacturers and some reserved for subsistence purposes. You will also apprehend how the salt mines are sub separated and dispersed to the different tribes in Uganda. So, as elaborated by your guide, you will lean the remarkable cultural strings attached to the salt mines.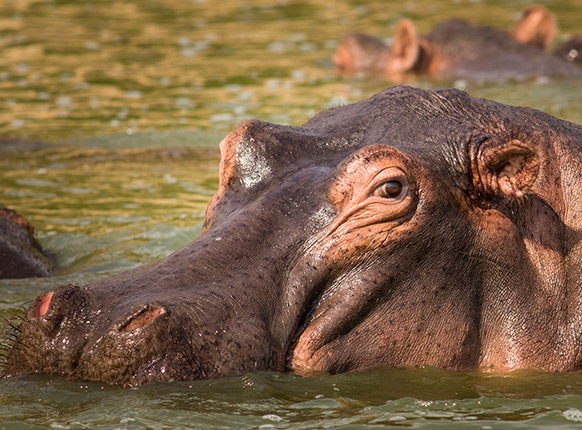 The Boat Cruise
The kazinga channel is an 'oasis within a desert' and a yard where many astonishing species that inhabit the park gather, and taking a boat cruise along this interesting harboring ground for numerous species gives visitors the chance to have single glance at the hundreds of enormous hippos and buffaloes while elephants loiter along the shoreline.
Numerous Buffaloes relax in the waters while big herds of Elephants like drinking and enjoying the channel banks. Crocodiles and leopard are common. Resident birds always surround Hippos; this boat cruise places you right in the heart of amazing nature.
Maramagambo Forest Nature Walks in Queen Elizabeth national park
The forest has both short and long guided nature walks which are easily accessible at the great Queen Elizabeth National Park. This offers opportunities to view a variety of wildlife; the pythons in the ostracism of the bat caves floor with their prey-the bats which is an attractive blue lake and more of hunter' cave. So, other tracks lead you to the center of the nearby craters and homes to many forest birds and some primates like the Chimpanzee.
When to Visit Queen Elizabeth National Park?
Tourists can visit Queen Elizabeth national park any time throughout the year, although conditions in the park are more difficult during the rainy season and it is usually advisable to use 4wd vehicles to access the park.
The Park has two rainy peaks, from March-May and from September-November, but rainfall varies greatly within the Park. The highest rainfall amount received 1,250 mm per year and occurs in the Maramagambo forest but only about 750 mm per year falls in the area along the Kazinga Channel. This is probably because of being in a rainy Shadow of the Rwenzori Mountains in the North and Kichwamba escarpments to the east which interferes with air circulation patterns.
Accommodation facilities in Queen Elizabeth National park
Queen Elizabeth National park presents accommodation in all categories ranging from luxury to mid range options, Bandas, budget accommodation and camping sites
Visit our website for more lodging options: www.loveugandasafaris.com
Safari tips
Stay in your vehicle except at designated areas.
Do not sound your horn.
Don't pick or cut any plants as well as kill any animal.
Don't litter, start fires or throw cigarettes ends.
Get your permit before entering the park.
Drive only between 7:00am and 7:00pm and don't speed up to much,
No driving more than 45km per hour.
Do not bring pet animals into the park.
No bringing firearms into the park and finally Give the animals right of way.
Queen Elizabeth national safari packages
3 Days Queen Elizabeth National Park wildlife safari
4 days Queen Elizabeth national park safari tour 
12 days Uganda wildlife, primates, birding and white water rafting safari
14 days Uganda wildlife fort night adventure safari
21 days Rwanda-Uganda vacation and hot air balloon safari