Kibale Forest National Park – The primate capital of Uganda and the world.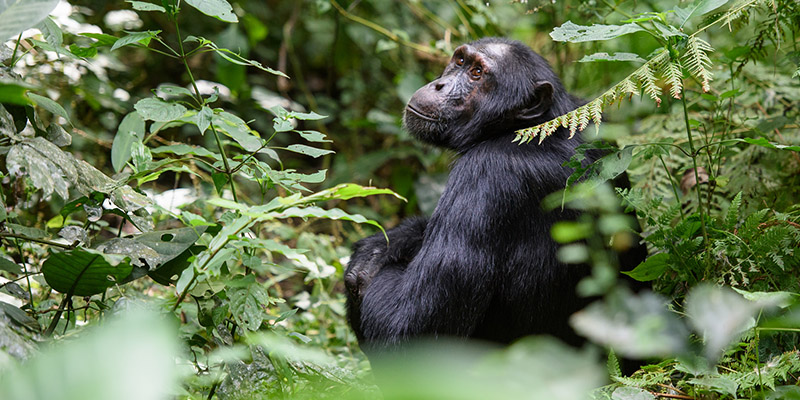 Kibale Forest National Park is a national park in South-western Uganda protecting moist evergreen rain forest and other numerous primate species. It is 766 km² in size and is between 1,100–1,600 meters in elevation. The park's establishment is way back in 1993.
While on the Uganda gorilla and chimpanzee trekking safaris, you will get chance to visit Kibale forest National park for chimpanzee tracking experience. Kibale forest national park covers an area of about 795km. This park is acknowledged to have one of Uganda's most gorgeous tropical rain forests in Uganda next to Mabira forest. This is located along the Kampala –Jinja highway. Kibale forest is a habitat for most of the forest wildlife and among these includes the primates along with chimpanzees.
The forest occupies the northern as well as the central part of the park. Kibale in the northern part has a peak of about 1590m above sea level. The northern part is also well known as the wettest area with an annual rainfall of about 1700mm. The rainy months include March-May as well as September-November. However you can do the chimpanzee tracking throughout the year.
So if at all you have been planning to come to Uganda for the trekking safari in Uganda, you can also include the chimpanzee tracking at Kibale national park because it is one of the main activities you can always do while on a safari in Uganda.
Kibale forest national park has an average temperature of about 14-27 degrees C. Temperatures are high in the south because of the landscape falls into the scorching rift valley floor. And you will engage in activities like Chimpanzee Habituation; which is a lifetime experience that allows researchers and habituation of chimpanzee during their daily activities; thereby getting used to human presence without a change in their natural behavior. You do all this after booking a wildlife safari with love Uganda safaris. We will make your experience on a Uganda safaris unforgettable.
The most favorite of Kibale's walks embarks on from the Kanyanchu Visitor center because Chimpanzee are the most sought after primate by visitors, but you should look out for the black & white Colobus, red tailed monkey or the grey cheeked mangabey. Your guides will be able to show you pittas & different bird species and will give details of the traits of the plant species within the forest.
This walk is for 6 people in a group. Advance booking is all-important especially during Peak season. This is because Love Uganda safaris receives a lot of bookings for Uganda wildlife safaris. So that's why you need to book your safari as soon as you read this article and also we have got numerous group offers for those who cannot afford travelling alone. You can check out our Uganda safaris group tours; then pick the one that suites your budget and time because you ought not to miss coming to the pearl of Africa for the chimpanzee tracking safaris in Kibale forest national park. Chimpanzee trekking is the high light and chief tourist activity in this lush forest park; Other prominent activities here include:
Bird watching

Primate watching, including black and white Colobus monkeys, Baboons, Patas monkeys and Red -tailed monkeys.

Nature walks in Bigodi wetland sanctuary.

Cultural and community encounter with the local people.
How to get to Kibale Forest National Park.
Kibale National Park is located in western Uganda, 22 km southeast of Fort Portal town. Kanyanchu River Camp, the main hub for tourism activities, can be reached from Kampala either from the north, via Mubende and Fort Portal, or the south through Mbarara and Kamwenge.
The northern route is shorter and quicker, that is the Kampala-Mubende-Fort portal route with an approximate distance of 290km tarmac road followed by 32km on gravel from fort portal to Kanyanchu (the main tourism hub).
Sebitoli Forest Camp, a secondary tourism center, is even easier to reach. This stands directly on the Kampala road, 12km before Fort Portal. Public transport runs throughout the day between Kampala and Fort Portal (passing Sebitoli) and Fort Portal and Kamwenge (passing Kanyanchu).
There are currently no air transport services connecting direct to Kibale forest national park but one can fly in to Kasese Airstrip and transfer the rest of the journey by surface.
WHERE TO STAY IN KIBALE FOREST NATIONAL PARK!!
Check out for Lodges / accommodation facilities in Kibale Forest national park here.
Popular Chimpanzee trekking safari packages to Kibale Forest national park Uganda
3 Day Kibale National Park Safari
8 Days Uganda Wildlife Safari (including Kibale Forest, Queen Elizabeth and Murchison falls national parks)
10 Days Uganda Chimpanzee & Gorilla Tracking Safari
17 Day Uganda Chimps and Gorilla Trekking, Birding And Wildlife Safari