Lake Mburo National Park Safari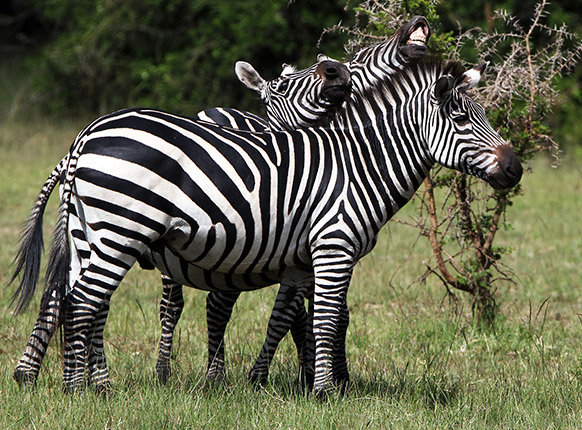 Lake Mburo national park is situated in western Uganda covering districts of Mbarara, Kiruhura, Isingiro and parts of Rakai; lies just adjacent to the main highway from Kampala to popular tourist destinations in the Southern and Western parts of Uganda. Extensive acacia woodland covers it and unlike any reserve in the country.
It's a home to different fauna including the gigantic eland antelopes, zebras, Topis, Impala, and Buffaloes. It's also a birding destination were you can view many birds including; the rare Shoebill stork.
It has also got grassy hills and the beautiful lake shores with forest galleries, rich acacia tree valleys, seasonal and the permanent swamps which is a combination of which supports a great attraction of different wildlife species.
Tourist attractions and activities

Game Viewing

Lake Mburo national park is a famous tour destination for rich diversity and has about 68 different species of mammals. These include the herbivores like the zebras, impala, buffaloes, topi and the Eland, leopard, Hyenas and jackals as predictors.
Birding
The park is a magnificent birding safari destination on top of the large mammals, some of the birds include; the rare shoebill stork, African fin foot, saddle billed stork, brown chested wattled plover papyrus yellow warbler, Olea species and Boscia, Abyssinian ground horn bill and white winged warbler, curruther'scisticola, taboracisticola, great snipe and other Acacia bird species. You can view them along the lake, others include; papyrus swamp birds, woodland birds, Grassland birds and Forest birds. The birds on the open water include; White pelican, Long-tailed cormorant, Pink-backed pelican, Darter, White winged black tern and Greater cormorant
Boat cruise on Lake Mburo
This park is blessed with much diversity of animals and plant species, and one can view them on a boat cruise on Lake Mburo. Here one can view animals including the crocodiles, hippopotamuses and birds like Pelicans, Black crake, Heron, cormorant, fish eagle, and one may also view many bird species including the rare shoebill stork and all these are worth furnish one's Uganda safari with pride.
Guide Nature Walks
The nature walk also offers a chance of get unique nature sights. With the guide's company, you will have an opportunity to walk in the circuit at their personal choice pace. You will also view many animals which are found in the national park.
Salt Lick
You will also have a chance to view the salt in the park, some of the animals lick this salt and one can view them as they do this. The animals are mostly viewed without their conscience and they are not usually destructed from the salt lick. Tourists may also walk to a desired area but- under watch of an armed guide.
Rubanga Forest
This forest has got over 40 species of birds and they rare recorded in Rubanga. You can explore the forest through making arrangments with the park management in order to have a ranger accompany you. This forest is small but with closed canopy in place. It has got unique trees with divided leaves, yellow flowers with strips and stopped with red; brunches of extremely long Palms, figs, sapium as well as the flame tree Erythrinaabyssinica located towards the edge of the swamp.
Conservation Education Center
This park also has a conservation education center, it's about 1 kilometer from Sanga gate and it's open to the tourists that have interest. The center caters for individual visitors, school groups, for tourism, seminars and workshops.
Sport Fishing
The park has got over 6 species of fish, the common ones being Tilapia; the lake is a dream spot for tourists that have interest in fishing. However the tourists with interest in fishing should come along with the equipment's and only fish at the designated areas. There is also a restaurant to care for the tourists after fishing.
Interpretation Center
This place provides important information about the park, including its wildlife species as well as the activities carried out in the park.