Bwindi  Forest – Home of mountain gorillas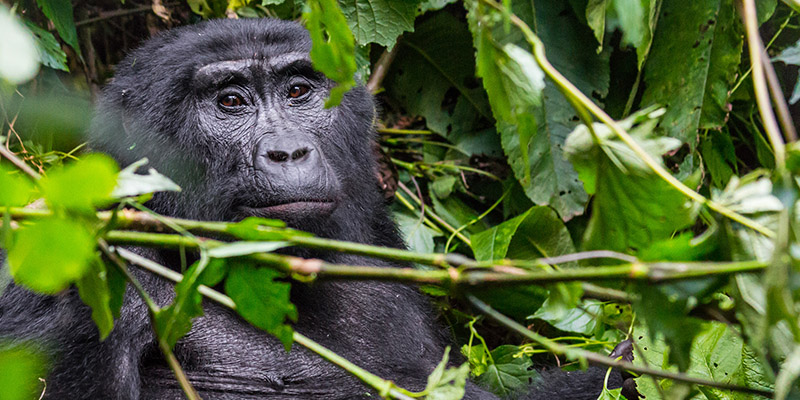 Bwindi Impenetrable Forest national park is situated along the border between D. R. Congo and Uganda, close to Virunga National Park on the fringes of western Rift Valley that is situated in the southwestern part of Uganda.
It comprises of 331 square kilometers of tropical forest i.e. lowland and Montana forest.
The National park receives regular rain fall of 1,500 mm It is an essential catchment area and the oasis of 5 foremost rivers that gush into Lake Albert.
It's considered to be the main natural forest in Africa. This is largely due to its antiquity and an altitude range of between 1,160 and 2,607m above sea level. The park is a factual rain forest. It stretches over a series of steep ridges and valleys which form the eastern border of the Albertine Rift Valley. This forest forms a big part of the park, a renown forest park which is home to over a half of world's mountain gorillas, forest birds and a variety of bird species.
Tourism in Bwindi national park focuses on Gorilla tracking in four different regions, including Buhoma which is the oldest and most visited, Rushaga region in the south, Ruhija in the East, and Nkuringo in the far south-west. More than half of the World's mountain Gorilla population is resident in Bwindi. Most of these gorillas have adopted human presence and are estimated to be 420 individuals living in 12 gorilla troops / families that have been habituated and open for trekking anytime of the year .
The Bwindi forest is also haven for birding safaris in Uganda, and famous for her variety of bird species that are residents here; with an estimated 350 bird species, which 23 are endemic to the Albertine Rift and 14 recorded nowhere else in Uganda. Critically endangered bird species here include, the African Green Broadbill and Shelley's Crimsonwing. Other birds like the Handsome Francolin, Black-billed Turaco, Black and Cinnamon-chested Bee-eaters, Western Green Tinkerbird, Purple-breasted, Blue-headed and Regal Sunbirds are found here; Mountain and Yellow-streaked Greenbuls and Many-colored Bush-Shrike, among others.
The best places for birding in Bwindi forest is along the main trail, Buhoma waterfall trail, along the bamboo zone and Mubwindi Swamp trail in Ruhija region.
Bwindi is also home to over 25 amphibian species; 11 of which are endemic to the Albertine Rift. Six are of global conservation concern including the Western Rift Leaf-folding Frog (Afrixalus orophilus) and Ahl's Reed Frog (Hyperolius castaneus).