Gorilla safaris in Uganda, gorilla tours, Uganda gorilla safaris trips
Uganda Gorilla safaris will give you a life time opportunity to discover these awesome apes. Currently, mountain gorillas exist in only three countries in the world where the critically endangered.
A Uganda gorilla safari is often described as "life changing" and with good reason. An estimated 880 mountain gorillas are left in the world and to see these gentle creatures in their natural habitat is truly an epic moment.
Gorillas thrive in and among the bamboo and lush forested slopes of Bwindi and the Virunga region of Uganda and Rwanda; this therefore makes the entire gorilla trekking trip in East Africa an interesting activity. While on a Uganda gorilla safari, you'll be instructed and introduced to the gorilla jungles by your expert guides to one of the fully-habituated families of mountain gorillas. You can stay with them for an awe-inspiring hour; often crouching just a few feet away, whilst the gorillas go about their daily lives.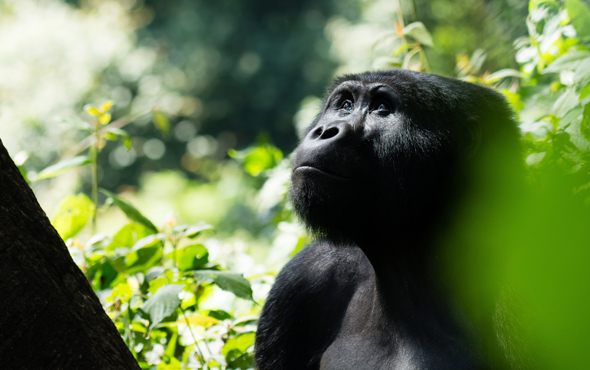 Hikes in the mountains can last anywhere from 1 hour to 8 hours. This depends on the family allocated to your group and their movements. The journey back can take just as long; but you are often carried along by the euphoria you feel at seeing the gorillas!
Expert guides give a per-trek briefing on specific protocols and rules for visiting the gorillas. Most of them live within an altitude of 2500m and 4000m. Porters are available to help carry backpacks and cameras, as well as helping you with your footing along your hike which can be hard work, but well worth it.
UGANDA GORILLA TRACKING RULES AND REGULATIONS
For a gorilla safari in Uganda, you need to be fairly fit, equipped for the humid, muddy conditions of a rain forest hike, and healthy. You will not be permitted to do a Uganda gorilla trekking safari if you have a cold or similar illness; because gorillas are susceptible to many human diseases.
The region's mid-December to February and June to September dry seasons are the best time to go gorilla trekking. But you can still expect a tough day on foot. It's sometimes humid, wet and muddy with steep slopes and tangled vegetation. Nevertheless, the chances of finding a gorilla family are often around 95%.
Gorilla trekking in Uganda is limited to a maximum of 8 people per particular gorilla group per day, starting at 8 am every day. Visitors are allowed one hour of direct interaction with the gorillas and may last for 2-8 hours.
HEALTH GUIDELINES DURING UGANDA GORILLA SAFARIS
Since Mountain gorillas are closely related to us they are susceptible to diseases carried by humans.
If you are not feeling well, let it be known and remove yourself from the gorilla tracking team.
If you need to cough, sneeze, blow your nose, move your head away from the gorillas in order to keep the risk of infection to a minimum.
No smoking, eating of food or drinking of beverages is allowed in the presence of the Mountain Gorillas.
BOOKING GORILLA PERMITS IN UGANDA
Gorilla permits can be booked at UWA offices (Uganda wildlife authority). But alternatively, you can book your Gorilla ticket with Love Uganda Safaris at a surcharge of 50 USD as an administrative fee and we send you a scanned copy. The hard copy will be delivered to you by our driver guide upon pick up at the airport.
WHAT IS REQUIRED TO UNDERTAKE UGANDA GORILLA SAFARI?
A gorilla tracking permit is a must. You need to carry the permit from your hotel room in the morning as you head for gorilla trekking in the jungles.
Make sure you have packed all the necessary tracking gears like gloves, trekking boots, long sleeved wear, rain jackets, snacks and packed lunch, walking stick (very necessary) and among others. This is what you should expect the day of your gorilla trekking tour in the Rwanda and Uganda.
Carry your passport as you head to the park headquarters during the pre-tracking briefing by the officials. Your gorilla permits will be crosschecked with your passports to confirm whether you are the right owner of the permit.
A cup of tea/ coffee will be served as you are being entertained by the local traditional Bakiga dancers to give you a good start of a strenuous yet exciting day, before the ranger guide gives you tips on how to conduct yourself on this trek.
And ensure you are ready with your packed lunch since. This is because there is uncertainty about the time you will take to see the elusive gorillas.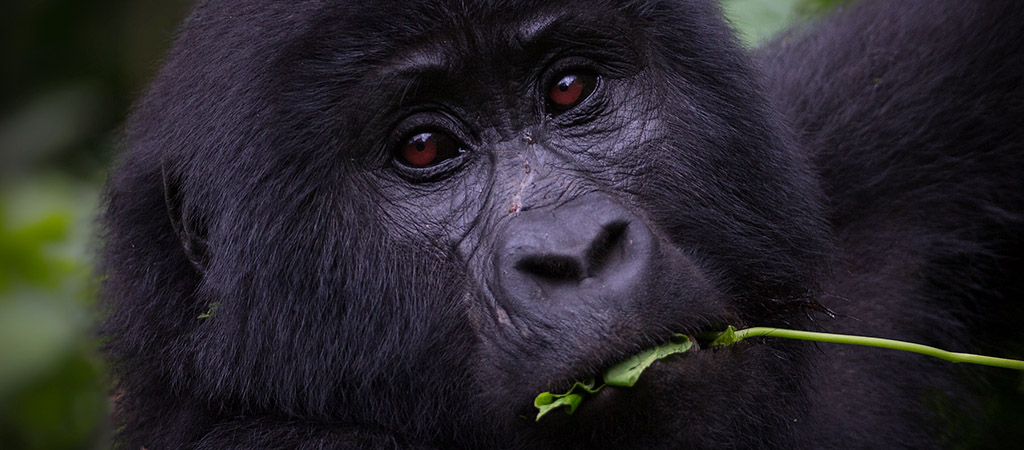 After a quick briefing on safety measures and what to expect during the day, you will be grouped in groups of 8 people maximum and each group is assigned one gorilla family to trek. Rwanda has 10 gorilla families / groups while Uganda has 12 gorilla families in the 4 tracking regions in Bwindi impenetrable national park and 1 gorilla family (Nyakagezi group) in Mgahinga Gorilla national park.
Because of their nature as wild animals in their habitat, seeing them so easily may not be guaranteed, as they tend to move as far in search of food. Even those which are allocated to the physically fit and energetic tourists, that are always regarded as strenuous to track, may be easily tracked on a particular day which makes gorilla tracking experience in Uganda so unpredictable and interesting.
Each gorilla tracking group consists of a main guide and two scouts who carry AK-47 guns. One walking in front and another behind the group. The reason for armed scouts is for protection in the forest against wild elephants or angry wild gorillas. The scouts are trained to fire shots into the air first in order to scare away the animals. But this is only done on rarest occasions. when all other options like hiding away from the dangerous animals have been done. However the policy of the national parks is to be safe rather than sorry.
If you do not trust your fitness, please endeavor to let your guide know such that he may help you in hiring a porter at the park gate. A porter is hired at a fee between $15 to $20 depending on the weight of the luggage.
TREKKING TO FIND THE MOUNTAIN GORILLA

The overall length of your hike to track the mountain gorillas will vary depending on how far the gorillas have moved being wild animals. It may take as little time as 30 minutes to find your gorilla family or as long as 5 to 7 hours.
The forest is verdant, humid and somehow light and there are no discernible trekking paths. The terrain is full of hills and steep volcano slopes where you will be required to pull yourself up steep grades by grasping onto branches, plant roots, bushes and more. Follow the lead of the guide as to the best path and form to take. You can have a short break during a long trek in order to relax and refresh.
It is also advisable that you carry some energy giving snacks and bottled mineral water to quench your thirst and give you more energy in case of extensive gorilla treks.
Love Uganda safaris is here to ensure a successful gorilla trekking safari in Uganda. we anticipate it will be the best of those Uganda safari packages you will choose to undertake.
Important to Note!
A reservation requires a deposit of 30% of the total price.

The deposit is fully refunded if the booking is cancelled up to 45 days before arrival.

Balance should be paid 60 days before arrival.