Facts about Murchison Falls National Park
Murchison Falls National Park was named after the magnificent Murchison falls, also known as the Kabalega falls, It's the largest in Uganda and covers an estimated area of about 3840 sq. km, bigger than any other conservation area in Uganda.
It's situated in the northwest, which is about 90km from Masindi town, it comprises of Bugungu and Karuma Wildlife reserves, where River Nile explodes viciously from end to end of a narrow cleft in the Rift Valley escarpment to fall into a frothing pool 43m below. Its banks are always thronged with crocodiles, Hippos, waterbucks and Buffaloes coming to quench their thirst on the river during sunny afternoons. The mixture of Savannah grasslands, riverine forest and Savannah woodland distinguish Murchison vegetation from the other national parks, making it extremely a unique destination!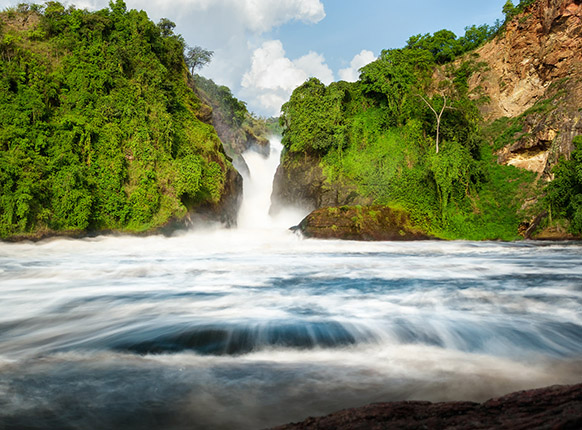 Wildlife in Murchison falls national park
Some of the amazing wildlife available for you to see in this gem include Lions,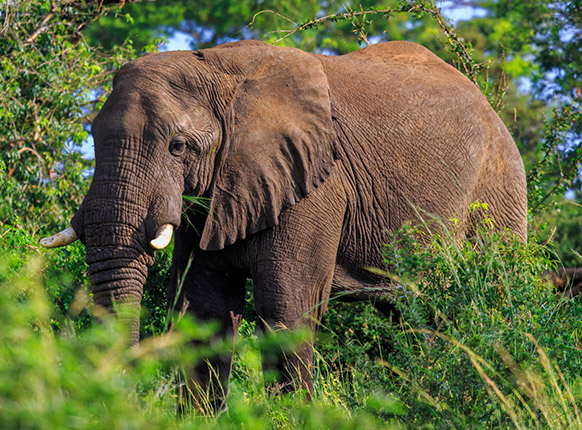 Kobs, Chimpanzees in Budongo forest, Giraffes, Elephants, various bird species and many others. Wildlife populations in the Murchison falls national park have greatly recovered from poaching and political insurgence in this region which it suffered in 1980's but now restored following the support rendered by Uganda wildlife authority and other NGOs. 95% of all the animals can now be sighted while on a 3 hrs game drive either in the morning or afternoon.
Nile River does accommodate most of Uganda's reptiles, including the crocodiles, Hippos, water birds, shoebill stork around L. Albert. Chimps are habituated in Rabongo forests which is in southeast of the park and many of the tropical forest animals.
Geographical facts about Murchison falls national park
Average temperature: high 29 degrees Celsius – low 21 degrees Celsius.
Hot seasons: mid-December to mid-February, June and July.
Wettest season: April and November.
Wildlife: 450 bird species and 76 mammal species.
Total area
Murchison Falls Conservation Area: 5,025 Sq.km
Murchison Falls National Park: 3,877 Sq.km
Bugungu Wildlife Reserve: 473 Sq.km
Karuma Wildlife reserve: 675 Sq.km
Altitude: 619 m at the delta and 1,292 m at Rabongo hill.
Tourist activities in Murchison falls national park
Sport fishing in Murchison falls national park
Fishing is usually done from the Nile River that crosses through the park and booking is done prior to the actual activity because a limited number of people are allowed at a time. The Nile Perch and tiger-fish are usual fun to fish. Please carry along your own fishing tools. Available are some boats for hire but booking is done in advance for those who need a boat cruise.
Game drives
Game drive is done very early in the morning before the sun rises and there is a lot of wildlife to see in the park via several tracks i.e. Albert Buligi and Queen in the northern sector of the park. Tourists can enjoy the view and observe wildlife on the green hillsides at Nyamusika Cliffs. This is a 3-4 hrs game drive. Please ensure you're accompanied by a tour guide. The best time to embark on this trip is either 07:00hr or 16:00hr in the evening where you can view plenty of animals grazing in the plains of Murchison falls national park.
Nature walks
Nature walks are done in Rabongo forest situated in the south eastern sector of Murchison falls national park; here you're offered a chance to explore this compact forest on foot; the communities, Vegetation, Birds and animals and Kaniyo Pabidi in Budongo are gently observed.
Boat cruise along the River Nile
The boat cruise from the board point to the fore view of Murchison Falls is one of the striking activities in Murchison Falls National Park that makes a highlight for any Uganda safari. On this Nile cruise you will see Birds i.e. kingfishers, ducks, bee-eaters, fish eagle, heron and water animals like Hippos and crocodiles as well as mammals like buffaloes and elephants.
The morning boat takes off at 08:00am for 3 hrs, which is 17 km to and fro but there other boats that operate on this route between 0800-0900 am every day, and afternoon boats take off at 2:00 pm every day; whereas the 28 km boat trip from Paraa jetty to the Delta and back takes about 4 to 5 hours.
Top of the falls view
Get a chance to explore the top view of the Murchison falls go right up to the water's edge. You can have an opportunity to hike to the top of the falls and to get proxy to the narrow gorge through which the river explodes into the falls after the boat has landed. As you hike you get to see Campsites, picnic sites and the historical Devil's Cauldron.The devil's Cauldron is a good place to take lifetime photographs and appreciate the beauty of the world's most powerful waterfalls in the world, murchison falls.
Kaniyo Pabidi adventure
Kaniyi Pabidi is located 8kms from Kichumbanyobo gate along Masindi-Paraa road. Chimpanzee tracking is the most famous activity here but assuredly you will see a variety. The Kaniyo Pabidi exploration avails a peaceful area of natural vegetation within Budongo Forest Reserve, here you can walk below mature buttress rooted mahogany and iron wood trees. Forest birds which can be spotted here include, chocolate-backed kingfisher, the white-thigh hornbill and puvel's illadopsis found nowhere else in East Africa. Kaniyo Pabidi is under the management of the national forestry authority and it also manages the campsite that has basic accommodation facilities for back packers and budget travelers.
Rabongo Forest
This situated in an island of tropical riverine forest southeast of the park. Rabongo is covered with Savannah grassland which is one and a half hours' drive from Paraa. Then, a guide will help you to adventure the forest on foot; viewing primates like red-tailed monkeys, baboons and sometimes chimpanzees; Other animals, include birds, the black and white Colubus monkeys, tree species and medicinal plants. So, one can picnic and camp by the Wairingo River.
Getting to Murchison falls National Park
By road: From Kampala through Masindi -via Kichumbanyobo gate, Paraa is approximately 5 hours' drive, 3 hours on tarmac and 2 hours on a murram road that connect Masindi town to Paraa. A 4WD vehicle is highly recommended especially during wet seasons. The ferry at Paraa operates on scheduled time between the southern and northern bank of River Nile.
By air: At Pakuba about 19kms northwest of Paraa and Bugungu 13kms from Paraa, Charter flight services are available to all-weather aerodromes.
Accommodation in Murchison falls national park
Available are the campsites at the Top of the falls, Rabongo Forest, Paraa and delta area. Traditional and self-contained bandas are available at Red chilli Rest Camp they also offer meals and beverages. Toilet or pit latrines and showers or bathing shelters are provided at the sites.
Accommodation in Murchison falls national park is offered in different categories, ranging form Luxury, Mid range and Budget, read more here…
Important tips to know during a safari in Murchison falls national park
Walk only on designated trail
You should be accompanied by a guide while on nature walks and game drives
Camping done only at designated campsites.
Do not cut plants, pick flowers or destroy any vegetation.
Pets are unacceptable while in the park.
Firearms are not permissible in the park.
Do not litter the park; rather dump in the provided trash cans.
Entrance into the Park is through designated locations only, that is, Kichumbanyobo, Bugungu or Tangi gate.
Any activity must be done between 6:30am and 6:30pm, no vehicle is allowed to travel before or beyond that time respectively.
Driving is only on selected roads while in the park.
Don't sound the car horn while in the park.
Kindling fires is permissible only at the fire rings at campsites.
And finally, keep all official receipts issued for park activities.