Uganda Birding safaris
Uganda Birding safaris & Birding tours in Uganda.
Uganda Birding Safaris has an increasing reputation as an exceptional worldwide sites for bird watching. It is ranked among the richest countries in the world in terms of bird species; with over 1500 species of birds. This is due to the diversity of its territory. Ranging from Savannah, semi-desert, montane tropical rain forests, wetlands, Lakes, Rivers, and Afro-Alpine zone to thick impenetrable rain forests.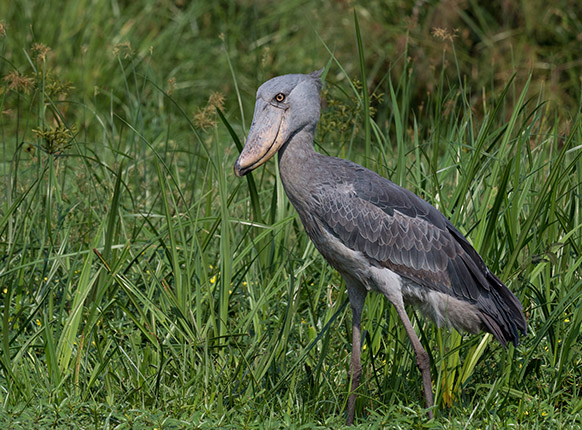 All the above are a rich habitat for the most sought-after birds in the world. Uganda has almost half the total species recorded in Africa; and has more birds per square kilometer than any African country.
Birding in Uganda can be done all year round and almost in all national parks in Uganda and other bird watching sites including Mabamba wetland, Bigodi swamp in Kibale Forest National park, Mubwindi swamp, L.Albert,Semuliki Valley and many other sites.
Undertake Uganda birding safaris / tours to explore the premier bird species endemic to the Albertine region. We offer amazing Uganda birding safaris to both independent birders and groups with our highly trained local bird guides.
Uganda is the real birder's paradise and one of Africa's premier birding destinations; while on a birding safari / tour in Uganda, expect an endless list of bird species to view, notably the prestigious Grey crowned crane which is the National bird featured on Uganda's flag as her national emblem; other notable bird species can be grouped in 2 categories, the Non-Passerines and the Passerines.
The Non-passerines include but not limited to the following: Shoe Bill Stork, Ostriches,Flamingos, Grebes, Shearwaters and petrels, Cormorants, Rails, crakes, Darters, Pelicans, Bitterns,geese and swans, Hammerkop, Ibises and spoonbills, Storks, Pheasants and francolins, Ducks, Osprey, Hawks, Bustards, Partridges, Guineafowl, Cranes, gallinules and coots, Sungrebe and finfoots, Buttonquails, Jacanas, Painted-snipe, herons and egrets, Caracaras and falcons. among others.
At Love Uganda Safaris, we promise to try our utmost best to provide you with the premier and high class birding tours while on your Uganda Birding safaris with 24 hour services of our experienced bird guides, comfortable birding Vans to enable you view the most elusive species in their hideouts, and we ensure to take you to the most attractive bird watching spots in Uganda to take memorable photos.
Undertake Uganda Birding Safaris and enjoy modest rates with our accurately designed Birding tour packages !!
Important to Note!
A reservation requires a deposit of 30% of the total price.

The deposit is fully refunded if the booking is cancelled up to 45 days before arrival.

Balance should be paid 60 days before arrival.