THE RIVERS IN UGANDA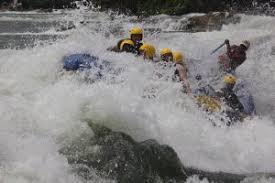 Uganda is one of Africa's most cherished countries that is absolutely endowed with beautiful nature hence proudly named the Pearl of Africa, and also wonderfully created with unique features, characterized by beautiful and stunning relief over looking wonderful drainage at least in every region of this awesome country. Uganda is endowed with amazing rift valleys that cover almost all parts in the west with cliffs, hills and Mountains that are snow-capped despite the country being astride the equator with hot temperatures. Plateaus that represent absolute table land with clear view, inhabiting wildlife, lakes and rivers among others, which Winston Churchill couldn't hesitate to name Uganda, the pearl of Africa! On his Uganda tour, he was amazed after having an eye contact with all of the amazing and hidden treasures of this East African country.
Uganda possesses some of the top rivers in Africa and in the entire world with others being source of livelihood to her neighboring countries, including River Nile with its source in Jinja which is a life support to Egypt and Sudan as the only source of water for domestic and commercial purposes. The source of River Nile offers the best and amazing activities such as White water rafting, boat cruise, bungee jumping which are so adventurous and not easy to forget in one's lifetime. The mighty River Nile takes a top spot as a masterpiece of mother nature that stands out as a unique activity for tourists to experience the Unforgettable memories. With its source in Jinja, River Nile possesses different names in various locations, such as Victoria Nile, Albert Nile, and white Nile on its way to the Southern Sudan and into Egypt showcasing probably the best scenery you will ever see around the world.
The origin of this river is in the mighty Lake Victoria, the largest fresh water lake on the African continent with the Victoria Nile flowing northwest into Lake Kyoga an outstanding lake right in the heart of East Africa, offering the best experience of aquatic life viewing with one of the rarest bird species – the shoebill stork and flows out into Lake Albert. It then leaves Lake Albert as the Albert Nile making its way through the Murchison falls national park, the largest national park in Uganda then enters Southern Sudan and all the way through Egypt into the Mediterranean Sea.
With other rivers including, the Akagera River which is the largest of all the rivers in Uganda; and some still believe that this river is the true source of the mighty Nile, you too can visit to have your own proof of this and be among the witnesses on how factual this is.
River Kafu, in the west is another of Uganda's rivers that flows to join into the Victoria Nile. Its source is a swamp close to the village of Kitoma in Kibaale with amazing bird species that offer the best gift to the birders. River Katonga flows out of Lake Victoria northwards into Lake Wamala. One of its streams flows westwards into Lake George that is connected to Lake Edward by the Kazinga channel.
River Sezibwa in the southern central flows from a swampy section between Lake Victoria and Lake Kyoga via some eye-catching landscapes and notably the Sezibwa falls with its rich history among the Baganda people of Uganda , before emptying into Kyoga. Another remarkable river is River Mayanja which has its source from the hills of Wakiso, Mayanja takes you through some wonderful and charming country side you ought to experience on its way before emptying into River Kafu.
River Sipi with its stunning Sipi falls which is absolutely remarkable from other falls overlooking the Sipi river lodge. Other Rivers of Uganda include; – River Semliki just close to the Semuliki National park, River Mpologoma, River Okere, River Nkusi, river Muzizi, Zoka, River Aswa, River Pager, the Dopeth-Okok River, River Manafwa and River Ora among others.
Uganda is gifted by nature and it's always a memorable trip when you visit these amazing outstanding Rivers in Uganda during your lifetime safari in Uganda with the unique tourist activities.