Lakes in Uganda – a centre for recreation and adventure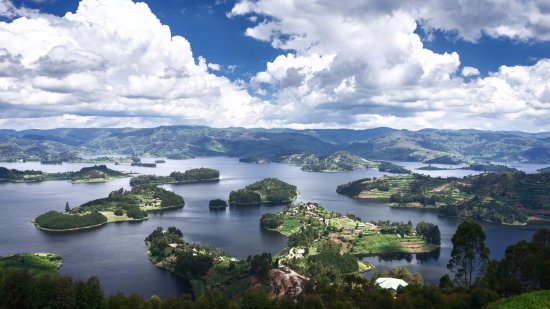 Uganda is a renown hub for both natural and man made lakes, as a country well watered with unceasing rains that make it a home to many fresh water lakes, including Lake Victoria which is arguably the largest fresh water lake in Africa. Some natural lakes in Uganda were formed as a result of running lava from active volcanoes back in time which blocked the courses of rivers whilst others were formed as a result of earth movements and folding.
Other lakes in Uganda are part of the chain lakes within the Albertine Rift (the western branch of the East African Rift valley) that were as a result of ongoing tectonic movement that is gradually splitting the Somali plate away from the rest of the African continent which some have concluded that it will eventually form a new smaller African continent split from the main land Africa.
The fact that Uganda is located in the great lakes basin and it is around the tropical equatorial region of Africa and crossed with the Great Rift Valley escarpment is a very crucial geographical position making Uganda truthfully a well watered country. Nearly one fifth of its total area is open water or swampland. Four of East Africa's Great Lakes – Lake Victoria, Lake Kyoga, Lake Albert, and Lake Edward lie within or along Uganda's border line. Lake Victoria dominates the southeastern corner of the nation, with almost one-half of its 10,200-square-kilometer area lying inside Ugandan territory. It is Africa's largest fresh water lake and second largest inland freshwater lake in the world (after Lake Superior), and it feeds the upper waters of the Nile River, which is referred to in this region as the Victoria Nile.
Lake Kyoga and the surrounding basin dominate central Uganda. Extensions of Lake Kyoga include Lake Kwania, Lake Bugondo, and Lake Opeta. These "finger lakes" are surrounded by swampland during rainy seasons. All lakes in the Lake Kyoga Basin are shallow, usually reaching a depth of only eight or nine meters, and Lake Opeta forms a separate lake during dry seasons. Along the border with Zaire, Lake Albert, Lake Edward, and Lake George occupy troughs in the western Rift Valley. Lake Bunyonyi the place of many little birds is also a home to twenty nine islands. Not forgetting the crater lake region, a crater trail with about 86 crater lakes and explosion craters like the Ndali kasenda crater lakes, these just simply create a breath taking scenery in western Uganda surrounded by the great Virunga and Rwenzori mountain ranges.
Lakes in Uganda provide not only tourist attractions but also provide a living for many people who live on their shores for fishing and other pursuits. Most of them have boat trips which can be undertaken without great expense and the best have island resorts on them where you can feast on a better expected meal. Honestly there is a lot of recreational activities that you can engage in on Uganda's lakes during a safari holiday in Uganda; activities include sport fishing, bird watching, boat trips and some of them landing on different islands on the lakes, swimming, nature walks and sand beach activities.
Certainly and most assuredly, Uganda is the country that should be on your bucket list by now, it has all that you would need to see and do during your tour vacation in Uganda. With a total of over 23 lakes, Uganda is one of the most recommended countries for marine safaris in Africa.
Small lakes in Uganda include;
Lake Kwania, in Lira and Apac districts of the Northern Region of Uganda.
Lake Wamala located in the districts of Mubende, Mityana and Mpigi in central Uganda.
Lake Opeta located on Katakwi-Magoro Road in Katakwi district.
Lake Kitandra located in Kanungu District next to Bwindi Impenetrable Forest.
Lake Nyabihoko located in Ntungamo district
Lake Mutanda located in Kisoro District in southwestern Uganda.
Lake Saka located in Kabarole District in Western Uganda.
Lake Bisinia Located on Kumi-Soroti Road in Kumi District.
Lake Nyabungo located in Masaka District, Central Uganda.
Lake Nkugute located along Mbarara-Kasese Highway in Rubirizi District.
Lake Kyaninga, a Crater Lake situated with the Fort Portal Crater field.