November 5, 2019
Posted by:

Administrator2

Categories:

Uganda News, Uganda safaris, Wildlife News, Wildlife safaris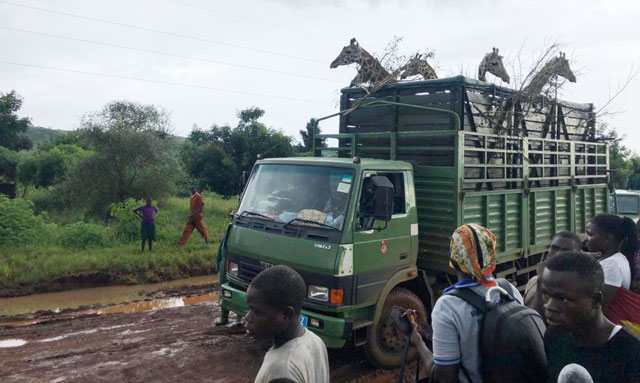 Translocation of giraffes to Pian-Upe Game reserve.
Following the rapid growth of the tourism sector, contributing trillions of money to Uganda's GDP, almost all tourism bodies are set to improve the country's tourism sector to another level. With that, UWA translocates giraffes to Pian-Upe Game Reserve.
giraffes to Pian-Upe Game reserve.
Different actions are being done, the Uganda Tourism Board is working so hard to market destination Uganda, the Association of Uganda Tour Operators are performing hand in hand with the Uganda Tourism Association to establish a steady progress  for the sector.
Well, the Uganda Wildlife Authority was also set, to re-introduce giraffes from Murchison falls national park to Pian-Upe game reserve after 40 years of their absence in this wildlife reserve.
Pian-Upe Wildlife reserve is positioned in north eastern Uganda, covering over 2,043 square kilometers. It has Uganda's undisputed nature and the largest wildlife reserve in Uganda and second largest protected area after Murchison Falls national park.
The reserve is a home to hundreds of animals from zebras, Oribis, waterbucks, Hartebeests, Uganda Kobs, elephants, buffaloes, Duikers, impalas, warthogs and a wide variety of bird species including the big ostriches.
UWA Translocates giraffes to Pian-Upe Game Reserve from Murchison falls national park. The Communication Manager, Bashir Hangi said that this whole process of translocating animals is one of the strategies for ensuring a wide range of distribution of several animals across national parks and game reserves. He added that this method also ensures a prolonged survival of endangered species.
The first batch of 15 Rothschild giraffes (5 males and 10 females) were released into Pian-Upe to begin the re-introduction process. It's interesting to know that now visitors can once again spot giraffes during game drives in Pian-Upe wildlife reserve.
This translocation is anticipated to enhance more tourism in the reserve. Something that is to increase the tourism benefits like local employment, improving community livelihoods, infrastructure development and many others. Communities with cultural attachments to giraffes will be allowed to participate in conservation so as to add on the value and products of the reserve.
Last year UWA translocated impalas from Lake Mburo national park to Pian-Upe wildlife reserve in a bid to improve the tourism potential of the reserve.
UWA has been translocating several animals in the past years. In 2017, some giraffes were transferred from the upper section of Murchison falls national park to the southern banks of the park. A total number of 19 giraffes (13 females and 6 males) successfully started residing in the southern banks of the park.
In 2018, more giraffes were translocated to Kidepo valley national park. And in 2019, 15 giraffes were also moved to Lake Mburo national park, still from Murchison falls national park. Two more giraffes were moved to the Uganda Wildlife Education Centre (UWEC). Pian-Upe wildlife reserve makes the fifth destination in Uganda with Rothschild's giraffes.
The world's total population of the Rothschild's giraffes is estimated to be 1600, and about 700 giraffes dwell in Uganda making the pearl of Africa one of countries with the biggest giraffe population in the world.