July 30, 2018
Posted by:

Administrator2

Categories:

Uganda safaris, Wildlife safaris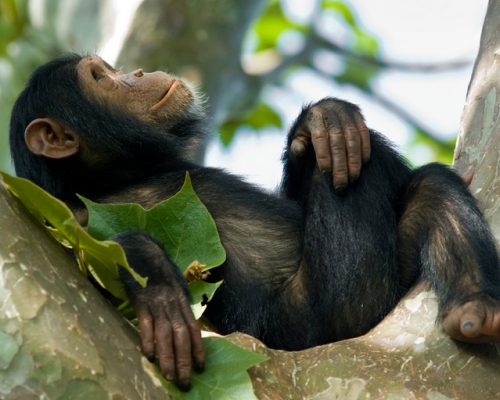 The amazing Kyambura gorge is located in the far eastern corner of Queen Elizabeth national park in southwestern Uganda. The gorge is approximately 1 km across its border point and about 100 metres deep; the gorge is permanently drained by River Kyambura in the middle of V-shaped escarpments.
The steep slopes of Kyambura were formed by the disorderly waters of the thunderous River Kyambura, are sheltered by a verdant riverine forest, which is habitat to a number of primates among which are the renowned chimpanzees.
The gorge is a section of the beautiful Queen Elizabeth national park in the lower western part of Uganda. The majority of Uganda safari visitors into this famous park are offered a tour of this amazing gorge as a supplement.
The gorge is another world on its own, it is home to a variety of mammals and most pronounced ones being chimpanzees.
The tree canopy within Kyambura gorge in the underground forest comprises of rich blocks of plant life that shut out most of the sunrays, which provides shade to the chimpanzees plus the travelers who do not require sunglasses or sun huts for the excursion.
The landscape is among the most impressive you will find in Uganda and it supports a rich bio-diversity including primates, mammals as well as birds.
Kyambura gorge is the best destination for experimental tourism and trekking the chimps here offers splendid experience because these human-like creatures descend down from the trees when they see visitors and this offers a chance to study the chimpanzees while taking as many pictures as possible.
The main activity in Kyambura gorge is chimpanzee tracking because of its underground forest, which is a safe haven for these popular primates. The gorge can best be explored on foot so taking nature walks guided by an experienced tour guide unveils visitors with splendid beauty of the gorge as well as flora and fauna within the depths of Kyambura gorge.
Some of the chimpanzees in this gorge have been habituated; the process took close to 2 years meaning that they are familiar with humans and can carry on their day-to-day activities in the presence of humans. This gives visitors a wonderful experience of truly knowing chimpanzee adaptations.
When traveling from Kampala the capital city of Uganda, passing via Mbarara, Kyambura gorge is 420 kilometers.
While from Kampala via Fortportal, it is 410 kilometers by road; it is generally about 6 hours' drive from Kampala, using either of the routes. Travelling on road gives a better experience because a visitor has opportunities of viewing stunning landscapes in western region.
There are also charter flights available from Entebbe to either Mweya or Kasese airstrip near Queen Elizabeth national park.
Travelers who never want to spend long hours on road traveling opt for this alternative. This goes for less than 60 minutes before getting there.
For visitors who get involved in chimpanzee tracking and need to rest, they retire to lodges around the gorge. Lodges here vary between the high-end facilities, mid-range/standard as well as budget lodges. Options include';
Katara lodge
Jacana safari lodge
Park view Safari lodge
Kyambura gorge lodge
Kingfisher safari resort
Pumba safari cottages
Visitors have the luxury to choose appropriate lodges depending on their preference and budget.
The visitors are able to have a close experience exciting chimpanzee trekking experience.
Chimpanzee tracking in Kyambura gorge can be combined with other Uganda safari activities in Queen Elizabeth national park, such as bird watching, nature walks, game drives and sightseeing for a complete package which when explored, brings about a memorable experience.