Luxury accommodation.

Mweya Safari Lodge
The Mweya Safari lodge is an upscale accommodation facility located at the Mweya peninsular, the tourism hub of Queen Elizabeth national park, the starting point for most interesting activities like boat cruise and game drive, overlooking the Kazinga channel.
The lodge also contains;
Self – contained rooms which have mosquito netted curtains
Powerful ceiling fan, and
A veranda that offers a spectacular view of Kazinga Channel.
All rooms have private balconies with stunning views overlooking Lake Albert and the Kazinga Channel.
Facilities
A swimming pool
A poolside bar
A souvenir shop and,
The Kazinga Restaurant which serves delicious global cuisine daily
Katara Lodge
Perched up on the escarpment of the Great Rift Valley offering magnificent views of the savannah, Lake Edward and the Virunga and Rwenzori mountain ranges beyond, Katara Lodge is a 20 minute drive away from the main entrance of the Queen Elizabeth National Park, Uganda's premier and most visited safari destination and one of the most ecologically diverse reserves in the world.
The lodge offers accommodation in 7 luxurious thatched cottages on a beautiful stretch of hills and 1 family cottage facing the open savanna in a serene and thrilling atmosphere.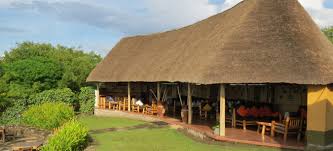 The cottages combine wooden floors, grass thatched roofs and canvas that can be folded away for uninterrupted views of the park.
The water is heated using solar thermal energy.
The regular cottages have;
One large open sleeping and sitting area
A double bed and a four poster star bed that can be wheeled out onto the veranda to sleep directly under the starlit African sky (only recommended during the dry season!).
The bathrooms are luxuriously fitted – the romantic roll top bath, or the invigorating rain shower, provides a perfect way to unwind after a thrilling day on safari.
The family cottage contains;
Two separate bedrooms
A small sitting area
A bathroom
A double bed in one bedroom and two single beds in the other bedroom, with space for a third bed if one is travelling with three children.
In addition, the family cottage comes with a small private outside sitting area with a swing couch and two hammocks.
Ishasha Wilderness Camp
Ishasha wildness camp is nestled within the heart of Queen Elizabeth National park adjacent to Ntungwe River. Located in the southern sector of the park famously known to be a habitat to the tree climbing lions; it's the only lavishness camp in the Ishasha sector.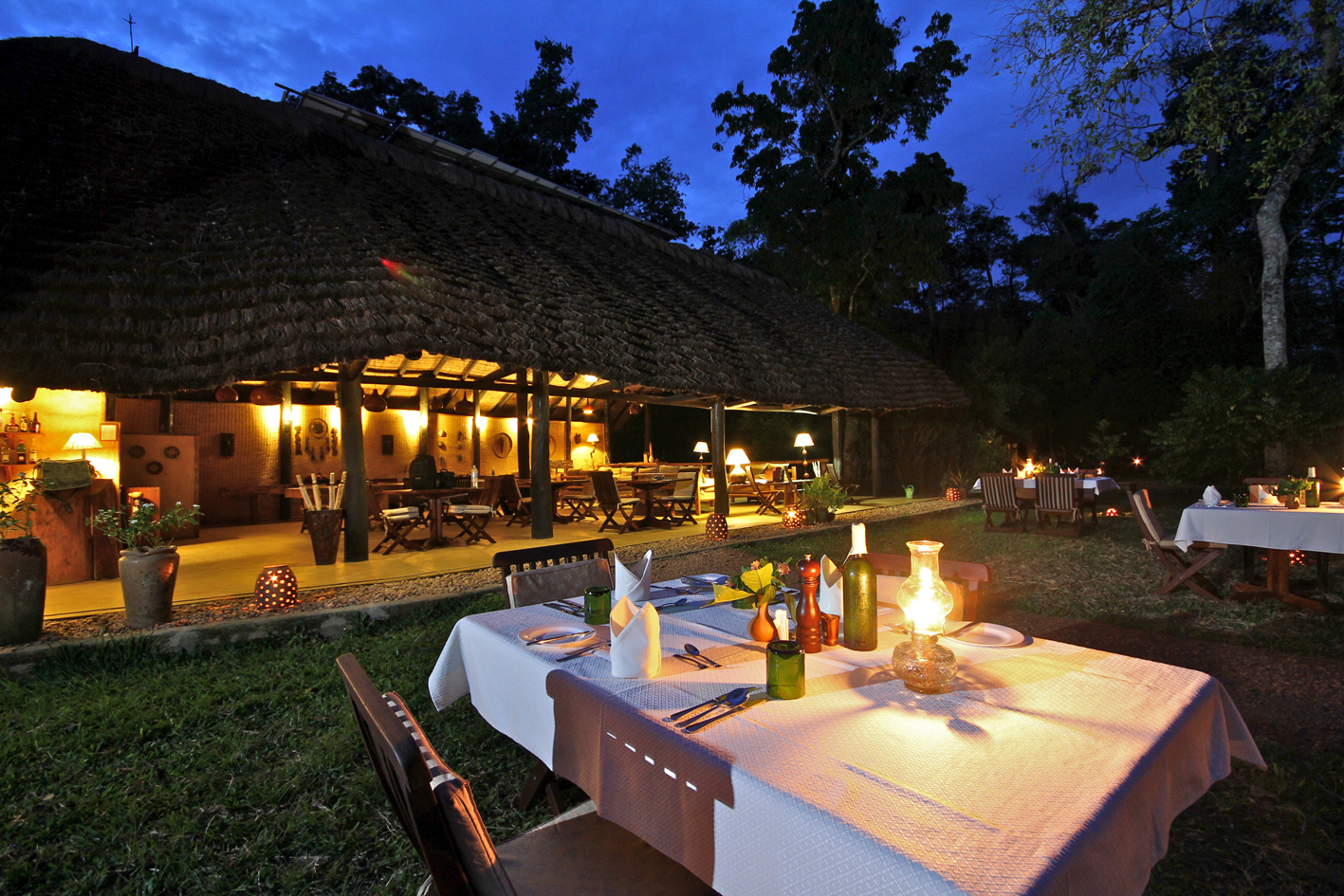 The camp is conveniently located to favour Gorilla tracking in Bwindi Impenetrable Forest, viewing the climbing lions along with chimp trekking in Kibale Forest.
Accommodation
The camp is well designed with luxury tents that are fully self-contained. Each tent decorated with an attractive African style.
Meru tents are located in the wooded area across the river with excellent facilities such as en suite bathrooms and Eco-friendly toilets.
Facilities
Restaurants with both international and local cuisines
A well designed lounge and Dining area
Solar power for lighting as well as charging simple gadgets
Camp fire place for night warmth
Wake up calls
A fully stocked bar.
Midrange accommodation
Enganzi Lodge
Enganzi Lodge is situated in farmland on the escarpment overlooking the northeastern part of the reserve offering a magnificent view overlooking the rift valley; this reasonably pleasant lodge has large public areas supporting several decent guests cottages ranged across the hillside below.
The luxurious huts are built hillside and one gets a complete magnificent view from the terrace down to the lowlands.
Well-equipped wide rooms- with big beds, shower, bathtubs and flush toilets.
Electrical outlets to charge batteries in the room.
The individual cottages are huge with lots of windows for the views.
The roofs are made from banana leaves and this keeps it cooler all time.
French doors opening up to guests own deck looking over the rift valley.
Bottle water in guest rooms as well as Umbrellas if needed.
This is one of the best places that a traveller may want to stay at on a Uganda safari. This is reasonably a hidden gem!
Ihamba safari lodge
Ihamba Safari Lodge is designed with stones and thatched cottages that march very well with the environment.
The lodge has a lounge, dining area for thrilling meal times and a swimming pool that will cool off the heat and still enjoy cocktail served while enjoying the water. This place will give a magnificent view of Mountain Rwenzori.
Besides sleeping, there are other facilities offered such as conference halls as well as internet services to all visitors. Ihamba lodge bar has a beautiful view of the sport events and it's fully stocked with all kinds of wine.
Suites
The lodge has beautiful accommodation with comfort and lavishness.
It has about 10 special suites with excellent services.
Services at Ihamba safari lodge
A magnificent view of the forest from all directions of the lodge.
Telephone, internet with a fully well stocked bar.
The rooms are air conditioned with up to date bathrooms and toilets.
Food and wine.
This lodge is put as a 5 star hotel because it serves all different types of cuisine and drinks, anywhere in the lodge premises.
Depending on where one wants their meal to be served, it could be in the dining room of their suites, outdoor dining or probably main lodge dining.
Budget accommodation.
Park view safari lodge
The lodge has the most beautiful and luxurious grass thatched cottages in Western Uganda neatly designed located in a shrubbery surrounding offering both environmental conservation and privacy for the guests
The rooms are all spacious and tastefully designed and self-contained grass-thatched cottages with installed bath tubs/showers with views to the park, running hot and cold water, electricity and a private wooden balcony perched over the rolling Savannah of Queen Elizabeth National Park. Rooms have an instant gas water heating system for the showers to save energy and wood.
Lodge Amenities
spacious restaurant and dining area
Tour/Travel desk
Free wireless internet access
Laundry service available
Swimming pool
Spacious bar and lounge area
Library/Reading area
Souvenir/Gift shop
On-site wildlife viewing
3 in 1 views of the Great Rift Valley escarpment, Kazinga channel and the Rwenzori mountain ranges.
Simba Safari Camp
Quality and affordability, there is no swimming pool, there are no fancy rooms, but there are comfortable and clean rooms, self-contained awaiting the traveler to Queen Elizabeth.
This is the best budget option at Queen Elizabeth National Park.
It is the closest accommodation to the Kasenyi Game drives in Queen Elizabeth National Park, located just outside of the park.
The restaurant serves good food at reasonable prices.
The food is good and well prepared and full board can be had here.
The bar is well stocked with local and international drinks.
Self- contained rooms with a veranda, and most beautiful views located on the equator. Beds in dormitory such as for backpackers are about $10 per night.
This has been a favorite among budget travelers and those looking for a moderate price full board at Queen Elizabeth Park.
Please book your accommodation with us now via our 24/7 lines – +256 772 633 920 / +256 712 157 128 OR via our email;-inquiry@loveugandasafaris.com / info@loveugandasafaris.com.
We are warmly waiting for your inquiry!
OR: FIND US AT OUR PHYSICAL ADDRESS.
PLOT 1490, GAYAZA ROAD
OFF KUBBIRI ROUNDABOUT
KAMPALA UGANDA