January 18, 2022
Posted by:

Love Uganda Safaris & Tours Ltd

Category:

Game Drives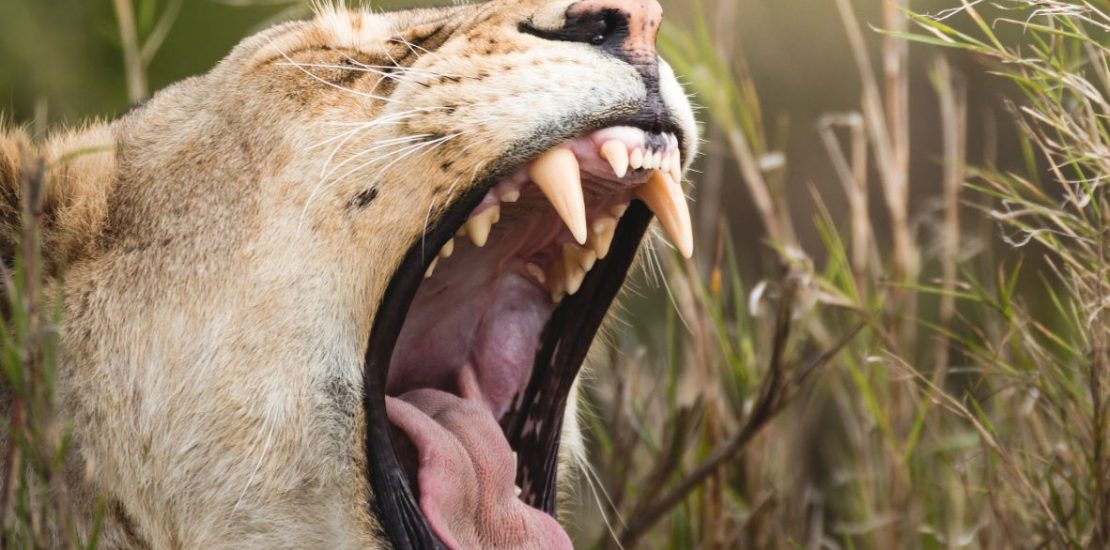 A classic safari day in the African wilderness can go in various ways. But every day is unique, diverse, and assorted for the safari partakers.  A safari trip includes game drives therefore excellent itineraries are planned carefully to coincide with the best animal viewing time.
The most common mistakes travelers make is thinking that traveling through a tour agent is a waste of resources. There are some things that you can do on your own but there are those that require experience. Having a classic day on a safari to one of the East African countries means having a trip to the moon. It is such an enthralling experience that you should not miss during your African safari.
Do you be there and imagine spending an hour in the presence of mountain gorillas, chimpanzees, or other endangered primate species? How about hiking the endless hills alongside enjoying scenic views of the surrounding areas? The reason why we call it a classic safari is simply that the only reward that travelers get is a classic experience. Guided nature walks in the savannah parks give all travelers an extraordinary safari experience.
Nature takes its own course
It is important to however note nature takes its course for most part. Therefore all elements-of-weather are to be expected on any given classic safari day. Uganda and the entire African continent lie within the tropics that is the tropic of Cancer and the tropic of Capricorn. Additionally, the continent is crossed by the equator – the imaginary line which divides the earth into the northern and the southern hemispheres. This implies that most of the countries receive a tropical type of climate characterized by two rainfall seasons. In some parts such as East Africa, you will find some regions are dry while others are wet. Temperatures in these areas also vary whereby it gets too hot during the day and too cold during the night. Such variations may make your African safari day not the best but with the right preparation, there are no any interruptions.
This is why you ought to plan your trip with an experienced tour operator such as Love Uganda Safaris & Tours Ltd. Not everyone can organize an African safari to the best.
Whether you are a solo traveler, backpacker, honeymooner, researcher, student, diplomat, name it, Uganda classic safari is yours to take. Here is one way a classic safari day may go…
EARLY MORNING.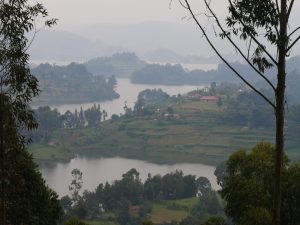 A day might start with a wake-up call. Depending on the accommodation of choice, tea & biscuits may be served at 6 am, especially at luxury camps/lodges. For the midrange & budget lodging options, this may not be the case, however, it is not forbidden to carry along a coffee serving. You might be there wondering who will give you a morning call; usually with wildlife safaris to countries like Uganda, Kenya, or Tanzania, it is birds that wake you up. If you have been used to urban life, this is the time you realize that nature is the most beautiful thing on earth. The melodies of birds are supported by the different animal voices preparing to leave their nests. In such an environment it is on rare occasions that you will hear the engine of a car or motorcycle like the case with urban centers.
Mind your sleep
If you are good at sleeping and waking up late, we advise you to set an alarm or inform your lodge attendant or safari guide to wake you up. Otherwise, you may enjoy the comfort of your bed and miss the morning safari activities such as gorilla trekking which starts at 8:00 am.
It is good that you wake up a bit earlier (about 5:00 am) so that you take enough time to prepare yourself for the safari activities of the day. The beauty of traveling with Love Uganda Safari and Tours Ltd is that we provide a well-printed hardcopy/softcopy of the itinerary with such information indicating the time and the safari activities day by day. It is good that you read it fully and understand it word by word so that you can plan accordingly.
After you are done taking your delicious snacks and breakfast, join your safari guide for a morning game drive, chimpanzee tracking, and gorilla tracking depending on the national park you are in.
Sun Rise Encounters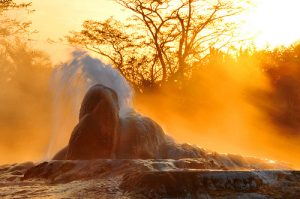 At sunrise after all is prepared to include gadgets- the first game drive. For first-time safari goers, this is an opportunity of a lifetime. It is an old fact that game is best seen when temperatures are low and wildlife is known to be active. If you are in places like Queen Elizabeth national park, you will use a safari vehicle and drive to the deeper areas of the park. You will enjoy the beauty of early risers of the park as they leave their nests. Birds sing the grass is wet with dew, the trees are calmly shaking in response to the slowly blowing winds. It is such a breathtaking moment.
On a lucky day, you will land on carnivores grabbing their last hunt since most of them be retreating to their hiding places before the sun rises.  Sun rise are  best moments for  taking the best picture of your safari.
If you are in places like Bwindi Impenetrable national park, Mgahinga gorilla national park, Virunga national park, or Volcanoes national park, and you are in for a gorilla trekking safari, you will drive to the park headquarters for briefing. The briefing takes approximately 30 minutes and by 8:00 am the trek will begin. The activity lasts for one to eight hours including a full hour to spend in the presence of the gorillas upon encountering them.
If you are in places like Kibale national park or Nyungwe forest national park for chimpanzee tracking, you will do the same as for gorilla trekking since the activities are somewhat related.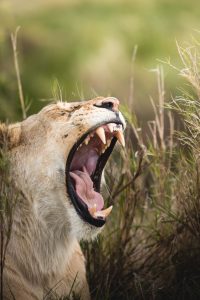 MID-MORNING.
The early morning game-drive takes a few hours, perhaps 2 hours or 3 hours depending on the wildlife activity. After this, they return to the lodge/camp for a hearty breakfast. Or perhaps opt for another breakfast option – bush breakfast. For most lodges, this is an activity that requires prior arrangement and extra costs may be incurred. With this option, staying longer in the field/park is expected. This time may also be used to collect on the memories made that same morning.
After this kind of breakfast, some tourists decide to go boating on the waters such as the Kazinga channel in Queen Elizabeth national park or River Nile in Murchison falls national park.
This is also a good time for you to embark on a guided nature walk. Nature walks are best in parks like Lake Mburo national park – the smallest national park. During this walk, your main activity might not be game viewing. It might rather be spending time with the guide as you ask questions. Get to learn more about different plant and bird species. You get a chance of interacting with the local members of the communities around the park and dive into their culture. This can go up to around 11:30 am a period when you can retreat to your lodge for some bit of relaxation as you wait for lunch and the afternoon session.
Relaxation may include swimming in the pool or reading a magazine in the compound under one of the trees. It can even be reaching out to fellow travelers and having a chat – traveling is the best way of making new connections.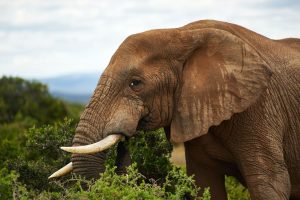 LUNCH AND AFTERNOON
This time may range between 12: 00 noon and 4:00 pm. Chances are, lunch will be at the lodge/camp of your stay. This is especially if the safari is booked on a Full-board basis. This  translates into all meals being catered for by the lodge. On some very busy days, a lunch box may be organized. The safari partakers may maximize their time in the field. Lunch in the bush can be one of the best things to do on a classic safari day. Imagine sitting under the tree, dining around a temporary table alongside seeing the wild game. This experience is always cherished by honeymooners as they pop champagne and kiss in the wilderness.
In the afternoon, one may make use of the lodge/camp amenities like the swimming pool. However, for national parks surrounded by Lakes or have Rivers cutting through, a boat ride is a must-do! With this, there is an opportunity to see wildlife while on water. Another known fact is – wildlife including elephants, antelopes, buffalos, and even lions quench their thirst on the water shores. Also, various bird species may be seen like the kingfishers, and African fishing eagles, to mention but a few.
For places like Queen Elizabeth national park, you can enjoy a launch trip on Kazinga Channel – the water body that connects Lake Edward to Lake George. The most amazing views of animals come along as you sail the waters. It is here that you chat with local fishermen and participate in the catching of fish.
Great Safari Experience
In some parks like Tanzania's Serengeti national park, an afternoon game drive can be the best for seeing the great wildebeest migration. Here you get to watch millions of wildebeests as they move northwards until they reach Kenya's Masai Mara game reserve. The most iconic moment of this migration comes when these animals courageously cross Africa's deadliest river – the Mara River. The river is invested with deadly Nile Crocodiles. Here crocodiles are not the only threat, other carnivores especially, lions, hyenas, wild dogs, and leopards walk by the herds' side. It is during this great animal migration that you get to prove the law of nature which states that "only the strong ones survive." In other words, it is survival of the fittest.
In some cases, like in the Masai Mara, you will have a full day of game drives to maximize your time in the park. A picnic lunch at the Mara River comes in handy.
For those that will have gone for gorilla or chimpanzee trekking, there is a possibility of you being in the forests by mid-day. This is because gorilla trekking takes between one and eight hours. Remember you are interacting with animals in their natural habitats. Sometimes seeing them requires extra effort and some sort of fitness. Seeing gorillas and chimpanzees depends on where they spent the previous night, how fast trekkers walk. The season also matters. During dry seasons, these primates tend to roam in the nearby areas. Unlike during the rainy seasons when they go deep into the forests in search of fruits.
EVENING
Evenings are mainly dedicated to the recollection of events and story-swapping over drinks. This may also be over dinner or campfire depending on chosen lodging. But before that, depending on your national park, many tourists opt for community tours. For example in Bwindi Impenetrable national park, visiting the Batwa Communities is best done during evening hours. It is a period when they are not so much busy with chores. All they can do is entertain tourists. You will take part in African storytelling, brewing of local beer, traditional dance, and many other cultural experiences. This is the right time to donate something to these communities as a sign of appreciation and giving back.
NIGHT
Nights are (not) for sleeping in the African wilderness. There is an option to choose to have a night game drive. Please arrange this with a tour consultant beforehand. Night game drives are becoming popular in Uganda and prior organization is required. This is because they may require you to have booked a lodge that is inside the park. In Uganda Night game drives in Uganda can be done in Lake Mburo, Kidepo Valley, and Murchison falls national parks.
Night game drives give travelers an opportunity of seeing the night hunters. It is a moment for them to feel like they are watching an animal documentary on National Geographic. You may land on a leopard hiding its kill in the tree branches. The park is quiet as the lion kings roam and show dominance over all the creatures. You may thus pass by these queens and kings of the jungle during a night game drive.
There are many ways of designing a classic safari day. It depends on the needs of the traveler and the experience of the tour operator. This implies that having a classic day lies in the hands of the organizer. You need tourism experts like Love Uganda Safaris and Tours Ltd to make your safari dreams come true.
For a classic safari experience, speak to a tour consultant here.