July 25, 2023
Posted by:

Love Uganda Love Uganda

Category:

Blog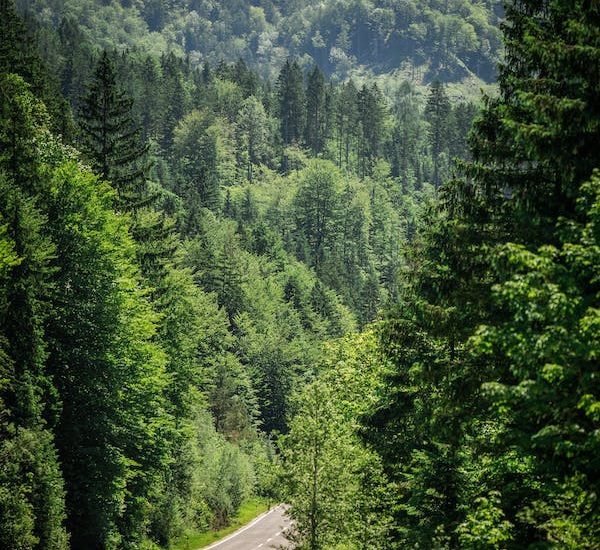 An Epic Uganda Forest Safari Adventure Through the Thickets of the Pearl of Africa 
Commonly referred to as the Pearl of Africa, Uganda is a reliable destination for all travelers who love thickets and dark green places. Taking on a Uganda forest safari is a rewarding experience. Uganda is home to more than 10 forests which vary in size, location, and types of trees.
Uganda's forests have been through thick and thin
Forests in Uganda survived dangerous human activities such as deforestation, encroachment, bush burning, road construction, and charcoal burning. The existence of some of these forests traces its origin way back about 1000 years ago. Efforts from both domestic and international stakeholders have been made to conserve these beautiful habitants. Tremendous success has been registered so far. This is why they are available for exploration on a Uganda forest safari.
The survivors of such tragedies have become strong tourist attractions. They thus attract hundreds of travelers from all corners of the world throughout the year. Uganda's forests are homes to thousands of animal, bird, insect, butterfly and reptile species of different kinds. Some of these are endemics/endangered species. These species are at the verge of extinction and cannot be found elsewhere in the world.  Looking for the best Uganda forest experience, look no further! Book a Uganda forest safari here
Paying a visit to one or two of Uganda's forests gives an additional experience on your Ugandan safari. It is a chance for you to exercise while walking the muddy trails, passing through those thorny trees and holding on to those near you. It is always a memorable encounter especially when you meet different animals such as monkeys, chimpanzees, gorillas, elephants, to mention but a few. At times the walks are accompanied by heavy downpour characterized by lightning and thunderstorms. Embarking on a Uganda forest safari is a chance for you to create everlasting memories through the Pearl's thickets.
Below are some of the destinations from where you can have a forest safari in Uganda.
Mabira Forest
Located in Buikwe district between Jinja – the source of River Nile and Lugazi, Mabira forest is the biggest forest in Uganda. It covers an areas worth 300 square kilometers and was established in 1900. Characterized by well grown trees, Mabira forest is a tropical rain forest whose trees form a canopy. The forest harbors an approximate number of about 311 tree species with ancient trees of about 100n years old. It is believed that Mabira forest extended all the way to Central Africa back in the 1880s. It was however, affected by human settlements hence the reduction in its size.
The forest has been conserved as both a natural habitat and cultural site in Uganda. Mabira forest is also home to about 219 butterfly species, and about 316 bird species. These include; Nahan's Francolin and Papyrus Gonolek. 79 species of the birds in Mabira forest can only be found in Central Africa. Some of the animals found include; Blue duikers, fruit bats, baboons, Bush pigs, the Tree Hyrax, Red Tailed Monkeys, Squirrels, Bushbuck, Grey Cheeked Mangabey, Bush Babies, Leopards (very rare) and various species of snakes.
Furthermore, Mabira forest is an important water catchment area serving many streams and other water bodies like River Nile, Lake Kyoga, River Ssezibwa and Lake Victoria. Culturally and traditionally, the Buganda people who are the dominant tribe around Mabira forest consider the forest to be of great cultural and historical significance i.e. the Buganda gods of food and rain are believed to live in Mabira forest. The forest has always provided medicine/herbs that are used to treat all kinds of ailment among the people living in the area and beyond. Book an amazing Uganda forest safari here 
Activities and attractions in Mabira Forest. What to see and do in Mabira forest.
Travelers who spare their time and visit Mabira forest have ridiculous experiences while engaging in quite a number of activities. Some of these include;
Walking the trails of Mabira forest will introduce you to more than 50 bird species some of which are Rift Valley endemics.  You do not have to go into the deeper forests of the park to have a glance on these birds. Majority of them stride the nearer parts of the forest but curious travelers can as well go as deeper as their curiosity can satisfied. Some of the birds of Mabira Forest include but not limited to the following  Nathan's Francolin, Sabine's Spine tail, Speckled Tinker bird, Yellow-spotted Barbet, White-bellied Kingfisher, White-spotted Fluff tail, Yellow-billed Barbet, African Shrike-flycatcher, Black-and-white-casqued Hornbill, Black-shouldered Nightjar, Blue-throated Roller, Cassin's Hawk-eagle, Cassin's Spine tail, Dusky Long-tailed Cuckoo, Forest Wood hoopoe, Green-breasted Pitta, Grey Parrot, Hairy-breasted Barbet, Afep Pigeon, African Dwarf-kingfisher, African Pied Hornbill,  and the Yellow-throated Tinker bird.
The forests have a number fruit bearing trees that have acted as food for these birds from time immemorial.
The other great tourism activity at Mabira forest is the magical zip lining where by travelers get an opportunity of viewing the forest from the top. The swinging ropes run for kilometers from one side of the forest to another. Zip lining in Mabira forest comes with views of tree, primate and bird species as well as the surrounding areas. The sessions take places twice a day that is the morning zip lining session (starting at 8:00am) and the afternoon session 9starting at 1:00pm until about 6:00pm).
 Mabira forest also offers spectacular guided nature walk safari experiences to travelers. The forest is divided into three trails that is the white trail, the red trail and the yellow trail. Each of these offers tranquil experiences and can be walked alone however much the best experiences come when you are in company of the guide.  Embarking on any of these trails will turn your moments into memories as you encounter multiple animal, tree, and bird and butterfly species. The trails are good for groups or solo travelers.
Mabira Forest is a home to multiple monkey species with the outstanding one being the Uganda Mangabey Monkey – sometimes known as the Lophocebus Ugandae which can only be found in Mabira forest and some parts of Tanzania. Travelers who come during the season of fruits will easily spot these monkeys. Like gorillas, these monkeys live in families and three groups are open to travelers since they were habituated.
Travelers who are less interested in walking just one of the three trails embark on biking. They hire a bike and ride all the three trails in one day. It is quite challenging but the experience and the encounters are worth the price. Think about this before making your way to Uganda for a forest safari in Mabira.
How to access Mabira forest.
Mabira forest can be best and easily accessed by road from Kampala which is approximately 56 kilometers. It might take one to at most two hours from the city center depending on traffic hold up. You can opt for public taxis heading to Lugazi and drop off at Najjembe market from where you can access the forest center.
What is the best time to visit Mabira forest?
Mabira forest is an all year round open destination for all travelers unless otherwise stated by the management. However, some activities are best in some seasons, for instance, Camping and picnics are better during the dry months of between December and February.
Budongo Forest Reserve
Budongo forest conservation area is part of Murchison falls national park – Uganda's oldest and largest national park. The forest is one of the ancient forests in Uganda and Africa as a whole. It has gained fame in the recent years for being home to some of the world's endangered primate species that is chimpanzees. Other than chimpanzees, Budongo forest is a home to multiple bird species, small mammals and butterflies. A combination of these and more make up the beauty of this beautiful destination.
Activities and attractions in Budongo forest. What to see and do in Budongo forest.
Quite a number of activities take place in Budongo forests and majority of the activities are usually combined with safari activities in Murchison falls national park – the home of the world's strongest waterfalls. These activities include but not limited to the following;
Other than Kibale forest national park, Kyambura gorge in Queen Elizabeth national park and Ngamba Island chimpanzee Sanctuary, chimpanzee tracking in Uganda can be done within the dense forests of Budongo. Travelers in in need of a chimp experience should thin of adding Budongo forest in their plans.
Budongo Forest is a home to multiple bird species about 360 of them. A walk in the forests of Budongo will introduce you to several bird species some of which include; African pied wagtail, Black kite, crested guinea fowl, oak-tailed drongo and Olive-breasted greenbul.
Guided nature walks and Hiking adventures
For a greater forest experience, travelers embark on a guided nature walk in the forests of Budongo. Following different trails give you an opportunity to see primate species such as the human-like chimpanzees as well as several bird species. The fact that Budongo forest is closer to Murchison falls national park, do not be surprised if you encounter lion or leopard. This is why it is strongly emphasized to embark on such walks with the company of the experienced guides.
How to access Budongo Forest Reserve
Located in south eastern part of the great Murchison falls national park, Budongo forest lies just a few kilometers from Masindi town (about 30 kilometers). It is just 8 kilometers from Paraa right from Kichimbanyobo gate south of Murchison falls national park.
What is the best time to visit Budongo forest Reserve?
Budongo forest Reserve is an all year round open destination for all travelers unless otherwise stated by the management. However, some activities are best in some seasons, for instance, Chimpanzee tracking is better during the dry months of between December and February.
Bwindi Impenetrable natural Forest
Sitting on the edge of the Rift Valley, Bwindi Impenetrable Forest strides the district of Kanungu in South western Uganda. Like the name suggest, Bwindi forests are indeed impenetrable. The forests cover an area of 331 square kilometers. The area receives regular rain fall of 1,500 mm and sits in an essential catchment area and the oasis of 5 foremost rivers that gush into Lake Albert. It is considered to be the main natural forest in Africa. This is largely due to its antiquity and an altitude range of between 1,160m and 2,607m above sea level.
Bwindi Impenetrable national park is a factual rain forest. It stretches over a series of steep ridges and valleys which form the eastern border of the Albertine Rift Valley. This forest forms a big part of the park, a renowned forest park which is home to over a half of world's mountain gorillas, forest birds and a variety of bird species. Comprising of ancient tree, Bwindi forests are tropical in nature and the mist that covers the hillsides gives the forest a whole beautiful picture. Little wonder, those that have visited in in the past have got memorable stories to tell. Being home to the endangered mountain gorillas, Bwindi Impenetrable forest is one of the popular and most visited destinations in Uganda. No matter how many visitors go there, the forests remain unique and their beauty multiplies every now and then.
Activities and attractions in Bwindi Impenetrable natural Forest. What to see and do in Bwindi Impenetrable natural forest.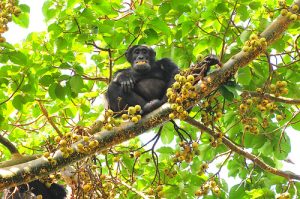 Since its establishment as a national park, Bwindi Forests Reserve has had a number of tourist activities and these include but not limited to the following;
Gorilla trekking and habituation experience.
Gorilla tracking in Bwindi forest takes place in the four different regions. Buhoma sector (the oldest and most visited), Rushaga region (in the south), Ruhija (in the East), and Nkuringo sector in the far south-west. More than half of the World's mountain Gorilla population is resident in Bwindi. Most of these gorillas have adopted human presence and are estimated to be 420 individuals living in 12 gorilla groups / families that have been habituated and open for trekking anytime of the year.
Birding is one of the activities that are popular in the forests of Bwindi. The forests are famous for their variety of bird species that are residents here; with an estimated number of 350 bird species, which 23 are endemic to the Albertine Rift and 14 recorded nowhere else in Uganda. Critically endangered bird species here include, the African Green Broadbill and Shelley's Crimsonwing. Other birds like the Handsome Francolin, Black-billed Turaco, Black and Cinnamon-chested Bee-eaters. Western Green Tinker bird, Purple-breasted, Blue-headed and Regal Sunbirds are found here. Mountain and Yellow-streaked Greenbuls and Many-colored Bush-Shrike, among others. Go along the main trail, Buhoma waterfall trail, the bamboo zone and Mubwindi Swamp trail in Ruhija region for the best experience.
Other than birds and mountain gorillas, several animals dwell in the forests of Bwindi. There are over 25 amphibian species; 11 of which are endemic to the Albertine Rift. 6 are of global conservation concern including the Western Rift Leaf-folding Frog (Afrixalus orophilus) and Ahl's Reed Frog (Hyperolius castaneus).
Natural walks and cultural encounter.
In Bwindi Forest, travelers usually opt for guided nature walks especially in the afternoons / evenings after they are done with gorilla trekking which starts in the morning. The walks take you through the Batwa pygmies' villages which where you will get an amazing cultural experience. You learn the ways of life of these ancient dwellers of the forest whose life entirely depended on hunting and gathering fruits.
How to access Bwindi Impenetrable forest?
Bwindi Impenetrable forest Reserve can be accessed by both air and road. By road, you drive the 512 kilometer road from Kampala using Kampala – Masaka – Mbarara – Kabale Highways. Then By air you can fly from Kajansi airstrip to Kihihi or Kisoro airfield for 1 to 2 hours.
What is the best time to visit Bwindi Forest?
Bwindi forest reserve can be visited all year round but for best gorilla trekking experiences the dry months of June to August and December to February are the most recommended.
Mpanga central forest Reserve
Located in Mpigi district just about 37 kilometers from Kampala city center, Mpanga central forest reserve is one of Uganda's prime destinations. The area was officially put under protection in 1953 as a science research area and it covers an area of approximately 45 square kilometers.
Mpanga central forest reserve is a home to 500 tree species as well as 200 species of birds. This is in addition to multiple butterfly species and some trees which are believed to have lived for one hundred years.
Mpanga Central forest reserve is usually visited as a stopover and can be combined with the Uganda Equator at Kayabwe while travelers are heading to the western circuit. In the forests are animals such as leopards, bush babies and red-tailed monkeys.
Following any of the three trails that is the baseline trail, the Butterfly trail and the hornbill trail gives you amazing views of different dwellers of the forest. The forest have one of the best camping grounds with toilets. You will enjoy campfire in the night along with a bottle of beer or champagne or roasted meat.
The other outstanding activity in Mpanga Central Forest Reserve is visiting the village from where African drums are made. You will also enjoy traditional stories related to drumming and participate in traditional dancing.
Kibale forest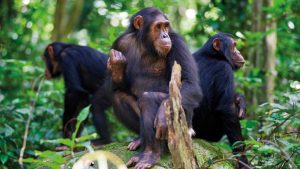 Located in western Uganda, Kibale forest is one of the rich dense forests in Uganda. It attracts thousands of travelers from all corners of the world throughout the year. The forest is strategically located near Hoima city, Fort Portal city and the mighty Queen Elizabeth national park. It is also famous for having chimpanzees and numerous crater lakes in the neighborhood.
Those that visit Kibale forest engage in chimpanzee tracking, birding especially in Bigodi wetland and guided nature walks. Travelers also visit the Crater Lake region and others climb to the top of the world to enjoy scenic views of the surrounding areas.
Kibale Forest can be accessed by driving the 385 kilometers from Kampala or Entebbe International airport. It can as well be visited all year round but the dry months of June to August and December to February are recommendable for best chimpanzee and birding safaris. Take on a Uganda forest safari to Kibale national park and enjoy a thrilling adventure.
Bugoma forest – an Epic Uganda forest safari destination
Bugoma forest is located in southwest of Hoima city and northeast of Kyenjojo town, and east of Lake Albert, in the Hoima district of western Uganda. The forest was gazetted in 1932 and put under protection of National Forestry Authority in 2002. The forest conserves a number of mammal species some of which are in the endangered category.
It is a prime destination for all vegetation lovers and is a home to several reptile species. You will encounter hundreds of bird species visiting Bugoma Forest Reserve. These include; Shoebill, Fox Weaver, Rwenzori Turaco, to pint out but a few. Some of the dwellers of this forest have never been fully explored. There are beliefs that over 600 chimpanzees dwell in this forest. The reserve harbors quite a number shrub tree species and other tall trees whose tall canopies are the logic behind the forest's beauty.
The activities offered by Bugoma forest reserve include, birding, guided nature walks, photography and picnics. Spending one or two nights in the forests of Budongo is a moment turned into memory.
How to Access Bugoma Forest Reserve Forests Reserve
Accessing Bugoma Forests Reserve can be possible by driving the 72 kilometer dusty road from Hoima city via Kabwoya. From Entebbe international airport, you will use the Kampala – Hoima – Fort Portal road.
In a nutshell, there is always a time in every human being's life where they need to rejuvenate, breathe fresh air, and meditate. Such an experience can best be done in the cool silent wildernesses such as forests. That is all Uganda has got to offer. Love Uganda Safaris believes in offering services beyond self. Among these are such spectacular escapes into the forests of Uganda. We can design your safari so that you balance forests with other destinations. All you need, is getting in touch and we adventure into the thickets of the Pearl of Africa.