May 8, 2018
Posted by:

Administrator2

Categories:

Current News, Daily lfe, Holiday, Uganda News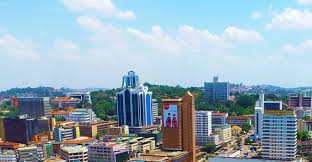 Explore Uganda's capital with the first sightseeing bus in Kampala.
In the campaign of promoting domestic tourism in Uganda, the ministry of tourism decided to bring the Kampala sightseeing bus. The new double Decker bus was introduced in December 2017 in Kololo, an uptown Kampala suburb. This Kampala sightseeing bus is the first of its kind in Uganda and with that comes excitement for many trips. It is assured to give visitors a unique road tour to experience Kampala's top attractions.
It is scheduled to have two trips daily and the first one begins at 9am. The journey takes between 4 to 5 hours depending on the traffic on that particular day. The Kampala sightseeing bus is specifically for travelers who want to discover the attractions of Kampala.
A FEW PLACES TO SEE
The Kampala sight seeing bus shows visitors the city in a different way like its never seen before. It goes to all the Kampala's most unique places during a short memorable Uganda safari. When the Kampala sightseeing bus starts its journey, it goes through most beautiful and best spots of Kampala such as Uganda Museum, The National Theater, Nakasero Market, Rubaga Cathedral, Namirembe Cathedral, Kabaka's lake, Kabaka Royal Palace, Uganda national mosque, Bahai temple, independence grounds and many others.
SITTING CAPACITY
The Kampala sight seeing bus accommodates up to 64 travelers.  As mentioned earlier, it is a double decked bus. It is comfortable, with sufficient leg room and storage space, a PA system and a restroom, too.
A single journey may take 3-4 hours or a full day. The rates for these buses are per day and these vary according to the geographical distance. For individual bookings – East Africans part with hundred thousand shillings while foreign travelers pay thirty dollars only with drinks and snacks inclusive.
STARING POINT
The starting point of these great sightseeing tours is not static. as long as it is within Kampala and large enough space to commune, it is possible. The journey may begin at BMK house/Hotel Africana or at a school like Lohana Academy if it is a school trip. Once onboard the Kampala sightseeing bus, just be ready to visit the various incredible places in the magical capital city of the pearl of Africa.
Visit Uganda and get a chance to experience the city's coolest new ride while enjoying Kampala's popular attractions. Family and friends can now take on Kampala using the sight seeing bus. Remember to take pictures to share moments and keep for memories.