January 31, 2019
Posted by:

Administrator2

Categories:

uganda gorilla tour, Uganda safaris, Wildlife News, Wildlife safaris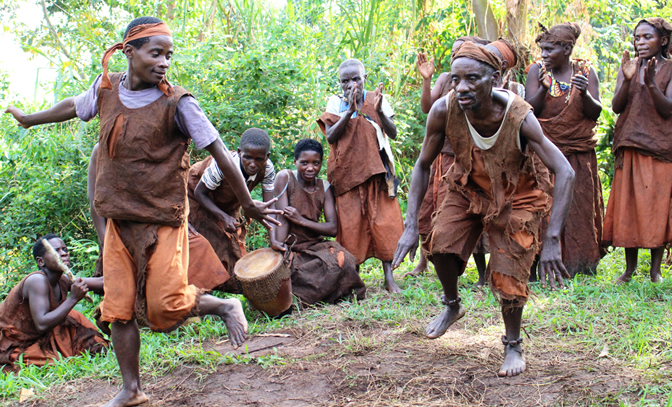 Batwa Cultural experience in Uganda.
The Twa or Batwa are an ethnicity living in different countries in Eastern Africa. Located in Rwanda, D.R. Congo, Uganda and Burundi, better known as the tribe of pygmies. The tribe of the Batwa were normally located in the deep rain forests of the country. After the government decided to protect the gorillas and the place gazetted to become a national park, the Batwa were relocated outside the forest, near villages and towns.
A long time there were living in perfect harmony with the forest. Hunting with spears for animals and eating fruits. Hunters and gatherers. They took their medicine and everything else out of the forest. In Uganda, there are living according to estimates around 3500-4000 Batwa. Only a few left to protect their culture and it is possible to see how they are living and arrange the day with food and agriculture. An interesting Batwa cultural experience that must be on your bucket list.
This experience in Uganda is only possible in two locations; Bwindi and Mgahinga National parks. So if you come to Uganda and doing the Gorilla trekking, don't miss the chance to undertake the Batwa tour as well. It is not only a visit of the villages and how they are living in there, it is also connected with hiking. A hiking trail to discover the rich culture of the last forest-people.
After they were settled out of the forest they have to change their lifestyle, but they never forgot their roots and the knowledge is given to every new child.
An exclusive Batwa cultural experience costs you $80 in either Mgahinga or Bwindi national parks. Only 24 people get the permission per day to explore this amazing group of people. 12 persons per group, one starting in the morning and another in the evening. The tours have no set time, so the duration is flexible, but normally it takes about 5 hours. Get ready for every kind of weather and hiking; bring with you hiking shoes, long pants, rain jacket etc. The weather in this forest is unpredictable and can rain or shine any time of the day.
What can you expect from these cultural experiences? The Batwa will give you an insight view of their life. During the hike, they demonstrate how they hunt or they gather honey and how to use medicinal plants for different diseases.
You'll be shown how they use nature for their daily life and what you can use for what. For example, cups out of bamboo are easy to make and you'll find it everywhere in the rain forest. But these people are not only hunters and gatherers, they have some wonderful traditions like dancing, the women will give a performance of the cultural dances, weaving, story telling and so much more.
Today, their lives have changed because of resettling, they are creating special crafts and are professionals in pottery. During this cultural experience, you'll get an inside view of all the activities. How and where the crafts are created and how they potter. For the time you're allowed to visit them, they will take you on a journey into their culture and it is possible to be part of them for a short time.
After the experience, you'll see them with a different perspective and you are coming out with more knowledge about nature and the culture of the Batwa people.
Don't miss out this experience if you are interested in nature and culture, it is one of the activities which can't disappoint you.