August 2, 2017
Posted by:

Love Uganda Safaris

Category:

Blog, Current News, Holiday, Uganda News, Wildlife News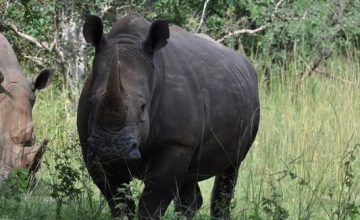 ZIWA RHINO SANCTUARY: The New Frontier
The Ziwa Rhino Sanctuary (Ziwa Rhino and Wildlife Ranch) is the noble home where one can exclusively sight the gorgeous white Rhinos in Uganda. Gifted by nature, the pearl of Africa is home to various wildlife ranging from birds, mountain gorillas and big cats etc. While one a Uganda safari tour, one can catch glimpses of the elephant, buffalo, lion and leopard that can be found in any of the national parks. The latter mentioned animals make up the Big Five jointly with the Rhinos.
Both the white and black rhinoceros are endemic to Uganda. However nearly two decades ago, the rhinos in Uganda were wiped up due to the gross poaching, civil wars and habitat mismanagement in the nation by about 1983. In 1997, Rhino Fund Uganda; an NGO was established and embarked on the goal to reintroduce rhinos in Uganda. In conjunction with the Uganda Wildlife Authority, the fund in 2005 accomplished its prime objective when it saw the introduction of six rhinos at the Ziwa Rhino Sanctuary.
Tourism in Uganda has since received a major boost as it saw the completion of the Big Five in the Nation. The Ranch sits on a 7000 hectare piece of land with befitting savanna grasslands and woodlands. Ziwa Rhino Sanctuary today is home of about 20 southern rhinos many of which have been born in the country. The sanctuary also offers a habitat for many other animals like the crocodiles, hippopotamus, the Ugandan kob, pangolins and the white tailed mongoose. In addition to that, a range of amphibians/reptiles also reside in the sanctuary namely the black mamba, African rock python and the spitting cobra. This refuge also congregates various bird species making it a must-stop for those in search of birding safaris in Uganda.
The refugee offers an authentic African safari encounter with activities like foot rhino trekking, guided nature walks, shoebill canoe safari and the true birding experience. This has made it an exclusive stop for any tourist on their way to or from the Murchison Falls National park the biggest conservation area in Uganda. Long term prospects aim at the reintroduction of these mammals in Murchison Falls National park and Kidepo Valley national Park.
Ziwa Rhino Sanctuary has won international recognition for its best practices on wildlife conversation and is an exceptional undertaking while on vacation in Uganda.