June 12, 2017
Posted by:

Administrator2

Categories:

Blog, Current News, Holiday, Special Offers, Uganda News, Wildlife safaris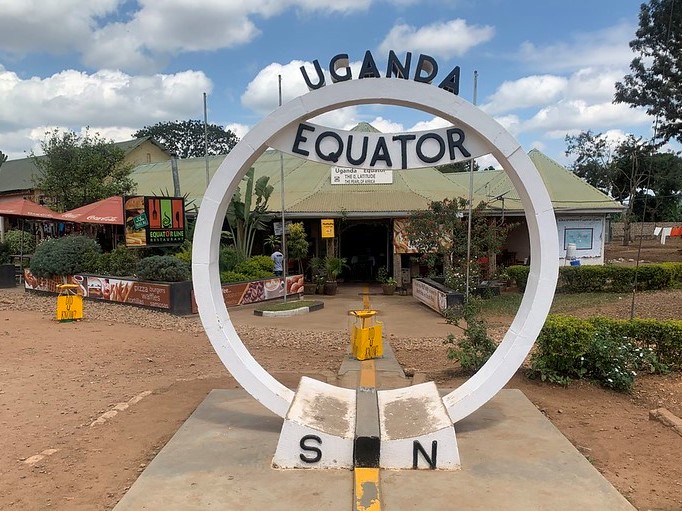 The Uganda Equator Thrilling experience!
The incredible Uganda Equator conjoins the earth's surface with a suspended plane to the rotation axis of the earth and holding its centre of mass. Here however, the part that enshrouds this geographical covering is called the Uganda Equator, an eminent cum renowned land mark. Fact is, one cannot say; 'I visited Uganda without having crossed the Uganda Equator'.
Anyways, it's globally known that the Equator is an imaginary line that crosses the world dividing her into two equal parts/hemispheres; the Northern and southern hemispheres. A little wonder and magic along this imaginary line is that a magnetic needle cannot dip in basin water and stabilizes in a perfect horizontal position when positioned astride the equator line. Better still, it's only at this point, where individuals can put either foot to stand on both sides of the world (the North and South). For the record, we experience but only warm temperatures and tropical climate along the Equator. The challenge is; we barely tell the difference between seasons.
Visitors with the affinity for an experience at Uganda equator can access this destination by travelling from Kampala city – the capital covering a distance of 72 kilometers to Kayabwe, Mpigi district because at this point, besides the road from Kampala stands a poster held up on its stands vividly indicating the markers of the Equator, along the Kampala-Masaka Road/ high way. Visitors intending to use public means; a taxi or bus can pay Uganda shillings 10,000/= or 15,000/=, which is USD 4-5 considering the current exchange rates. Yet in the south western direction from Kampala, locator markers of the Uganda Equator are being evident, crystal clear in Kasese district hailing through another gallant and profound land mark, just outside the Queen Elizabeth National Park. We recommend all visitors to carry with them a sun screen for this over whelming experience while standing in the middle of the Equator.
When having an exceptional holiday safari in Uganda, do not forget to pass via the Uganda equator, one should carry with them a souvenir for memory and also for family and friends. Copious structures are already established exhibiting astonishing works of Art; craft pieces. Our visitors can collect different products whatsoever from the Antique galleries and the Aid Child gallery at Kayabwe. T-shirts expressing "crossed the Equator" are available at this point too; pick them for all family and friends. Come all, and have this memorable experience that lasts eternally from the Uganda Equator.