June 23, 2022
Posted by:

Love Uganda Safaris & Tours Ltd

Category:

Blog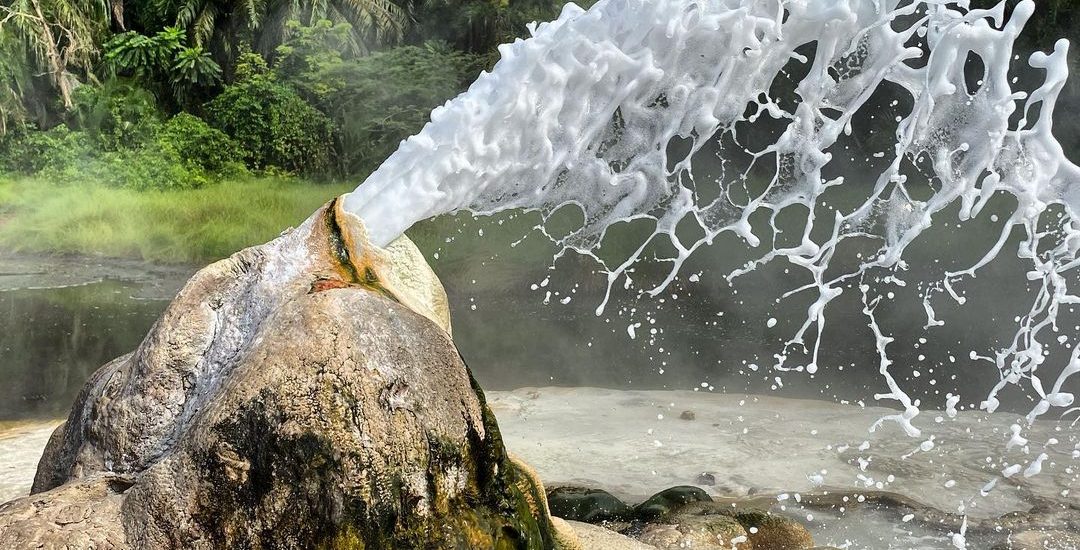 Hot-springs are produced by geothermally heated groundwater emerging onto the surface of the earth. The water temperatures are substantially higher that the surrounding region air-temperature and therefore may be dangerous. Most hotsprings across the globe are know for discharging heated groundwater through shallow intrusions.  Sempaya Hot Spring is one such occurrence. Found in Semuliki National Park, the hot springs have a temperature of up to 103⁰C (217.4⁰F) and are categorized into Male and Female by locals. Adventurous visitors to these hotsprings habitually place raw-eggs on the springs, let them cook and later eat them! This is the real depiction of how hot these springs are.
Semuliki National Park is a protected area in western Uganda. The park occupies an area of 219 sq. km.
Human Uses
Locals in the Semuliki area sometimes take a bath where the water is cooler, for hygiene purposes. Others have attached traditional motives to the bath. Some include healing skin-disorders, fertility for those yet to bear children, ease of delivery for pregnant women and relaxation.
Traditionally the Bamanga people hold the spring sacred; citing the gods are female and go ahead to hold celebrations in order to appease them.
How to get there
The drive to the hot-springs is long to say the least but also rewarding in terms of magnificent views.  This transfer takes a number of winding turns-and-twists that meander all the way up to the Rwenzori Mt escarpment. And to Sempaya Hot-springs.
Travelling along this escarpment from Toro Kingdom offers views of undulating green mountain ranges which are a sight to behold! In sight are small scale farms, beautifully arranged, posing for good photographic moments.
The falls are located at the eastern most limit of the Ituri Forest of Congo basin.  A few meters away from the Semuliki river which meanders away pouring into Lake albert.
Other sites and wonders
While in Semuliki National Park, there are several activities to engage in. These include;
Nature walks – with a ranger guide, a few places can be visited.
Bird watching – various bird species are attracted to the wetland that surrounds the springs
Game watching – Salt deposits around the springs have a way of attracting wildlife.  Therefore animals like buffalo will occasionally visit the hot springs to lick these deposits.
The Sempaya hot-springs are by far the most common hot springs in Uganda! The country is however known to have many other hotsprings. From a traveler's point of view, the gushing out of hot water in Sempaya is remarkable (as per photo).  And a must see with the naked eye.
Love Uganda safaris occasionally adds the Sempaya hot-springs visit to its itineraries especially the ones going through Semuliki. Contact us for more details.