December 12, 2017
Posted by:

Administrator2

Category:

Uncategorized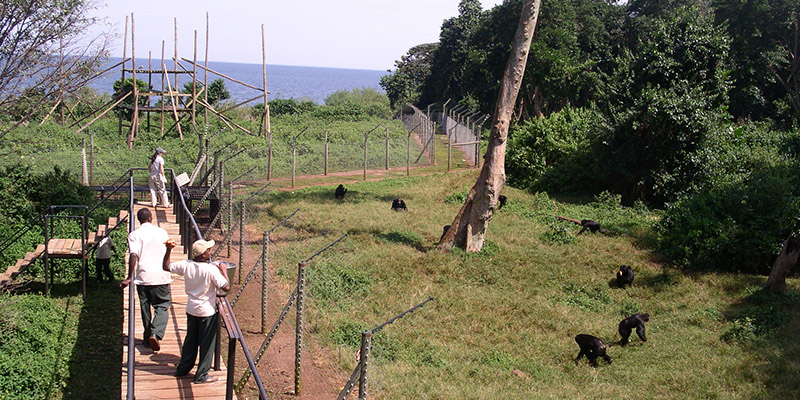 Ngamba Island Chimpanzee sanctuary
This dazzling part of nature was gazetted back in October 1998 as a rescue center to provide refuge for the rescued and orphaned chimpanzees that would be discovered by the the 'Uganda Wildlife Authority.' Ngamba Island chimpanzee sanctuary is situated 23km in the South East of Entebbe, in the interior of Lake Victoria- Bugombe. Ngamba island has been a support project of the ' Chimpanzee Sanctuary and Wildlife Conservation Trust – NGO (CSWCT) which also had founded its establishment earlier in 1997, apparently the island provides a comfortable home and safe haven for over 40 chimpanzees, which thrive and multiply from here.
Ngamba Island is a vast piece of land covering up to 100 acres, also covered by a dense forest that grew on an island; most of the habituated chimps here are either juveniles, injured or orphaned. Ngamba is diverse in nature, as it possesses several species of trees, the forest mammals and water birds, amazing reptiles inclusive of lizard and snake varieties, a sparkling lake view plus a splendid induced natural scenery, just to give every visitor an exquisite reminisce of a memorable holiday. There is a guaranteed opportunity for incredible closeness to view the chimpanzees while in their natural environment, a chance created by the supplementary feeding program; 11am to 3pm daily and thus you can take photographs excellently.
Take a one day tour to Ngamba chimpanzee sanctuary, and enjoy a once-in-a lifetime event, spending a day with the chimpanzees. A visitor travels from Kampala covering a distance of only 35 kilometers to Entebbe, through the Uganda wildlife Education Center yet another home of habituated game. On reaching, you will be welcomed by the awesomely hospitable staff and shortly then, they shall usher you into a boat ride that lasts for approximately an hour after which eventually you arrive at the much anticipated Ngamba Island. At the island, a special arrangement that involves visitors in the experience of chimpanzee care taking is organized and the major activity is active participation in two phases; the first-preparation of the chimp's food and second-is feeding them. There is also opportunity of assisting staff with other activities ranging from feeding chimps, medical, research and monitoring, and even administrative work which may include activities like writing chimp stories plus any other activity that may fit within one's skills. Other popular tourist activities at Ngamba Island include; fishing, camping, forest walks, chimp trekking, sunset cruises, speed boats and overnight excursion.
The well spacious and serene Ngamba island camp provides quality and standard meals and accommodation facilities to both day and overnight visitors.
The lodge serves the best local and international cousins, gym and spur, steam bath and exceptional room services – all with a touch of excellence. The warm staff will serve you amicably and with a good sense of humor to ensure visitor satisfaction.