April 25, 2017
Posted by:

Coleb Niwataho

Category:

Current News, Wildlife News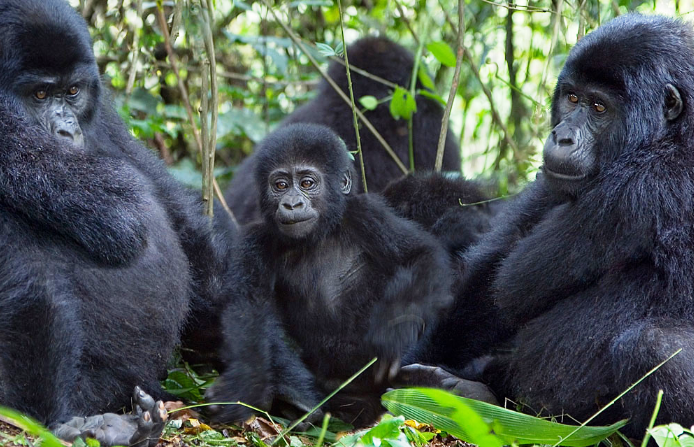 MOUNTAIN GORILLA HABITATS IN UGANDA
More than half of the world's remaining mountain Gorillas call Uganda home. This is a superficial statement. Wow! Indeed Uganda becomes a blessed country in its young stage that the world's eyes are all on it.
Uganda is a landlocked country in East Africa – one of the remaining countries in the world dubbed with green nature, friendly climate and hospitable people, among others. Uganda has many large lakes, including Lake Kyoga, Lake Albert, and one of the world's biggest fresh water lakes, Lake Victoria, in the south. Lake Victoria is so massive; it prevents the temperature from varying and helps increase rainfall but enjoyable sunshine during dry days.
The pearl of Africa is endowed with natural & mineral resources, such as fertile soil, copper, and cobalt, as well as untapped reserves of crude oil and natural gas.
Uganda's tourism industry is at rise with various tourist attractions that have seen a large number come through to experience what is rather written and praised about Uganda, for their safari holidays in Africa.
From green lands, waters, animals especially the big five makes Uganda outstanding in the world but one of the mesmerizing are the Mountain Gorillas.
Uganda gives you an opportunity to interact with at least a number of these endangered Mountain Gorillas in a historical Gorilla safari tour in Africa.
With movements here and there, through entangled ropes of vines, maze of foliage, when at last you see them. The friendly gorillas at their own pace will look at you and continue with their own daily chores. If not disturbed, you will catch a sight of them all through. The big silver back will be seen too just not far away from the family on his own duties of plucking tree branches and offering protection to the rest of the members in a family. The females stay calm if you do not scare them off.
An African safari in Uganda & Rwanda will give you a chance to meet mountain gorillas at close range and observe a lot of other primates, too, including chimpanzees, Golden monkeys, Baboons, and various species of monkeys, among others.
Rwanda, Uganda the home of Mountain gorillas in Africa.
Mountain gorillas continue to offer wildlife lovers a rare and life-enhancing travel experience. On where to find them or where they stay remains the main focus.
While Uganda offers so much, with chimpanzees, Golden monkeys, Baboons, etc. various primates in Uganda have found their habitats in the thickest forested and mountainous areas.
Bwindi Impenetrable National park
Trekking Gorillas at Bwindi Impenetrable Forest Uganda is so much more fun and adventurous. Gorilla encounter on a safari to Uganda can guarantee you a chance to see and interact with them. For many years, this rather impenetrable forest has become a mighty shelter to these wonderful apes.
Half of their population stays in this forest park, while others can be found at Mgahinga Gorilla National Park and Volcanoes National park in Uganda & Rwanda respectively. Trekking Mountain gorillas being the major reason as to why very many people visit Uganda & Rwanda, Bwindi national park has risen as a place that receives endless visits from Safari makers, Gorilla conservationists, and an ideal destination for African Safaris and Uganda Tours.
Mountain Gorillas spend their day looking for what to eat in the forest, playing while the males (silver backs) spend time searching for the safest locations and mate with females. Gorillas sleep in strong nests, which they build on the ground or in trees, depending on various variables, such as the vegetation and the security situation. Every evening mountain gorillas construct a new nest, even if it is only a few meters from the one used the previous night.
Do you wish to do Gorilla trekking, tours in Uganda, or Gorilla safaris in Africa? Look not any further but Uganda and Rwanda remain the ideal destinations.