May 17, 2017
Posted by:

Coleb Niwataho

Category:

Uncategorized, Wildlife News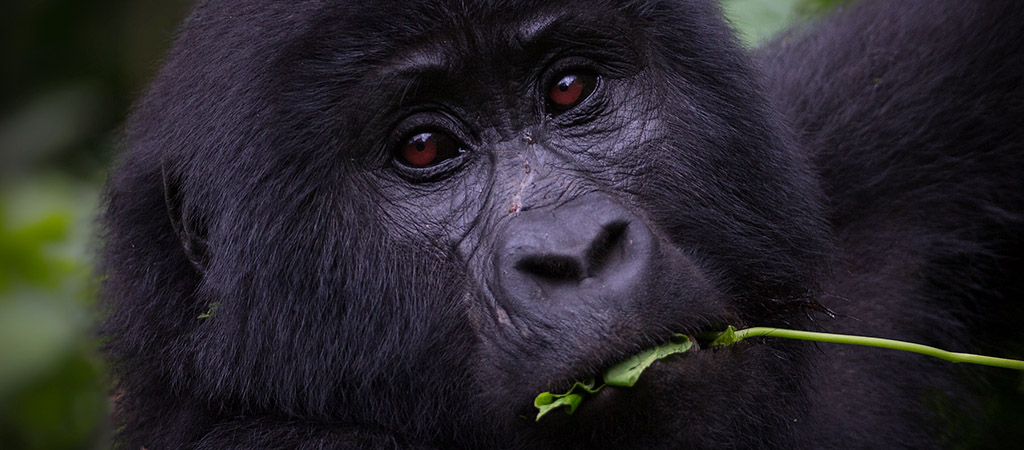 GORILLA TREKKING IN UGANDA
Mountain gorillas are one of the world's critically endangered species, with approximately 880 species believed to be surviving in the wild. They mainly live within the Virunga region of East Africa, which Uganda boasts to be home to over half of the total mountain gorilla population in the world.
Gorilla trekking in Uganda is done in Bwindi impenetrable national park and Mgahinga Gorilla national in the south western region, part of the Virunga massif which combines Rwanda, Uganda and DRC. Gorilla tracking safari in Africa is a memorable experience that rewards travellers with adventurous encounters within the African jungles in the 3 main national parks, Bwindi impenetrable national park, Mgahinga Gorilla national park and Volcanoes National park in Uganda and Rwanda respectively.
Gorilla trekking in Uganda and Rwanda is such an interesting and memorable adventure as it avails trackers with chances of hiking up to an altitude of 9000 ft above sea level until you encounter these gentle creatures. Gorillas live in groups normally known as Gorilla families / groups. Gorilla families are made of up to 25 members each group under the leadership of a silver back, a male gorilla which acts as the family and the only source of protection to other female counterparts and young ones.
A gorilla trekking tour in Uganda begins early morning after a hearty breakfast at your hotel; a short briefing will be be done by a ranger / tour guide prior to the start of your gorilla trekking safari; enter into the amazing rain forest as it offers an exciting, and dense landscape interrupted by plenty of animal trails which provides access to tourists tracking the forest main inhabitants.
Other resident mammals thriving in this impenetrable forest include majorly the endangered mountain gorillas, forest elephants, buffaloes, giant forest hogs, black-fronted Duikers, Bush bucks, leopards to mention, among others. However, the charming mountain gorillas form the highlight of the park.The trekking adventure takes you through impressive hikes exploring the attractive forest landscapes characterized by rugged terrain which makes it quite challenging though interesting to explore.
The time and track taken while searching for these giant apes is highly unpredictable since it depends on their movements; Remember they are also wild animals. The duration of the the gorilla tracking tour may vary between 2 – 8 hours inclusive of one hour direct contact with them as they forage, socialize and make their joyous tactics with the frightening eyes of the Silverback. After a successful hike, you will eventually meet a family of Gorillas deep in the jungles. Take time and observe them, and photographing these gentle apes is easy though you are limited to only cameras / lenses without flash; However these are peaceful and shy creatures and a 1 hour long encounter with them is a magnificent, breathtaking and inspiring life time adventure that leaves you desiring to have more of it.
Important to Note!
A reservation requires a deposit of 30% of the total price.

The deposit is fully refunded if the booking is cancelled up to 45 days before arrival.

Balance should be paid 60 days before arrival.