August 15, 2020
Posted by:

Administrator2

Categories:

African safari destinations, African Tours, Blog, Rwanda national parks, Rwanda Safaris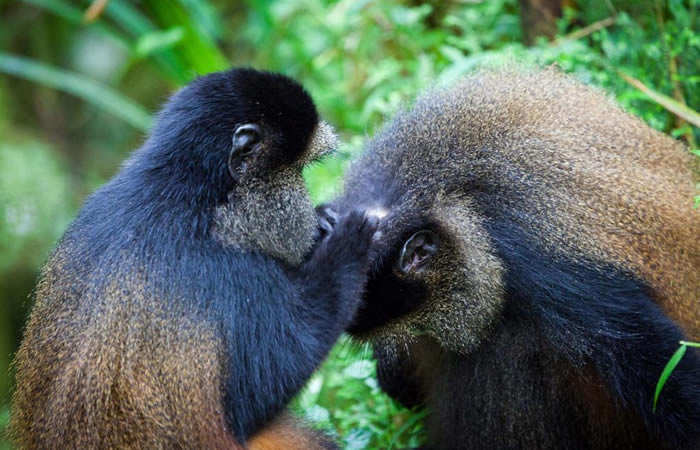 Rwanda is relatively a small landlocked, hilly country in central Africa located south of the equator and east of Lake Kivu one of the greatest lakes in Africa, it is boarded by Burundi, Democratic Republic of Congo, Tanzania and Uganda. Golden Monkey Trekking in Rwanda mostly takes place in Volcanoes National Park which is found in the Virunga Mountains.
Volcanoes National Park lies in the northwestern part of Rwanda and it is a habitat for the beautiful and wonderful species known as Golden Monkeys. It is also a home of five out of eight Virunga volcanic mountains covering an area of 160 square kilometres down in the bamboo and rain-forest; it is also a habitat of threatened mountain gorillas harboring half of the total world's gorilla population.
Golden monkeys are critically endangered primates, they are so unique to the Virunga massif range which covers Rwanda, Uganda and Democratic Republic of Congo. Rwanda and Uganda are the only countries worldwide where visitors have an opportunity of trekking to see these golden monkeys. They dwell in the bamboo forests and vegetation of Volcanoes National Park and Mgahinga National Park because Bamboo shoots are the main food for the golden Monkeys.
Volcanoes national park currently has two habituated troops of golden monkeys with the largest troop in Mt. Sabinyo which has a population of about 80 – 100 members and is the most visited.
For one to get an exclusive golden monkey trekking experience, he/she has to visit the Volcanoes national park, giving you an everlasting safari experience with an affordable permit of only $100, without forgetting a backpack of other requirements like hiking shoes, a rain jacket, drinking water, long-sleeved shirts, long trouser, hut and a well charged camera.
Golden monkey trekking in Volcanoes national park begins at 7:00am in the morning, just like gorilla trekking, one has to be present at Kinigi park headquarters early in the morning for briefing about the major points when trekking these rare and endangered primate species.
After the briefing exercise, the team hits the path down to the interior of the forest where these amazing golden monkeys dwell; it is such an amazing and interesting adventure trekking these beautiful and rare primates with unusual golden fur coat and their spiritual behavior feeding on Bamboo and staying on the lower slopes of the Volcanoes. They are such lovey and playful species.
Golden monkey trekking takes up to one hour of memorable encounter with these creatures to enable the visitor observe their behaviors and take photographs. In case one wishes to stay longer he may apply for golden monkey habituation which takes four hours.
Rwanda currently has two habituated golden monkey troops available for visitation by visitors who wish to stay for not more than four hours and want to get a long lasting golden monkey experience, in this case a group of not more than eight individuals is allowed to trek.
These creatures are fun to watch and active as they always entertain you as you crack your ribs; these species jump and fly on the dense tree branches to another and a little bit difficulty in capturing their photos. This leaves you with an everlasting memory in future.
Golden Monkey trekking in Rwanda requires less physique since they stay on the lower slopes and most dwell within the less dense bamboo forests.
A tour to Volcanoes N/park doesn't end with only meeting the golden monkeys, it also enables the tourist to see diversity of other wildlife species such as mountain gorillas, numerous bird species leaving you with a rare, delightful and unforgettable experience that one has not to miss when in Africa.