August 2, 2019
Posted by:

Administrator2

Categories:

Gorillas, uganda gorilla tour, Uganda News, Uganda safaris, Wildlife safaris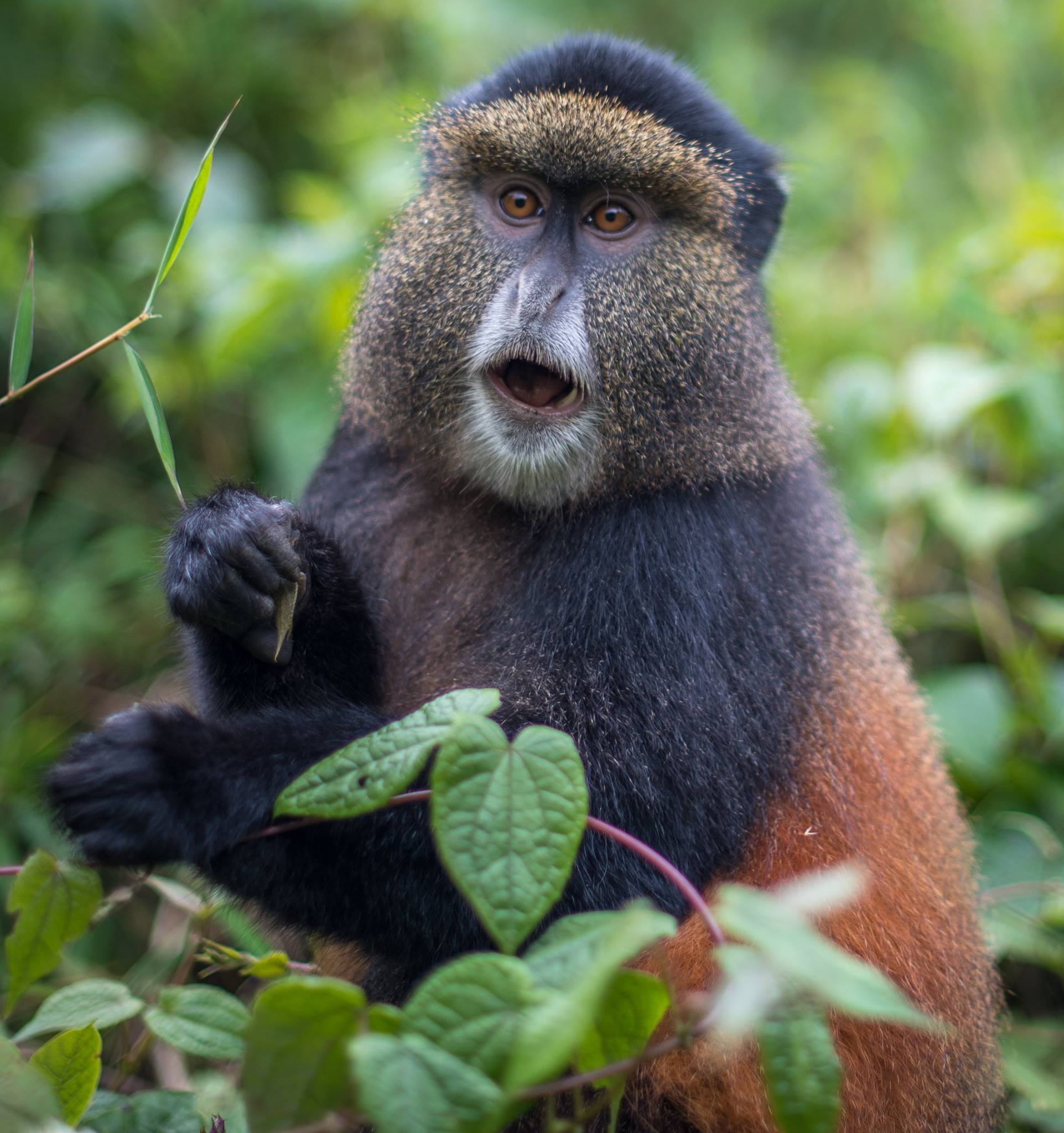 No traveler has remained the same having explored Uganda's beautiful wonders that nature placed in the pearl of Africa. Uganda safaris go beyond exposing you to just her amazingly teeming wildlife, stunning landscape, the kind and smiley people with their distinctive cultures, mountains towering so high to the clouds and rivers impressively flowing through valleys. One of the outstanding activities in Uganda is the golden monkey trekking in mgahinga park. 
Trips to Uganda expose you to features that were divinely created to be protected, something that is simply life changing.
Most travelers have hit the country for the mountain gorillas in Bwindi impenetrable national park, or maybe for the tree climbing lions in Queen Elizabeth national park. Perhaps for the impressive chimps in Kibale forest national park, forgetting the majestic golden monkeys in Mgahinga Gorilla National Park.
Probably you have been to Mgahinga Gorilla National Park for the gorillas and the best hiking experiences on Mountain Sabyinyo and Muhabura. Nevertheless, the park more than this, that one thing that is not found anywhere else in Uganda but only here; the beautiful golden monkeys.
Mgahinga's geographical position placed it among the bamboo forests of the Virunga volcanoes. It the only home to over 4,000 golden monkeys in the whole world. Therefore one of the few places offering the best golden monkey experiences in the world.
Unlike mountain gorilla trekking, tracking the golden monkeys is not as exhausting. This is because they don't move around to build new nests each day. They stay in the same area for some time that eases tracking them.
Golden monkey tracking starts at 8:00am with a simple briefing from head ranger at the park headquarters. Then hit the forest through the Gahinga trail. Here the group walks through slippery trails and unclearly paved paths in search for the golden monkeys.
On meeting these beautiful creatures, there is even no need to tell you, the forest immediately gets very busy, with monkeys everywhere, jumping from one tree to the other, some even jumping over you. It is simply an amazing moment that is worth every step.
Spend a golden hour with them, watching them and taking many pictures as you want. If the one hour is not enough for you to get enough of these amazingly stunning monkeys, opt for golden monkey habituation that gives four massive hours with the monkeys.
Don't forget to have a daypack that includes a snack, a bottle of water, camera, a hat, rain jacket, long trousers and shirt, hiking boots and a walking stick. All these are equally important for a successful and amazing golden monkey tracking experience in Mgahinga national park.
Making golden monkey tracking Mgahinga more special, is the fact that travelers here can do it as an add-on on a gorilla trekking tour. This is the only park in Uganda where gold meets silver.
Still tourists to Mgahinga national park can explore the Batwa trail. A walk that exposes you to the Batwa ancient people and their local way of leaving. See how they used to hunt and gather fruits in their old forest days, how they make fire and prepare their food. Enjoy the traditional dances and cuisines; except those who don't wish to.
Travelers to Mgahinga national park could as well engage in mountain climbing. Three of the eight Virunga chained volcanoes are positioned in this park. Hike up Mountain Sabyinyo, Muhabura or Gahinga for exceptional hiking experiences in Uganda.
If a Uganda safari ever crosses your mind, once, twice or thrice, always include golden monkey tracking on your bucket list. It's not worth missing on any safari to Uganda, try it and go for it.