March 11, 2022
Posted by:

Love Uganda Safaris & Tours Ltd

Category:

Blog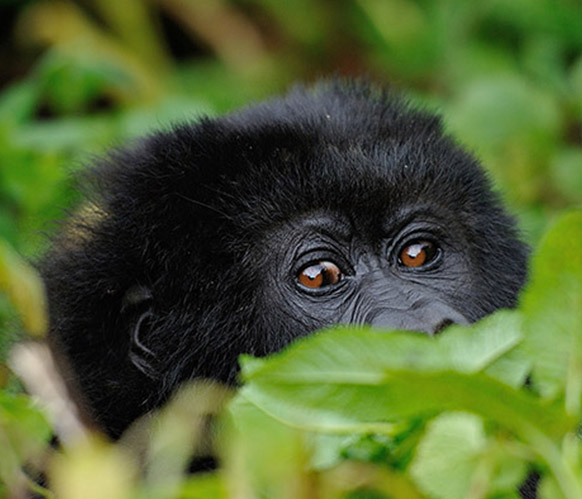 It's an old adage that we share over 98% DNA with Mountain gorillas, and in short they are physiologically similar to humans. This fact puts gorillas at a very high risk of contracting the novel corona virus or covid-19. There is scientific evidence that shows how mountain gorillas are susceptible to almost all human respiratory pathogens
One Infected Gorilla
In January 2021, in the San Diego Zoo, eight western lowland gorillas were diagnosed with covid-19. Tests confirmed positive based on PCR tests. It is believed that infection occurred by way of exposure to a gorilla keeper. The keeper  is said to have been infected but not yet clinically symptomatic at exposure time.
Over the years, it has been established that close proximity with mountain gorillas may cause transmission of disease from humans. The list of people that come close to the great apes is endless. These include porters, caretakers, guides, rangers, trackers, locals, poachers and even tourists. And all day every day, there's a human-gorilla contact just as much as there's human-human contact. In recent times, there has been detection of Human Respiratory virus in humans and habituated gorillas. And these symbolized convincing suggestion of a cross-species transmission from humans.
If a disease like the covid-19 circulates in the gorilla population and causes noteworthy infection, the impact could be devastating. leading to local or sub-species extinction. It goes without saying that gorillas are endangered and need lots of protection form the covid-19 virus. It's been a little over two years since the pandemic started and great conservation efforts have been carried out to protect the endangered mountain gorillas. These conservation efforts need to continue and also some regulations tightened to ensure safety in the long run. For example, we should ensure that we all properly wear facemasks since it is now mandatory to have one on. Also recently the minimum viewing distance for gorilla experience has been increased to 10m from the previous 7m.
Gorilla Safety lies with us
The safety of mountain gorillas is dependent on our actions. Therefore all individuals are called upon to comply with the anti COVID-19 measures. One of the most effective way – if not most effective – of ensuring mountain gorilla safety would be to minimize contact especially human-gorilla contact. This would limit the movement of pathogens from potentially –infected people to the great apes. Good thing is the number allowed to visit a gorilla family per day is still ay 8people.
Additionally, here a few extra hints to consider and save mountain gorillas from the COVID-19. Most of these have evidently been practiced for a while but here they are.
–      inform my tour operator or park staff if I have a contagious illness including a cold or flu or symptoms of fever, diarrhea, sore throat or cough – and not visit the gorillas;
–      turn and cover ones nose/mouth with my shirt sleeve should I need to cough or sneeze during the visit
–      agree to wear a surgical mask while visiting gorillas in parks where this is mandatory, and dispose of it properly;
–      ensure that all of the gear is thoroughly clean before visiting the gorillas
–      agree to the maximum visit of one hour with gorillas. And proactively encourage the guide and other visitors to respect this rule