January 16, 2023
Posted by:

Administrator2

Category:

Uncategorized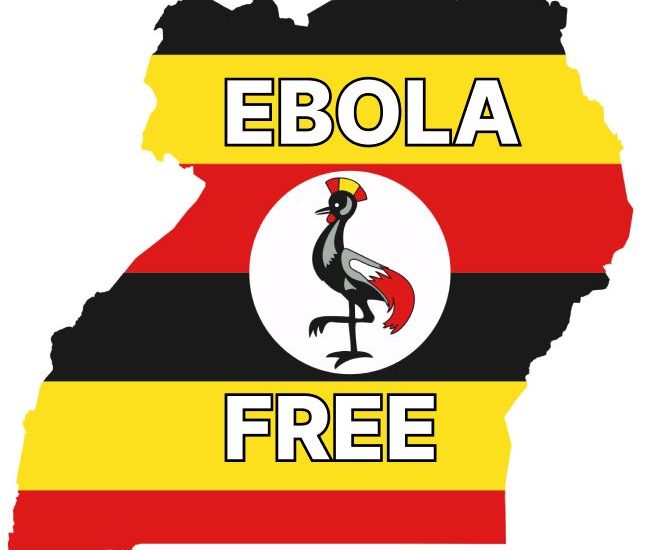 2023 Ebola Updates In Uganda – Great news for all tourists.
Following the outbreak of the deadly Ebola Virus Disease (EVD) in September 2022, Uganda is finally declared Ebola-free. Have you been planning a trip to Uganda in 2023? Have you been planning to cancel your Uganda safari due to the worrying news concerning the Ebola outbreak in Uganda? Your question has been answered following the declaration of Uganda as a safe destination for all travelers from all parts of the world. On the 11th of January 2023, Uganda was declared Ebola-free by the World Health Organization and the Uganda Ministry of Health headed by Hon. Dr. Jane Ruth Aceng.
All questions concerning Ebola Virus Disease outbreak in Uganda in 2022 have been answered here. If you have been planning a trip to Uganda, feel free to go ahead with your plans since Uganda has been declared Ebola-free.
When was Uganda declared Ebola-free?
On Wednesday, January 11, 2023, The World Health Organization (WHO)   declared Uganda Ebola-free. This was 4 months after the outbreak of viral disease. The day marked 113 days since the Ebola Virus Disease outbreak was announced in Uganda.
In the early weeks just after when Ebola outbreak in Uganda, the number of registered cases increased tremendously reaching far beyond the Mubende epicenter about 150 kilometers from Kampala (Uganda's Capital city). The fear of the Virus raised higher as it started killing many people including babies and health workers. This brought tension and panic among health and government officials. It was on such a background of events that Yoweri Kaguta Museveni – the President of the Republic of Uganda declared a lockdown on high-risk districts. Travel restrictions were made in the districts to be able to slow down the spread of the disease. In late November, President Yoweri Museveni extended a quarantine by 21 days that had been placed on two districts at the epicenter of the outbreak. The decision was made days after Health Minister Jane Ruth Aceng said there was a downward trend in the number of recorded cases.
According to the World Health Organization, a country needs to pass 42 days – twice the maximum incubation period – after the last confirmed case for it to be declared Ebola-free. In December 2022, Uganda discharged its last known Ebola patient from the hospital and President Yoweri Museveni lifted all Ebola-related movement restrictions. After the eruption of 42 days since Uganda's registration of a new Ebola virus case, Uganda on Wednesday 11th January 2023 was declared Ebola-free.
How many people died of the Ebola virus disease in Uganda?
According to the World Health Organization, in total, according to WHO, there were 142 confirmed Ebola cases, 55 confirmed deaths, and 87 recovered patients, with children among the victims. In addition, 22 deaths were among probable cases reported in individuals who died before samples could be taken.
In which districts were the Ebola Virus Disease cases?
The good news about Ebola Virus Disease outbreak in Uganda is that it was not in every district. The registered cases were from nine districts that are; Bunyangabu, Jinja, Kagadi, Kampala, Kasanda, Kyegegwa, Masaka, Mubende, and Wakiso districts.
What did Health Officials say about Ebola Virus Disease outbreak in Uganda?
 Dr. Jane Ruth Aceng Acero,
Uganda's Minister of Health, said in a statement. "Uganda put a swift end to the Ebola outbreak by ramping up key control measures such as surveillance, contact tracing, and infection, prevention and control. While we expanded our efforts to put a strong response in place across the nine affected districts, the magic bullet has been our communities who understood the importance of doing what was needed to end the outbreak and took action. We have successfully controlled the spread of Ebola in Uganda."
Dr. Matshidiso Moeti,
WHO regional director for Africa, said in a statement. "It looked as if Ebola would cast a dark shadow over the country well into 2023, as the outbreak reached major cities such as Kampala and Jinja, but this win starts off the year on a note of great hope for Africa,"
 Director Dr. Rochelle Walensky,
Center for Disease Control, in a statement, said, "I commend the Government of Uganda, local health workers, and global public health partners who worked to end the country's Ebola outbreak," "I also want to thank the CDC staff on the front lines in Uganda and around the world who worked countless hours to accelerate an end to the outbreak. The relief is real, too, for health officials who have been working closely with the Ugandan government to get the outbreak under control."
 Amy Boore,
program director for the Center for Disease Control's Division of Global Health Protection in Uganda, said, "It feels like you won a sports game, right?" She added, "I feel like one of those football guys that goes and throws their helmets on the ground. We pulled it together in the end."
Joel Montgomery,
chief of the Center for Disease Control's Viral Special Pathogens Branch, said, "The Ugandans, they've been dealing with Ebola responses for going on decades now. And they've always managed to control them and prevent them from spilling outside their borders. But they managed to do that through just very basic control measures," "That's eventually how this outbreak ended. We had really good contact tracing, really good Ebola treatment units that had been set up and, then really, really good laboratory diagnostics." He added.
How was Ebola Virus Disease managed in Uganda?
Kicking Ebola Virus Disease in Uganda was not something done using a single method but rather a combination of them. Right from the start, the Uganda government and the Ministry of Health have been focusing on increasing awareness and vigilance about the spread of the Ebola Virus Disease.
Thank God, the Ebola outbreak in Uganda came just a few months after the country had successfully battled the deadly Covid-19. The two viruses are somehow related especially in the ways of spreading and prevention. For instance, both Ebola Virus Disease and Covid-19 spread can be prevented by regular washing of hands and avoiding direct contact with the infected persons. This acted as an advantage since the local people could easily digest the message and other coping strategies as advised by the ministry of health.
However much there was tension, especially in the districts where the movement orders were affected, it was easy for the citizens to abide by the rules. Remember Uganda had been in lockdown for almost two years due to Covid-19.
Credit goes to the health officials from both local and international levels whose tireless efforts have not been in vain. They managed to do their best even when Uganda's economy was not doing well.
Lastly, the 2022 Ebola outbreak in Uganda was not the first of its kind. It should be noted that Uganda has had Ebola outbreaks in the past years and the fight has been a successful one.
What are the symptoms of Ebola Virus Disease (EVD)?
Ebola Virus has an incubation period of 2 to 21 days in the human body. The infected person cannot spread the disease to another until any of these symptoms have appeared;
Fever
Fatigue
Muscle pain
Headache
Sore throat
The above symptoms appear first but later on, the infected person will have the following symptoms which indicate that the virus is in the advanced stages;
Vomiting
Diarrhea
Rash
Symptoms of impaired kidney and liver function
In some cases, both internal and external bleeding (for example, oozing from the gums, or blood in the stools).
Laboratory findings include low white blood cell and platelet counts and elevated liver enzymes.
Frequently Asked Questions about Ebola Virus Disease (EVD)
Which African country is free from Ebola? Is Ebola still in Africa? What country is Ebola mostly?
Ebola Virus is an African species that has been roaming the continent for the past few years. The good news is that many countries in East, Central, and West Africa have always succeeded in the defeat of the Virus. At the moment it is difficult for us to tell which country in Africa has Ebola Virus Disease.
Ebola Virus is spread through infected animal species such as monkeys, mountain gorillas, and other species of the kind. It has been common in the forests of the Democratic Republic of Congo, Guinea, Nigeria, Uganda, Liberia, and Senegal. This however does not mean that the above-mentioned countries have Ebola Virus Disease. It is important that you get the most recent news about the health situation of the country before traveling there.
Which destinations in Uganda are safe from Ebola?
It is important to note that once the country has been declared Ebola-free, it means that all parts of the country are safe. However, Ebola Virus Disease can easily spread in crowded places such as cities, airports, bus terminals, etc.
If you plan your Uganda safari with an expert tour operator like Love Uganda Safaris & Tour Limited, you can escape or pass through crowded places without low chances of contracting the virus. For instance, opting for private means of transport other than using public means would reduce your chances of contracting the disease.
The other option is visiting Uganda tourist destinations that are not overcrowded and the best recommendation could be places like Kidepo Valley national park – the most isolated national park in Uganda. This would save you a lot of worries than visiting other areas. However, this does not mean that other places such as Queen Elizabeth national park,  Murchison falls national park and Bwindi Impenetrable national park are not safe for travelers.
On quite a number of occasions, even before Uganda was declared Ebola-free, the President of Uganda, Minister of Health Dr. Jane Ruth Aceng, and several officials from the Uganda Tourism Board (UTB) have declared Uganda a safe destination for travelers.
You should also note that no Ebola cases have been got from major tourist destinations such as Bwindi Impenetrable national park (the home of mountain gorillas), Queen Elizabeth national park (the Medley of wonders), or Murchison falls national park (the world's strongest waterfalls), to mention but a few.
Did any tourism sites in Uganda close due to the Ebola outbreak?
Due to panic and tension brought on by poor news reporting and social media, some travelers to Uganda canceled and others postponed their trips. However, it should be noted that all tourist sites including national parks and cultural and religious sites remained open for travelers. Increasing vigilance does not mean closing the sites.
Are you one of those that canceled or postponed their Uganda safari due to the Ebola outbreak, it is high time you got your shoes and the bags and embarked on your amazing Uganda safari.
Love Uganda safaris &Tours Ltd is here to organize for you a tailor-made Uganda safari so that you can have the best experience in the Pearl of Africa.
Do I need an Ebola Vaccination card before entering Uganda?
As earlier stated, Uganda is a safe destination for travelers from all corners of the world. You, therefore, do not need an Ebola vaccination card to travel to Uganda. As long as you meet other travel requirements, you are free to enjoy your Uganda safari and have the ultimate experience with the mountain gorillas.
How to prevent and control Ebola Virus Disease (EVD).
Reducing the risk of wildlife-to-human transmission from contact with infected fruit bats, monkeys, apes, forest antelope, or porcupines and the consumption of their raw meat. Animals should be handled with gloves and other appropriate protective clothing. Animal products (blood and meat) should be thoroughly cooked before consumption.
Reducing the risk of human-to-human transmission from direct or close contact with people with Ebola symptoms, particularly with their bodily fluids. Gloves and appropriate personal protective equipment should be worn when taking care of ill patients. Regular hand washing is required after visiting patients in the hospital, as well as after taking care of patients at home.
Outbreak containment measures, including safe and dignified burial of the dead, identifying people who may have been in contact with someone infected with Ebola and monitoring their health for 21 days, the importance of separating the healthy from the sick to prevent further spread, and the importance of good hygiene and maintaining a clean environment.
Reducing the risk of possible sexual transmission, based on further analysis of ongoing research and consideration by the W.H.O.  Advisory Group on the Ebola Virus Disease Response, W.H.O. recommends that male survivors of EVD practice safer sex and hygiene for 12 months from the onset of symptoms or until their semen tests negative twice for Ebola virus. Contact with body fluids should be avoided and washing with soap and water is recommended. W.H.O. does not recommend the isolation of male or female convalescent patients whose blood has tested negative for the Ebola virus.
Reducing the risk of transmission from pregnancy-related fluids and tissue, pregnant women who have survived Ebola disease need community support to enable them to attend frequent antenatal care (ANC) visits, handle any pregnancy complications and meet their need for sexual and reproductive care, and delivery in a safe way. This should be planned together with the Ebola and Obstetric health care expertise. Pregnant women should always be respected in the sexual and reproductive health choices they make.
In a nutshell, are you one of the people that have been scared of traveling to Uganda due to the speculating news about the Ebola outbreak in Uganda? The time is now. Get your safari shoes and embark on the amazing Uganda safari. Uganda has been declared Ebola-free by the World Health Organization and the Uganda Ministry of Health. Uganda is a safe destination as it has successfully spent 42 days since it discharged its last patient and it has taken time without registering a new Ebola case.  We can't wait to see you.