June 7, 2017
Posted by:

Administrator2

Categories:

Blog, Current News, Uganda News, Wildlife News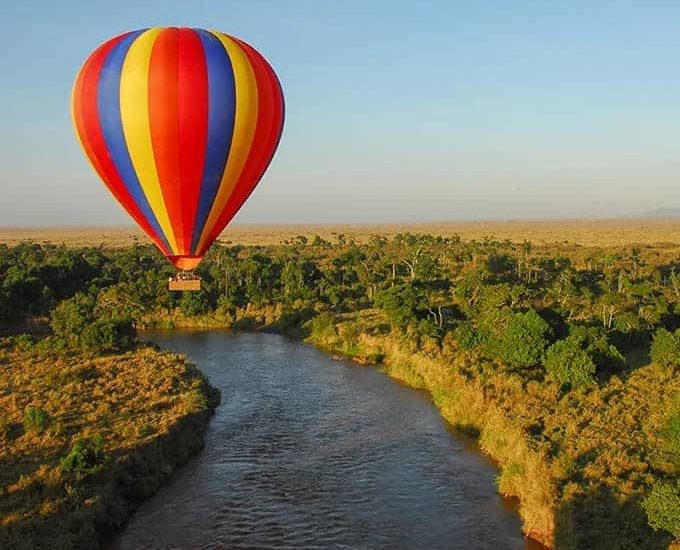 Balloon Safaris – in Murchison Falls national park
Amazingly in Uganda's Murchison Falls National Park, hot air balloon safaris have become a fancy to many safari makers and visitors. At the top of the park's plains and to the water falls, you can see the beautiful scenery of the national park.
Hot air balloon safaris in Uganda are being embraced at a firstly increasing note. Good adventure using hot air balloon usually begins before dawn.
The hot air balloon in Murchison falls national park can be seen flying up to a height of 10,000 ft. above the ground, though it can be lowered up to the tree top level to ease a more clear visibility of the park's magnificent plains.
On a day for a balloon safari, the adventure begins early in the morning when you leave your camp / lodge to get to the starting point before embarking on this splendid experience. Basically, early drives in the dark provide a chance to see nocturnal animals that live in and around the park, and view the sun rising over the majestic savannah landscape of Murchison falls national park.
At the takeoff point, you will meet your pilot and be given a safety briefing and instructions for boarding the balloon as well as landing procedures. As the ground crew dismantles the balloon, passengers can sip on a steaming cup of coffee or tea and a surprise bush breakfast while watching the cold inflation of the balloon. This is done using two large petrol powered fans that fill the balloon with cold air.
The Uganda hot air balloon safaris in Murchison falls national park are special, with magical chances of viewing large herds of buffaloes, prides of lions, and elephants graze early in the morning. Rising over the delta offers optimal opportunities to enjoy the morning sun rays shinning over the legendary Lake Albert, and giving a full view of the park's panorama.
Uganda hot air balloon safaris can be done in different ways; namely
Sunrise hot air balloon safari with/without bush breakfast
Sunset hot air balloon safari
Short rides for large groups and students
And many other categories that can be tailor made according to clients' needs and budget.
Uganda hot air balloon safaris in Murchison falls national park is a new genre though it's an old tradition. Its experience is so unique and amazing because it enables you to float in the air and do your safari from the unusual angle, offering extremely spectacular glimpse of the park.
From the familiar safaris, once you make a choice of visiting Murchison falls national park, think other-wise to take a hot air balloon safari and appreciate nature's beauty, splendid herds of wildlife from the high skies above the grounds.