Hiking the Nyiragongo Mountain
Nyiragongo Mountain is a vigorous strato volcano, with a towering height of 3,470 meters (11,380 ft.) above sea level in the Virunga massif associated with the Albertine Rift.
It stands as one of the great hills in the history of volcanic expedition. It is located in the Democratic Republic of Congo inside the greater Virunga National park,  about 20kms north of the town of Goma and lake Kivu just on the western border of Rwanda.
This beautiful volcano is well known for its persistent active volcanic activity in its huge crater lake on top of the summit.
Nyiragongo Mountain's lava lake has sometimes been the most voluminous known lava lake in the recent history.
An utmost elevation of this lake was noted to be about 3,250 m (10,660 ft.) prior to the January 1977 eruption. It's thus important to note that the naturally bestowed Nyiragongo Mountain holds acclaim to Africa's great historical eruptions since time immemorial. It has been reported as Africa's most active volcano and has erupted more than 40 times since 1885 together with the sister volcano, the peerless Nyamuragira Mountain.
Any avid hiker would look no further but to stride down into the churning lava lake, see and hear hot gasses exploding up and giving remarkable opportunities of amazing photography. Although predictable and safe for tourists, the time required to reach the summit depends on the fitness of each group of visitors. The landscape changes in stages right through the climb, thick jungle filled with very big ant colonies and open out trees that house some reptiles.
The great Nyiragongo mountain hiking safari starts at 10:00 am at Kibati patrol post, the starting point; it perhaps takes 4 to 6 hours on the hike to get to the summit. It's easier when the tourist spends a night at Gisenyi then crosses through Goma, driving for 30 minutes to get to the Kibati patrol post.
Experienced guides lead all the treks after checking for hiking and cold weather gear including packed meals, proper hydration, etc.
Before undertaking the climb, pack enough food to use in the mountains as there is no food service on top of Nyiragongo mountains. Hired porters can help carry heavy bags not greater than the recommended 15 kg which will make your trek more pleasurable than you expect.
Fortunately, for some people who are averagely fit, or have hiking experience, the hike can take only one day, to ascend and descend. Occasionally you will reach the top of Nyiragongo after a walk through the lava rocks where you are guaranteed to have views of the Virunga National Park.
Accommodation can be offered at Nyiragongo Cabins built on the edge of the lava lake which will introduce you to a new beginning in the dark hours once again to view the dim brittle outside of lava, the merging and cracking lava rocks. Seeing rock plates separate and unbelievably create a spider-web like pattern typically makes Nyiragongo Lava Lake unique with attention-grabbing views you will ever wonder in a lifetime.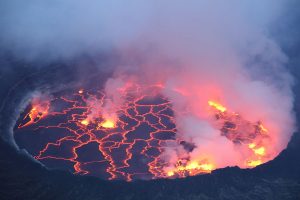 Points to note during Nyiragongo mountain hiking safari
All treks begin exactly at 10:00 am. Late arrivals are not allowed to climb and permits are non-refundable. For security purposes, there are no exceptions. Kibati ranger station, the starting point for Nyiragongo mountain hiking expedition is nearly 30 minutes' drive from Goma by road, and only 45 minutes from Bukima Tented Camp and Mikeno Lodge. All hikers first check in at the Kibati station not later than 9:15 am on the day of their trek. Climbers begin descending the volcano between 6:30 – 7:00 am the next morning and reach the starting point, Kibati station by 11:30 am. If you plan to fly out of Kigali on that very day, please make sure not to programme your departure flight before 6 pm.
Hikers are largely advised to bring full rain and cold weather gear (moisture-wicking base layer, sweater or fleece, jacket, rain resistant pants, long underwear, warm socks, hat, and a 0°C/32° – rated sleeping bag). Temperatures at the summit are regularly below freezing. Although most people arrive at the top sweating from the steep hike, this feeling of warmth easily gives way to coldness. A total change of base layers is a must. If you fail to bring proper gear will lead to hypothermia. Please do not risk yourself and others by coming unprepared for such cold conditions.
All hikers ought to arrange packed food service and gear rental for the tour at a surplus charge during checkout. Packed meal service includes snacks, lunch, and dinner on Day 1 and a mouthwatering breakfast and snacks on Day 2. Water is also included for both days. The gear package includes a sleeping bag, jacket, fleece top, hat and rain poncho. You can also hire porters at the base of the mountain to lift the heavy luggage for 20$ – $24 round trip. However, the maximum weight that porters are authorized to carry remains 15 kg.
Social Share