July 4, 2017
Posted by:

Administrator2

Categories:

Blog, Current News, Holiday, Uganda News, Wildlife News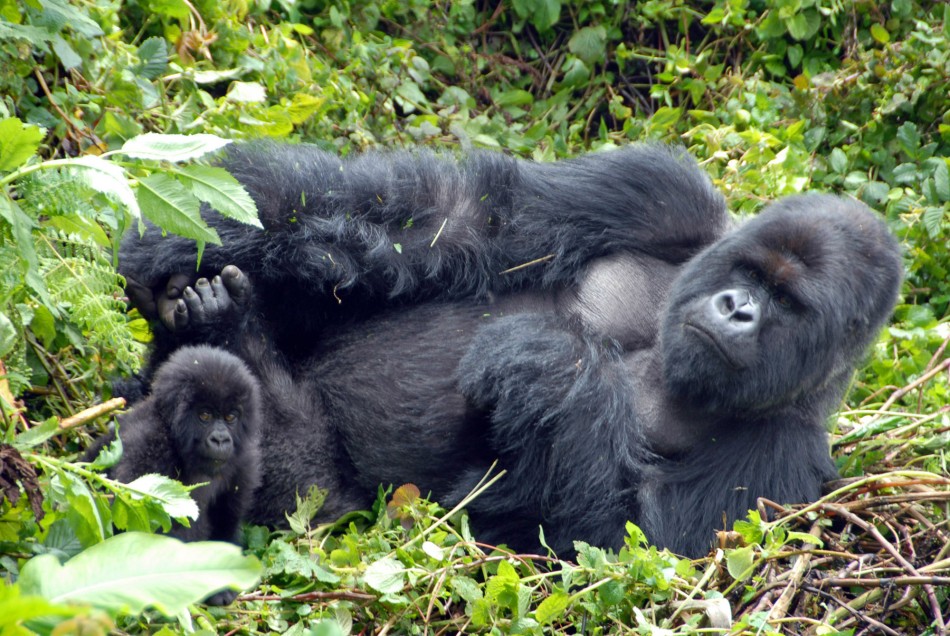 Getting along with gorilla trekking in Uganda
Gorillas are dominant members of the primate family, researchers claim that they possess almost 95% of human genes, based on the natural intelligence they exhibit. In Uganda, Mountain Gorillas are found in the spectacular Bwindi Impenetrable National Park, which is covered by a dense canopy of trees and other varied vegetation species, bird diversity but pre-dominantly apes, and heavy showers of rainfall because it is crossed by the equator. Currently there are 36 Gorilla families in Uganda, particularly in Bwindi Impenetrable National Park. However, (11) eleven of these are habituated and are accessible to visitors. The rest of group(s), Nyakagezi family only thrives in Mgahinga Gorilla national Park but are so unpredictable because they move in circles between Uganda and DRC.
When talking about the rare mammal species in Uganda, you realize that promptly the mountain Gorilla is mentioned. Uganda has abundant flora and fauna but within lives a rare mammal. The mountain gorilla is rated as heavily endangered ape living in protected forests in south western Uganda, North western Rwanda and Eastern Congo (DRC). Hence close exposure to their natural habitat is every safari lover's dream. Uganda is indeed the Pearl of Africa and it offers the best of East and West Africa, with an abounding collection of tourism activities, with gorilla trekking safaris standing out to be the greatest activity at Mgahinga Gorilla National park, Bwindi impenetrable national park and Volcanoes national park in Rwanda; actually 75% of the visitors travel to view the primates. The two countries are left with approximately 880 mountain gorillas; this park is one of the two places where a visitor is chanced to glance at the endangered species. So Mgahinga gorilla national park is the best point to trek the Nyakagezi gorilla group which frequently moves to the adjacent forests of DRC (Congo) and Rwanda. The other park is Bwindi Impenetrable National Park. Better still these two parks are near each other thus guaranteeing gorilla trekking safaris through both.
A gorilla trekking safari in Mgahinga Gorilla Park begins from Ntebeko entrance gate around 8:00am in the morning daily, taking 2-4 hours. A visitor is expected to budget time while with a single gorilla family since the maximum time allowed to spend with them is one hour and the best time to visit a place for tracking is during the (2) two dry seasons when the park is easily accessed since it's when the thick forests can be penetrated easily and when the parks are not as muddy as in the rainy season. Hence gorilla trekking in Uganda is suitable all year through but the best season would be from mid-December to the end of February, June to October. When trekking gorillas in Uganda on foot through the jungle, tourists are warned to keep their distance and respect that these creatures are in their natural habitat. Travelers are also not advised to use flash cameras, to keep their voices low at all times and not to touch the gorillas or even eat and drink nearby so as to omit the transmission of human borne diseases.
We deliver free detail, safari advice, and shared opinions in order to meet our esteemed travelers' interests and meet their expectations. You will be received with a warm touch when you visit Uganda for either a repeat or first time visit, to glance at these extremely amazing and elusive mammals, the mighty mountain gorillas!