Apoka Safari Lodge
Looking for Kidepo Valley National Park accommodation, look no further! Apoka Safari Lodge is perched high on a picturesque kopje facing the stunning Narus Valley in the southwestern sector of Kidepo Valley National Park–Uganda's most remote park. Kidepo Valley national park can be joined with gorilla trekking safaris in Uganda, all with the best accommodation options.
The Lodge is possibly the most remote lodge in the whole of Africa set in a beautiful, in almost virgin environment; it is an ultimate getaway.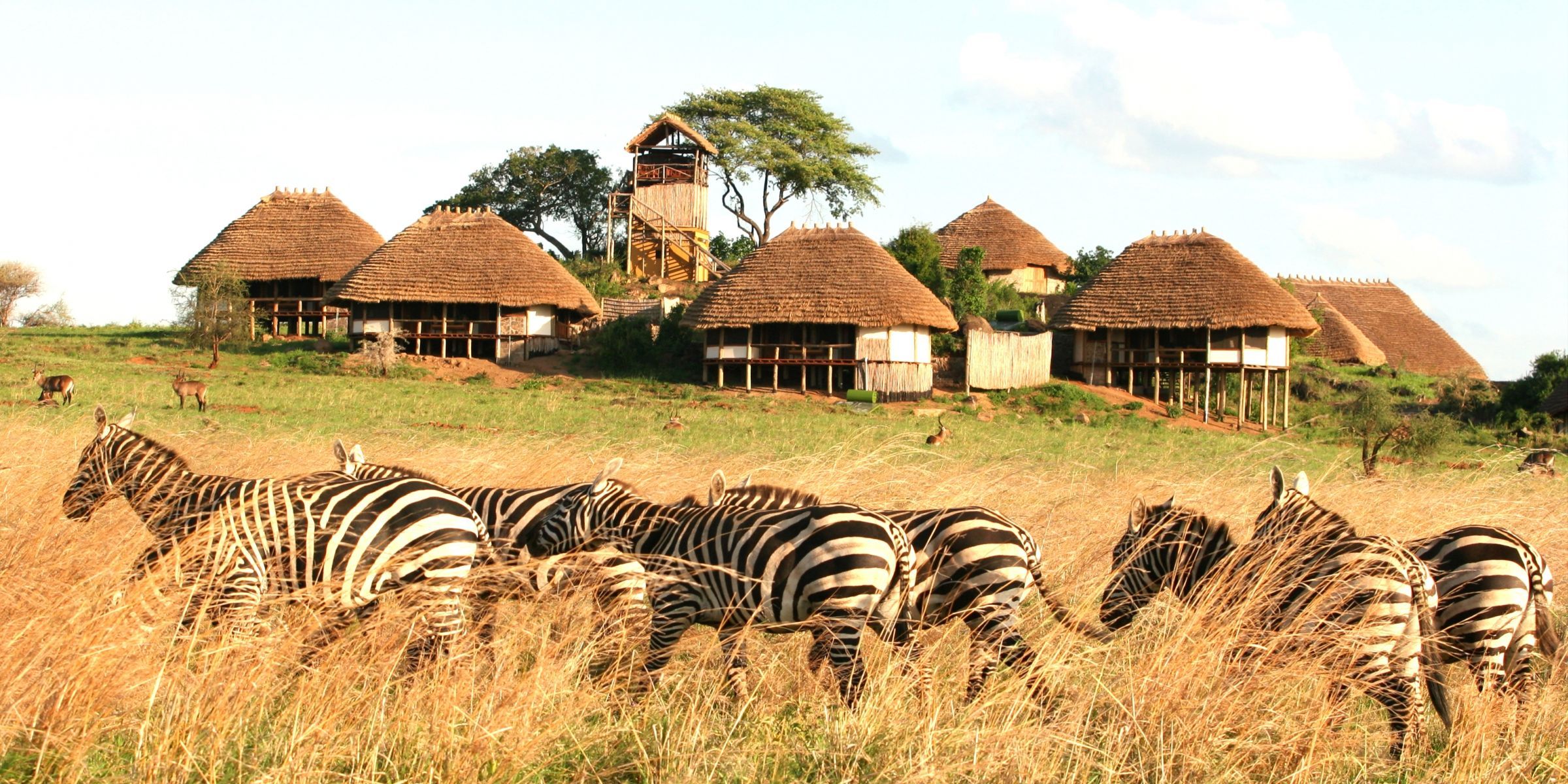 At Apoka, guests can walk with trained guides, tracking game along a sandy dry riverbed or swim in Uganda's only rock pool, and watch the animals at their watering hole simultaneously.
Rooms and accommodation
Apoka Safari Lodge has 10 rooms built of wood, thatch, and canvas and all spring from a large rocky kopje while the decor takes its cue from rock, savannah, and the natural landscape.
The rooms at Apoka have been built with comfort in mind. All the rooms have huge outdoor bathtubs and private verandas overlooking a landscape dotted with giraffe, elephant, buffalo, and zebra.
Everything is handmade by local craftsmen, large and capacious.
10 expansive rooms with natural canvas walls surround a rocky kopje with endless views across the savannah.
Spacious sitting rooms and private verandas with plenty of places to relax, read and sprawl.
Mosquito nets, hand-woven woolen carpets, extra-large plush towels, over-sized dressing gowns.
A deep and cool swimming pool.
Staying on this accommodation facility during your Kidepo national park safari is a moment turned to memory.
Room rates High season Low season

Per person per night Sharing Single Sharing Single

Adult $585 $760 $380 $495
Child 5-12 sharing with adult (no children under 5) $290 – $185
Nga'Moru Wilderness Camp – Great Accommodation experience in Kidepo Valley
The camp is found at the boarder of Kidepo Valley National Park area of north-eastern Uganda, known by many as Uganda's most remote game park.
Nga'Moru is situated on a hill, and this camp offers stunning views of the impressive Narus Valley as well as the savannah plains stretching up to the towering Morungole Mountains.
Situated just outside the southern boundary of the reserve, 4 kilometers from the Katarum Gate, the camp has sweeping views over the central plains.
The main areas have been constructed on the rocks that top the low hill, with substantial stone chalets stepped back to either side.
Here, Cabanas or Safari Tents are available for accommodation
Accommodation is on a full-board basis; there are no restaurants other than the lodge in the area.
Nga'Moru Wilderness Camp is the only mid-range option in the Kidepo Valley area and is perhaps best suited to people travelling overland to this remote location.
1. Apoka Rest Camp

The camp Is located in the Kidepo Valley National Park area of north-eastern Uganda
Situated in the westerly Narus Valley, this park authority facility offers simple accommodation in 10 thatched rondavels.
16 self-contained chalets are provided at Apoka Rest Camp which is a hostel consisting of 14 Bandas each having 2 beds; the Bandas are actually not self-contained.
With regard to visitors who choose camping, this park has 2 'Do it yourself' camping grounds. Visitors are argued to carry their own tent along with other camping gear.
Meals:
Guests are advised to park enough food as well as drinks to last them throughout their stay within the park.
Cooking can be organized by the staff of the camp and also other additional diet for example chicken plus goat meat may be organized from the close by community intended for visitors that plan to stay for a longer time.
Facilities at Apoka Rest Camp:
Shared flush toilets & hot showers
Bottled water, sodas & beers
However, food must be brought with you.
2. Kakine Self catering campsite

This remote simple Campsite is for self-camping only. There is no restaurant or shops to purchase food. However, with prior arrangements, the Camp personnel may provide provisions for visitors on their respective request.
This facility is operated by the Ugandan Wildlife Authority.
Take on a Kidepo valley national park safari while staying at the best accommodation of your choice for an exceptional experience.
Please book your accommodation with us now via our 24/7 lines  +256 741 857 276 / +256 772 633 920 via our email inquiry@loveugandasafaris.com.
We are warmly waiting for your inquiry!
OR: FIND US AT OUR PHYSICAL ADDRESS
P.O. Box 37754, Kampala-Uganda
Kalagi Roundabout; Nakanyonyi Road – Mukono district