The Facts about Kenya – MAGICAL KENYA .
Land of Mount Kenya & Cradle of Humanity
Named after the great Mountain Kenya, Kenya is a country in East Africa with its coastline on the Indian Ocean. It encompasses savannah, Lakelands, the dramatic Great Rift Valley and mountain highlands. It's also home to wildlife like lions, elephants and rhinos. From Nairobi, the capital, to other places, true you will find peace in making tour safaris to this paradise on earth. Kenya is a unique adorable country gifted with so much beauty. From its people, the fauna and flora, the green nature, unique features, climate and so much more make Kenya an outstanding nation.
The History of Kenya
Great Kenya was initially known as the British East Africa Protectorate, or British East Africa and it was not until 1920 that it was officially named Kenya. Kenya's part of history wholly has it that the name Kenya was coined from the Kamba language pronunciation of Mt Kenya's traditional name, Kirinyaga and Kinyaa. In all these languages, it's speculated to have a similar meaning "God's resting place".
Kenya was created during the colonial era, with Ludwig Kraff a German as the first recorded missionary to see the mountain recorded it as Mt. Kenia and the country, Kenia. Being a hard pronunciation, the whites later named it Kenya to make it easier for them and since, then, it takes up its name to present.
Since early 2000 B.C, Kenya was a state patch mark for ethnic groups, each with different cultures, people, language who came from every corner of Africa to mainly settle and carry out trade on the Indian Ocean. From the Bantu, Turkanas from Ethiopia, the Luo from Uganda, the Akamba, the Masaai among others.
The Arabs, Persians, Indians by the 8 century arrived and took over Kenya land and carried out slave trade in exchange for Ivory, Beads, skin, and gold among others. The diversified races lead to intermarriages which formed a new language called "Swahili" which is used up to date.
Arab dominance got stabbed in 1498 with the arrival of the Portuguese who went ahead to build "Fort Jesus" which is currently a renowned Safari tour destination in Kenya.
Early in 1942, Kenya embarked on its long hard road to National Sovereignty, as the MAU-MAU Movement was founded, comprising of members of the Kikuyu, Embu, Meru and Kamba tribes. In 1953, Jomo Kenyatta, the icon of Kenya's struggle was charged with directing the MAU-MAU and sentenced to 7 years imprisonment.
Dedan Kimathi, a freedom fighter rose up and like his counterpart Jomo Kenyatta was arrested in 1956 for his role in the MAU-MAU rebellion as one of the leaders. Dedan Kimathi was subsequently hanged by the colonialists.
From October 1952 to December 1959, Kenya was put under a state of emergency because of the MAU-MAU rebellion against British colonial rule. Thousands of Kenyans were incarcerated in detention camps and others escaped to neighbor countries like Uganda and Tanzania with also a death toll of 13,500 Africans (guerrillas, civilians and troops) and also a reasonable number of whites.
In 1959 Jomo Kenyatta was released from prison, but put under house arrest and in August 1961 Kenyatta was freed and became president of KANU (Kenya African National Union) in October.
In 1960 the British government officially announced their plan to transfer power to a democratically elected African government; in 1963 elections were held and KANU won the majority seats and Kenya got independence on 12th December 1963 with Kenyatta as the first President.
Since then, Kenya has had changes in its political state, social and economic world with a chain of leaders up to date with the current President, H.E Uhuru Kenyatta.
Where is Kenya?
Kenya is located in Africa within the East African region. Kenya covers a total surface area of 581,309 sq. km (224,445 sq. mi) making it the 81st largest nation in the world.
Kenya is surrounded with neighbors of whom it is in good terms with. These are:
Uganda
Kenya
Tanzania
Ethiopia
Somalia
South Sudan
Kenya's latitude and longitude for the country are 1.1027° N, 32.3968° E. and uses a currency called shillings.
Kenya fact sheet
| | |
| --- | --- |
| Country | Kenya |
| Continent | Africa |
| Capital and largest City | Nairobi |
| Area | 581,309 sq. km (224, 445sq.mi) |
| Population |  44.35 million (2013) World Bank statistics |
| Coordinates | 0.0236° S, 37.9062° E |
| Official Language | English, Swahili |
| Area Calling Code | +254 |
| Time Zone | East Africa Time Zone (UTC+03:00) |
| Neighbor Countries | Tanzania, Uganda, South Sudan, Ethiopia. Somalia |
| Internet TLD | .ke |
| Currency | Kenya shilling (Ksh) |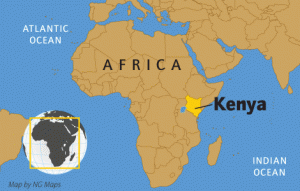 FACTS ABOUT THE GEOGRAPHY OF KENYA
Geographically, the cradle of humanity (Kenya) is an East African country excellent relief.
Kenya is dubbed with different beautiful gifts which it appreciable. With some areas of Kenya being mountainous, a creation of beautiful scenery lives the country adorable. The mountainous zones lift the relief of Kenya through provision of rains that support animal and plant life encouraging tourism.
With some parts covered by the plateau, People in Kenya never regret for settlement. With a population of 33,830,000 Kenyans, Kenya rises from a low coastal plain on the Indian Ocean to mountains and plateaus at its center. Many Kenyans live in the highlands, and Nairobi, the capital, is at an altitude of 1,700 meters (5,500 feet).
Basically even though Nairobi is near the Equator, its high elevation brings cooler air. To the west of Nairobi the land descends to the north-south running Great Rift Valley—the valley floor is at its lowest near Lake Turkana in the deserts of northern Kenya. Around Lake Turkana, scientists have discovered some of humankind's earliest ancestors—a fossil known as Kenya Man was dated at 3.5 to 3.2 million years old.
Beautiful Kenya is a land of shimmering lakes and turbulent rivers, with over a third of the country covered by water. The coastline on the Indian Ocean, Lake Victoria, on the share between Uganda, Kenya and Tanzania boundary is the largest lake in Africa.
KENYA'S UNIQUE FEATURES
Being strategically located, Kenya has so much fascinating features that you deserve to make a safari in Kenya to witness the amazing wonders.
The historical monuments, the famous Fort Jesus and so much more give a unique gesture to Kenya
Gallant Kenya is also gifted with Lakes, Rivers, equator, mountains, the rift valley, hills, Hot springs among others. The biggest Lake in Africa being Lake Victoria sits right in Uganda with endless activities on it such as tourism, fishing among others, you and I will agree that Kenya is naturally gifted. Kenya's Coastline on the Ocean is a fancy to many. Most of its fabulous activities take place on it.
These all-time unique features that have attracted many tourists to make endless safaris to Kenya that you ought not to miss when you visit Kenya
Unique Features in Kenya 
| | | |
| --- | --- | --- |
| LAKES |  RIVERS |   MOUNTAINS |
| Lake  Victoria | River Mara | Mount. Kenya |
| Lake Turkana | River Nyado | Mount. Longonot |
| Lake Nakuru (Famous for flamingo birds) | River Tsavo | Mount. Elgon |
| Lake Baringo | River Njoro | Mount. Homa |
| Lake Naivasha | River Turkwel | Mount. Kipipiri |
| Lake  Magadi | River  Mbagathi | Mount. Korosi |
| Lake  Elmenteita | River  Yala | Mount. Marsabiti |
| Lake  Logipi | River  Nzoia | Mount. Olkaria |
| Lake  Bogoria | Ewaso Ngiro River | Mount. suswa |
| | River Kerio | Mount. Kinangop |
| | River Tana | Ol Donyo Orok |
| | Nairobi river | Ol Donyo Sabuk |
| | Perkerra River | Mount Ng'iro |
| | Malewa River | Menangai volcano |
| | Thika River | |
| | | |
FACTS ABOUT KENYA: FLORA AND FAUNA IN KENYA 
Kenya being a cradle of humanity, history has it that, man lived in the forests, fed on animals and wild fruits and so much more, therefore, Kenya supports both plant and animal life.
The gallant Kenya contains diverse plant life. Usually along the Indian Ocean coast are forests containing palm, mangrove, teak, and sandalwood trees. Baobab, euphoria, and acaccia trees dot the lowland plateaus, while extensive tracts of savanna (grassland), interspersed with groves of acacia and some temperate forests, characterize the terrain of the highlands up to about 3,000m ASL .The higher alpine zone contains giant senecio and lobelia shrubs with various and different plant species.
The other outstanding love for Kenya is about its animal life. Many Visitors flock to the country to see Africa's "Big Five." But, lions, elephants, rhinos, leopards, and buffalo are just a handful of the treasured species in Kenya. Baboons, zebras, giraffes, flamingoes, and more are enjoyed by tourists, thanks to a strong national park system and a network of wildlife reserves which have made Safaris in Kenya a possible dream.
Animals are usually associated with the African savanna and so Kenya is blessed. The major big game activities include wildlife / game safaris, birding safaris, cultural tours, hiking safaris, and many more tours in Kenya.
Although many of these species are protected in Kenya national game reserves  and other conservation areas, hunters have severely reduced the number of large mammals in Kenya, particularly elephants and rhinos. Kenya's rhinos are critically endangered. Birds—including ostriches, flamingos, and vultures—abound in Kenya, as do reptiles such as pythons, mambas, and cobras  of which are useful to the tourism industry.
FACTS ABOUT THE PEOPLE/ CULTURE OF KENYA
Kenya has got rich culture doubled with fascinating way of life which tells of the past, present and then future. This encompasses different traditions of thousands of years ago of African social manifestation with the now modern times of the 20th century.
Kenya's culture is usually expressed in different forms, ranging from its people and language, food, music and dance, art, theatre and literature to its ethnic values and ethical norms. Combined with other traditions; these forms of expression and lifestyle give Kenya a more interesting identity that is basically Kenyan.
Kenya has a very strong cultural heritage which is so vital to acknowledge. It should be still noted that the nature of Kenya's heritage surely has attracted more people for all centuries ranging from the early British colonial masters, neighbors and oversees.
Culture in Kenya is so diversified as seen in what is called Kenya Cultural safaris where information about cultural organizations in Kenya, role and contributions is put forward for people who find it relevant to support Kenya through tourism to discover the true partially roots of Kenyans.
Taking a tour to cultural sites in Kenya, safaris will include a visit to the Masaai communities and other places. Safaris in Kenya include places like historical sites, wildlife and eco-tourism in Kenya.
Further you cannot miss to undertake a cultural tour to Kenya's museums that hold much of Kenya's historical gestures and symbols with components like the ancient musical instruments among others, coupled with historical tools and numerous art crafts that were used in the past. That is from the pre-cambrian ages to the recent past. Most of these found at the national museum and other regional museums.
So when you make a cultural safari in Kenya, expect to see far beyond your imagination. Beautiful Kenya gives you an opportunity to even admire its rich dress-code like the Masaai with different cultural wears and the Kikuyu, among others.
FOODS AND DIET OF KENYA
In Kenya, food and diet is a true reflection of the Kenyan culture. It reflects all the societies in Kenya. Kenya is basically known for Ugali, its delicious meal. Kenya being a multi-racial society, the majority of people comprising native ethnic groups enjoy Ugali.
Ugali (a porridge made of maize) is usually accompanied by meat, milk as well as Sukuma Wiki, a green delicacy if well-cooked typically being eaten inland.
Like in other countries, the Kenyan traditional foods further reflect the many different lifestyles of the diverse ethnic groups in the country. Majority of the Kenyan dishes are a luxury cheap, filling and inexpensive to make for a meal. Kenya's staple foods consist mainly of corn, maize, potatoes, and beans.
In Masaai land, the   Masaai are nomads who dwell in Kenya and near Tanzania, eat simple foods, relying on cow and goat by-products (such as the animal's meat and milk). Masaai people also do not eat any wild game or fish, depending only on the livestock for food.
When it gets to the Kikuyu and Gikuyu, growing corn, beans, potatoes, and greens is their immediate activity.  Mashing different vegetables together to make Irio. They roll Irio into balls and dip them into meat or vegetable stews and fish on the menu.
In western Kenya, the people living near Lake Victoria (the second-largest freshwater lake in the world) mainly prepare fish stews, vegetable dishes, and rice.
Surely when you make a Kenya tour, expect to taste the best food at all times, with the now western foods added on the menu, you will have a wide variety. Taste the marine dishes when you are near the coastline in Malindi, Mombasa, Lamu, Watamu and other coastal towns.
FACTS ABOUT WEATHER AND CLIMATE OF KENYA
Kenya has gentle and conducive weather conditions and very cool climate that Kenyans and tourists are subjected to. Kenya continues to boast as one of the best climates on the African continent.
Its generous climate is comfortable and pleasant during the day, with variations in temperature due to altitude and terrain. During the rains of November, April or May, many visits are made by tourists and assurance is, they are certainly treated to unexpected and exciting wildlife experiences, less crowded game reserves, mountainous green vegetation  and probably a good deal of sunshine.
The following below are the various seasonal highlights of the climate in Kenya:
December– February
In Kenya, this is the hottest and driest season. Excellent for birds and animal viewing though long grass normally make smaller species hardly seen. Jan-Feb is the calving season for wildebeest, zebra, and some hoofed species. Average daily high temperature is 84 degrees Fahrenheit.
March
Intermittent rains start at this time. Game viewing is excellent over short new grass of the plains. Spring-like conditions are moderated by cool nights. Average daily high temperature is 86 degrees Fahrenheit.
April – May
Kenya experiences heavier rains during these months, and road conditions can become quite difficult and hard to navigate. There's great biological activity in the reserves, beautiful green landscapes and panoramas. Average daily high temperature is 73 degrees Fahrenheit.
June – October
This time round it's a dry season. Peak tourist season is July-August. Excellent viewing conditions, though many roads are dusty. Wildebeest are normally encountered in the Masaai Mara in large numbers in late July through October. It is usually a good time of year for climbing Mt. Kenya. Average daily temperature is 78 degrees Fahrenheit.
November
Here begins the short rains. There's nice greening of plants, and migratory birds begin arriving from Eurasia. Expect intermittent showers and some flash flooding. Wildebeest are migrating south out of the Masaai Mara at this time. Average daily high temperature is 77 degrees Fahrenheit.
Indeed Kenya gives you an excellent option to choose between your most convenient season and time and make things happen to enjoy the magical Kenya tours.
Travel Requirements to Kenya
To travel to Kenya is one of the amazing things a traveler or any person can do because of the amazing hospitality that Kenya offers. The travel process is so simple to the gallant people that desire to visit Kenya.
To travel to Kenya, the first noticeable requirements are:
Visa and Passport: A passport valid for at least six months from the date of entry is required by all persons from different countries offered by their own Governments.
A visa to Kenya can be acquired from The Kenyan Embassies or High Commissions in the different countries. Visa has different types with different prices but costs are subject to change.
Types and cost:
Single-entry e-Visa: US$50; East African tourist e-Visa: US$100.
Multiple-entry e-Visa: US$100 (six to 12 months), US$150 (12 to 24 months), US$200 (24 to 36 months).
Single-entry visa in advance: £40; East African tourist visa in advance: £70.
In addition, Visa arrangements can either be made through a tour Agency, Embassies and Tourist Offices located in the different countries.
Also when travelling to Kenya, these other requirements are needed:
Medical checkup and Permit for Yellow Fever are required for the safety and health of the travelers to Kenya. Vaccines for diseases such as yellow fever, malaria, hepatitis B, Typhoid, Meningitis, cholera among others are required.
Basing on the hot and dry seasons, visitors are required to either carry jackets especially those travelling in wet seasons and also at night its cold in some parts of Kenya.
Kenya's currency is shilling but embraces other currencies most especially the Dollar. When you come to Kenya, you can make an exchange of the Dollars or any other currency to shillings for convenience. Visa cards of different banks can be used in some places like hotels, shopping villages, around the capital city and other major towns but not in remote areas where they require cash and / or in shilling form.