February 21, 2019
Posted by:

Administrator2

Categories:

Gorillas, Holiday, uganda gorilla tour, Uganda safaris, Wildlife safaris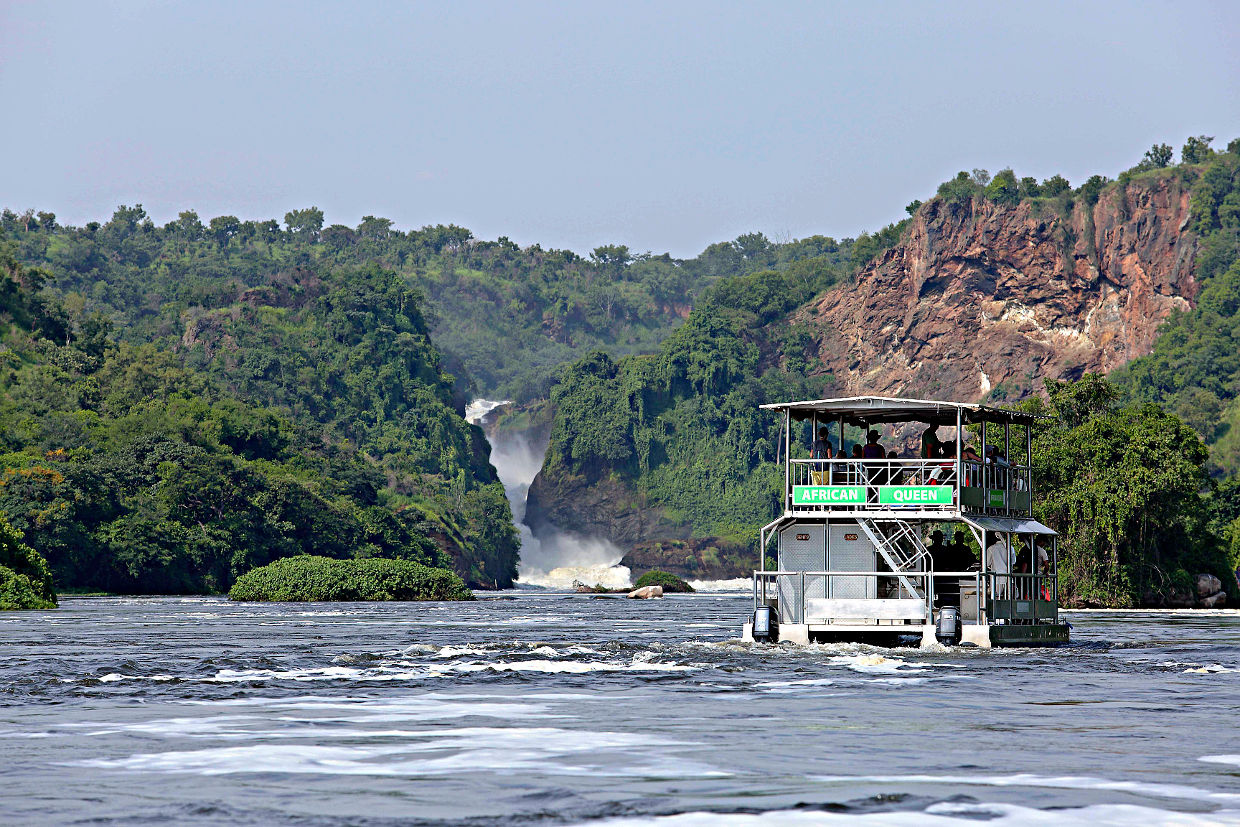 Launch/Boat cruises in Uganda.
Almost on every mention of an African safari, most travelers think of visiting a dry and dusty land, with woodlands so dry and with brown Savannah grasslands. Yes, this is true, dusty roads, brown savannah grasslands and sand dunes are all that trotters can explore in the Saharan and sub Saharan countries.
But a country like Uganda that is strategically located in the great lakes basin and around the tropical equatorial region of Africa, and yet still crossed by the rift valley escarpment is a very vital signal that Uganda is doubtlessly a water country.
From Lake Victoria; Africa's largest fresh water lake, Lake Bunyonyi which is the second deepest lake in Africa after lake Tanganyika in Tanzania, Lake George and Edward that are joined by the famous Kazinga channel, to rivers like the legendary Nile and crater lakes, no trotter can surely ever go wrong on boat trips in Uganda.
Lake Victoria. Back in age popularly known as Nalubale Lake, it provides the best leisurely boat trips in Uganda and definitely one of the prime cruises one can ever undertake in Africa. Whether it's a lake transfer, or just a ride to the center of the lake and back, be sure of perfect crafts that furnish all the comfort as you sail on the calm waters of the Lake. Lake transfers usually go to some of the islands that make up the archipelago of Ssese islands like Ngamba Island Chimpanzee sanctuary for chimp viewing, and to other luxurious resorts in the interior of the lake. Sunset cruises expose travelers to clearer views of the golden setting sun in Uganda, local fisher men and perhaps take you to some of the nearby communities.
Kazinga channel in Queen Elizabeth national park. This is probably the longest channel in the world, it joins two large rift valley lakes; Lake George and Lake Edward. Travelers cruising on the channel are opened to the world's largest concentration of hippos, hundreds of hippos dwell here due to the shallow ends.
Still travelers spot elephants, warthogs, buffaloes and other wildlife species that always collect up on the channel for drinking water. While in Queen Elizabeth national park, cool off from the hectic yet amazing game drive with an awesome relaxation as you calmly sail on the channel.
Source of the Nile River. This is Africa's longest river that goes through four African countries; Uganda, South Sudan, Sudan and Egypt. Luckily, it is believed that the source of this longest river in Africa is situated in Uganda's eastern region as discovered by John Speke. Thousands of world geographers hit the pearl of Africa just to sail to the exact center where the magnificent River Nile is believed to start from. If you have not had this great experience of standing where the Nile source is, you are missing out on one of the most magical experiences in the world. An experience that boosts your self-esteem and gives you a feeling of achievement and accomplishment.
Murchison falls National park. This is home to the world's most powerful water falls, the Murchison falls with thousands of water volumes of the Nile River squeezing up a 7 meter gorge per second to get its way from the Victoria Nile to Lake Albert. A boat ride on the Victoria Nile gives visitors a clearer view of these eye catching falls, the Devil's cauldron, the crocodiles, hippos, sea birds and several wildlife species that collect up at the Nile in the afternoons to quench their thirst.
Lake Bunyonyi. Talking about the most unique feature about this lake, you might think these are just exaggerations of the beauty of the pearl of Africa, but Lake Bunyonyi is the second deepest lake in Africa. A lake that is dotted with more than 20 islands including the punishment island (a famous island where the ancient Bakiga girls would be dumped to die in isolation after getting unwanted pregnancies). A boat trip on Lake Bunyonyi takes travelers to the numerous islands, an experience that has not been attained anywhere else in Uganda except this deepest lake in Africa.
Beyond a shadow of doubt, Uganda is one of those African countries famous for luxurious and leisurely boat trips given a variety of water bodies. And if you had not booked your Uganda safari tour, it's the right time to book one.