August 1, 2023
Posted by:

Love Uganda Love Uganda

Category:

Blog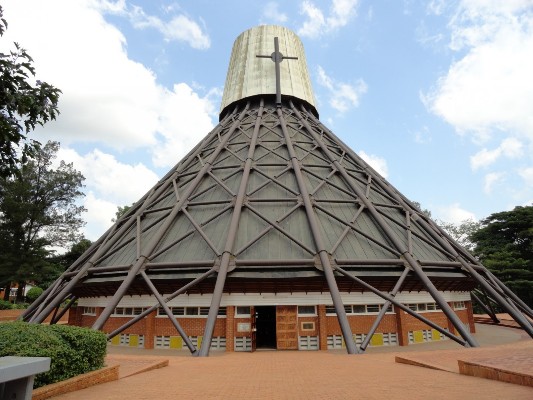 Discover Religious Sites on a Uganda Religious Tourism Safari Adventure
An insight into planning a Uganda safari involving the best religious tourism sites in Uganda. While tourism in Uganda continues to take new shape in terms of development, different religions have spotted an opportunity and hence turned some of the congregation centers into tourism religious sites. Uganda is one of the countries whose political and social history has a direct relationship with religion. Irrespective of what you call religion, I would wish that we agree on one point that is – one's faith in spirituality. Whether, you believe in God, Allah, or other gods, the point remains similar.
Like any other society, Uganda has different religions. The dominant population are Catholics, Anglicans, Muslims, and Sevenths Day Adventists (SDAs). If we are to look at the traditional African Societies like the Bachwezi believed in their god. It is believed that within the Bigo-Bya'mugyenyi (in western Uganda), dwells their trace. This is one of the top cultural and traditional tourism destination sites in Uganda.
Thousands of travelers from time immemorial have visited this site and learned a lot of interesting traditional stories.  Additionally, during the time of colonialism, their success in African countries – Uganda to be specific, in regards to winning hearts, religion was of a significant role. Even in the times of ancient Biblical days, tourism was one of the activities that took place. Kings loved artistic places, and patriarchs moved from one destination to another in search of new adventure, peace and exploration. This therefore implies that modern times have got to embrace religion as part and parcel of the tourism game.
Visit the top religious tourism sites in Uganda during the festive season for amazing religious tourism experience in Uganda
Top Religious Tourism sites in Uganda 2023/2024
With no further do, allow me take you through the prominent religious tourism sites in Uganda. 
Gadhafi National Mosque is a mosque located at Kampala Hill in the Old Kampala area of Kampala, Uganda. Completed in 2006, it seats up to 15,000 worshipers and can hold another 1,100 in the gallery, while the terrace will cater for another 3,500. Colonel Muammar Gaddafi of Libya commissioned the mosque as a gift to Uganda, and for the benefit of the Muslim population. Uganda has many mosques but this one is a skyscraper mosque.
The completed mosque was opened officially in June 2007 under the name Gaddafi National Mosque, and housed the head offices of the Uganda Muslim Supreme Council. It was renamed "Uganda National Mosque" in 2013 following the death of Colonel Gaddafi as the new Libyan administration was "reluctant to rehabilitate the mosque under the old name."
The mosque has a seating capacity of 15,000 worshipers and can hold another 1,100 in the gallery, while the terrace will cater for another 3,500. It has a visitors' interpretation center, a conference hall, and a library.
On this mosque, it is where you can see all the 7 ancient hills of Kampala namely; Namirembe hill, Mengo hill, Makerere University hill, Kololo hill, Nakasero hill, Rubaga hill and Old Kampala hill. The mosques has beautiful sceneries inside and outside and in usually offered by Love Uganda Safaris in the packages that involve Kampala city tour.
Kibuli Mosque
Kibuli Mosque is one of the biggest mosques of Uganda with a beautiful view over Kampala. The mosque has been the principal seat of the Muslim faith since 1884. The first Mosque at the site was built in the late 1800s, the current Mosque was built in 1951. The mosque campus houses a school and a hospital. It is found on Kibuli hill and it is regarded as a home for Muslims. For a small fee you can visit the mosque and the towers as well. They hold Prayers five times a day and you can hear it from far.
Namugongo Martyrs Shrine
For their refusal to denounce Christianity, 45 young converts of the Catholic and Anglican faiths were on the fateful day (June 3, 1886) burned to death. This was done on the orders of by Kabaka Mwanga II. He was  the then king of Buganda –at Namugongo. As a tribute to them, a shrine designed by Swiss architect Justus Dahinden was built in 1973 at the site. The Uganda Martyrs shrine Namugongo is situated about 14km from the city center of Kampala. This religious site hosts prominent people. These include the catholic top leaders like Pope Paul VI and many significant political leaders. Before his visit to Uganda in 1993, Pope Paul VI had canonized the 22 catholic martyrs. He then considered them as saints in the Catholic Church.
A Visit by Pope Francis
Pope Francis visited Uganda recently and as well paid a visit to this popular site, Namugongo shrine. According to the written history, only 45 people are known to have been persecuted but it is possible that many other Christians were killed by Mwanga II for the same reason but not much data is available concerning their deaths.
The Uganda Martyrs Shrine Namugongo is a worthy tribute, an architectural land mark, with rich historical touch and a sound religious monument. The shrine has become a popular tourist attraction as it pulls thousands of visitors to tour Kampala city and short Uganda safaris from all over the world, to come and pay tribute to the youthful men who died for faith. A multitude of pilgrims throng this place from all walks of life on 3rd June every year to memorize and pray for the martyrs, and this is a day to pray, repent and memorize the benevolence from the almighty. 
4. Bahai temple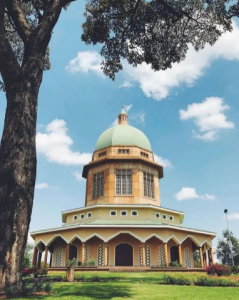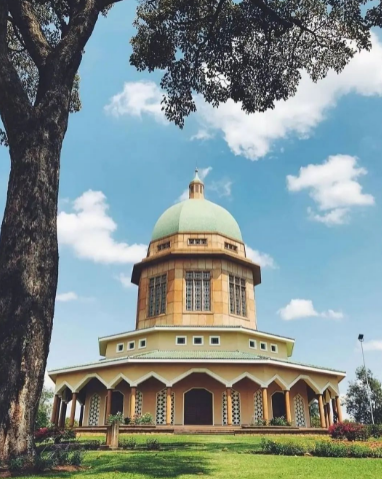 The Baha'i Mother Temple of Africa, also known as the Mashriqu'l-Adhkar, is the only Baha'i temple on the continent and one of only nine around the world. Built in 1961, the temple on the hill is located about three kilometers (two miles) from Kampala city in Kyebando. The architect of the building, Charles Mason Remey, worked closely with Shoghi Effendi in developing the design.
The architectural firm of Cobb, Powell, and Freeman which designed the Bulange adapted the design to local conditions and oversaw construction. The Bulange is  the administrative center of Buganda kingdom. It is also one of Kampala's most important buildings. Work on the foundations began in October 1957, a month before Shoghi Effendi's death. The foundation stone was laid on 26 January 1958 as part of an intercontinental conference Shoghi Effendi had called. About one thousand Baha'is gathered for the ceremony in which Shoghi Effendi's widow,  Ruhiyyih Rabbani, and Musa Banani, the first Hand of the Cause of God in Africa, participated.
The Bahai Temple of Worship and surrounding grounds is a sacred and special place built for prayer and meditation. It is made available to people of all faiths and races. You are welcome to visit the Bahai Temple of Worship every day between 8:00am and 5:30pm. Click here for  guiding instructions while at the temple.
Visit the Bahai temple during the festive season for amazing religious tourism experience in Uganda
Munyonyo Martyrs shrine
This is located in Munyonyo – Kampala city. The first 4 Christians were killed  here in 1886 These were later canonized by Pope Paul VI in 1964. Tourism activities include the annual religious pilgrimage, priestly-guided prayers, meditation, and religious events. While on your Uganda gorilla trekking safari, you can tour around this amazing religious tourism site in Uganda.
Mary's Rubaga Cathedral
Located on Rubaga hill in Kampala city, St. Mary's Rubaga Cathedral is the oldest Roman Catholic diocese in Uganda. It is the principal seat of the Uganda Catholic Church. The French Catholic missionaries (White Fathers) started constructing the elegant cathedral in 1914. Completion was done in 1924, and consecration  in 1925. It is here that you can look at the remains of the first African Catholic Bishop – Archbishop Joseph Kiwanuka. Visit the Rubaga Cathedral during the festive season for amazing religious tourism experience in Uganda
Kigungu Landing site
This is regarded as the first place to welcome Catholicism in Uganda it is recognized highly by the catholic community in Uganda and other parts of the world. Two French missionaries, – Father Simeon Lourdel and Brother Amans crossed Lake Victoria in 1879 and landed on the Kigungu Peninsular. Every year, Catholics from different parts of the country converge here to remember these missionaries. It is something that can be added on your safari in Uganda.
Bishop Hannington Memorial Site
It is believed that the first Anglican British Missionary was killed on orders of the Buganda king in 1885 with 45 of his helpers. His names was Bishop Hannington.
The site sits on 220 acres of land located in Kyando Village, Mayuge District.
Paimol Martyrs Shrine
Located in Uganda's northwestern region, Paimol Martyrs Shrine is celebrated as a religious tourism site in Uganda. Here, 2 martyrs (Okello and Irwa) were murdered in 1918. These were accused of spreading Christianity in East Acholi, the present Day Kitgum District. Pope John Paul II beatified them in 2002. Each year, on October 20th, pilgrims gather at Paimol Martyrs' shrine to celebrate their martyrdom.
       10. The Nakayima tree
The Nakayima tree holds religious importance, in the district of Mubende, located in central Uganda. This tree has been revered for over four centuries. Is considered sacred by the community. People visit this tree to offer prayers and partake in rituals.
The Nakayima tree features a trunk, capable of accommodating multiple individuals at once and it is believed to possess healing properties. According to folklore the tree was named after Queen Nakayima, a ruler who sought refuge within its branches during times of conflict.
Presently the Nakayima tree has become an attraction among tourists from both international backgrounds. Visitors flock to this site to gain insight into the culture and traditions. The area surrounding the tree has been thoughtfully developed with amenities such as a visitor center, museum and cultural village. These facilities provide opportunities for visitors to delve deeper into the history and customs of the people.
Beyond its religious significance the Nakayima tree holds importance as well. It serves as a habitat for plant and animal species.
Thousands of travelers from all corners of the world practice religious tourism and you might be one of them. Uganda is a one destination in Africa that one should not miss on their religious sites safari.  Come enjoy the stories of martyrdom, the coming of Islam and Christianity whose roots are as old as colonialism. Now that you know the top religious tourism sites in Uganda, Book a Uganda safari for the best experience.