May 17, 2019
Posted by:

Administrator2

Categories:

Gorillas, uganda gorilla tour, Uganda safaris, Wildlife safaris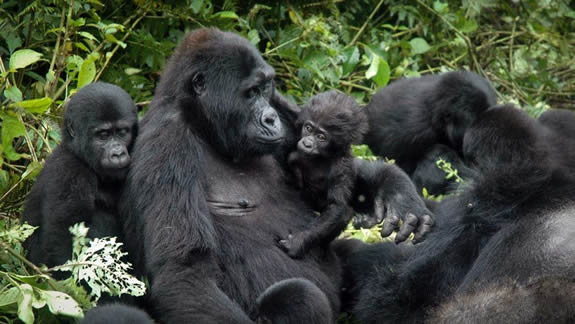 Nyakagezi gorilla family is still the only habituated group in Mgahinga national park; located in extreme southwestern corner of Uganda, Rwanda and the Democratic Republic of Congo.
Mgahinga national park is positioned among the Virunga massif, the eight volcanoes shared by three African countries, it is one of the only four world prime homes of the endangered mountain gorillas. Thousands of tourists are registered each year for having visited the park to engage in epic gorilla trekking safaris.
To hit you by surprise, Mgahinga has only one habituated gorilla group; Nyakagezi gorilla family, making only eight available permits for trekkers each day. The group has 9 members with 4 silverbacks, 2 infants, 2 adult females and 1 juvenile.
The group is led by a dominant silverback named Mark who took over leadership from his father Bugingo.  Mark now leads Mathew, Bugingo and Mafia (silverbacks), Nyiramwiza and Nshuti (adult females), Nkanda (juvenile), Mutagamba and Rukundo (Infants).
Nyakagezi is a unique gorilla family that even when Bugingo was overthrown, he still lives in the group which is not always the same case with other gorilla families elsewhere. In most cases, when the dominant silverback is overthrown, he quits the group to either form another family or become a loner. Just to refer to Mubare gorilla group in Bwindi impenetrable national park, when Ruhondozi was overthrown, he resorted to a lonely life till his death.
This family got its name from its place of occupancy Nyakagezi, a small spot in Mgahinga national park where there is a variety of food that is attractive to gorillas. It is the easiest group to trek in the world of gorilla tourism because it prefers a small home range to feed from, relaxing and recreation as well as nesting.
Nyakagezi group was famously known for its migratory character from Uganda to Rwanda and then the Democratic Republic of Congo. It was always on the move and it was very hard to be traced in which county they had crossed to. But Nyakagezi has currently settled in Mgahinga national park for quite some good years since 2012. And now tourists are assured of trekking experiences in this park.
Visiting Nyakagezi group furnishes one of the gorilla trekking experiences in the world. It doesn't only focus on the one magical hour of watching these mighty apes in the forest, but also the hunt of these impressive apes is equally thrilling.
Wandering through the slopes of the three Virunga volcanoes of Sabinyo, Gahinga and Muhabura is all an experience of its own. Having extremely amazing sights of the gorge, the beautiful flora, mix and mingle with the Batwa forest people, and sometimes even encountering other forest animals like golden monkeys, forest buffaloes and elephants as well as several bird species.
Besides trekking the Nyakagezi group in Mgahinga national park, trekkers can still do golden monkey trekking to meet these beautiful golden creatures, remember Mgahinga is the only park in Uganda where Silver meets gold.
Still tourists can do mountain climbing to the top of one of the three volcanoes found here, walk through the Batwa trail to meet the Batwa pygmies. See how they used to hunt, gather fruits and prepare their local food. About the Batwa cuisines, be sure of tasting them except to the ones that don't wish.  
The tracking permits for Nyakagezi gorilla group can be booked at the Uganda wildlife authority offices in Kampala or through a professional local tour agent.
Travelers are advised to book permits to Nyakagezi family in advance in order to avoid last minute disappointments since only 8 permits are available each day.
Just make it a point to take a gorilla safari in Uganda and meet this frisky and interesting family in Mgahinga national park. You will surely yearn for a return visit.