September 25, 2021
Posted by:

Love Uganda Safaris & Tours Ltd

Category:

Blog, Current News, mountains, Natural Forests, Rwanda News, Rwanda Safaris, Uncategorized, Wildlife News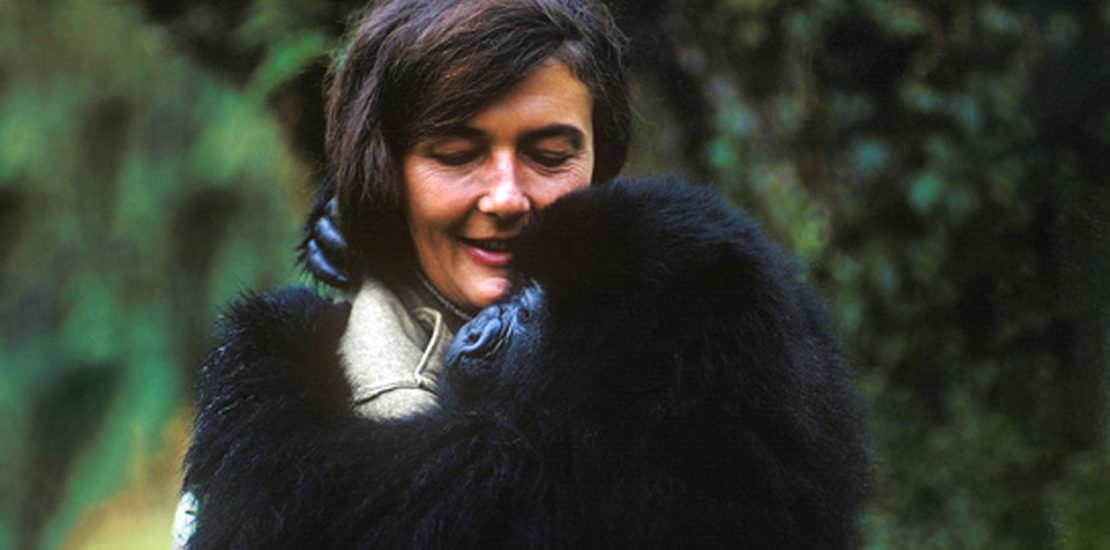 DIAN FOSSEY
Dian Fossey was born in the city of San Francisco, California in the year of 1932. She grew up with only her mother and step dad.  By all accounts she was an excellent student and she had passion for animals from a very young age. At the age of 6, she started horse riding lesson in her primary school. And when she advanced to high school she gained experience and engaged in the horse riding competition. She then earned a letter on the school riding team.
When Dian Fossey joined college, she applied for business studies and chose to focus on business at Marin Junior College. This was because she was motivated and inspired by her step dad, who was a very wealthy businessman. At the age of 19 on the summer break, she could go and stay at the ranch in Montana. Here she would assist with farmwork and taking care of animals. At the ranch she fell in love and developed attachment with the animals. Unfortunately within a short period of time she contracted the chickenpox disease forcing her to leave the ranch unexpectedly.
Due to the strong attachment to the animals, her experience at the ranch she was forced her to follow her dream to save animals and she returned to school where she applied for the course of pre-veterinary doctor at the University of California. Like any other student, she faced challenges with some course units like physics, chemistry course which were quite challenging, and ultimately, she turned her focus to a degree in occupational therapy at the college of san Jose, from where she graduated in 1954.
Graduation and beyond
After graduation, Fossey interned in various hospitals in California, working with the tuberculosis patients and crippled patients. After less than one year she was hired to work as a director of the occupational therapy department at kosair crippled children hospital where she enjoyed working with the people of Kentucky. She lived in outside the city on a farm still where the owner encouraged her to work with the animals and she enjoyed the experience on the farm.
Fossey enjoyed her experience on the farm, but she dreamed of seeing more of the world and its abundant wildlife. On one occasion, her friend travelled to Africa for a vacation. She brought back pictures of the wild animals in their habitat. And this inspired Fossy and she decided that she must travel there some day by herself.
Dian Fossey spent many more years longing to travel to Africa and realized that if her dream were to be fulfilled, she would have to take matters into her own hands. Therefore in 1963, Fossey took out a bank loan and began planning to travel to the African continent. She hired a driver by mail and prepared to set off to the land of her dreams.
DIAN FOSSY TRIP TO AFRICA
In September 1963, Dian Fossey arrived in Kenya in east Africa to fulfill her life dream which took all her life savings and a bank loan to make it to Africa. Her trip included a visit to Kenya, Tanzania, Congo, and Zimbabwe. She was served by john alexander a British hunter who was her tour guide to all the three countries. The route he planned included Tsavo, the Africa's largest national park, the saline lake of manyara, famous for attracting giant flocks of flamingos and the Ngoro Ngoro crater, well known for the abundant wildlife.
She as well visited the Olduvai Gorge in Tanzania the archeological site of Louis and Mary Leakey and Mt. Mikeno in Congo, where in 1959 American zoologist DR. George Schaller carried out a pioneering study of the mountain gorilla. Dr. George was the first person to carry out study of the mountain gorillas. And his efforts created the way for the research that would become Dian Fossey life time work.
DIAN FOSSEY TURNING POINT
When Dian Fossey visited the Oldvai Gorge she got chance to interact with Dr Louis Leakey who was a zoologist. And the experience that Dian got was later a turning point moment in her life. During the visit, Dr. leaky told Dian about the Goodalls work with chimpanzees in Tanzania, which at the moment was only in its third year. He also shared with her his long term beliefs and studies with the great apes. Fossey as well shared her passion with animals to the doctor and this impressed him. After her trip she returned to California and later on returned to Africa to fulfill her dream.
In December 1966, Dian Fossey was again on her trip to Africa. She arrived in Nairobi and with the help of Joan Root acquired the necessary provisions. She set off for Congo in an old canvas topped landrover named lily. It had been purchased for her by dr. leaky. On the way Dian made a stopover to visit the gombe stream research Centre to meet Jane Goodall and observe her research methods with .
THE ESTABLISHMENT OF THE RESEARCH CENTRE
Following the various visits to Africa, Dian Fossey decided to stay in volcanoes national park of Rwanda, protecting wildlife. Mountain gorillas were the main focus. She then established a research facility that played a big part in fighting poachers.  The encroachers  included cattle grazers through unorthodox methods.  A few ways by which they sacred them was by wearing masks, burning snares, spray painting cattle to discourage herders. Sometimes they took on poachers directly, forcing confrontation. She went on a head and used her own funds to purchase boots, uniforms for the park wardens.
THE TRUE BOND BETWEEN DIAN FOSSY AND DIGIT
Digit was name of the friendly gorilla.  In the course of  her research Dian, made a true friend of the mountain gorilla with which she established a strong bond. This gorilla was roughly 5 years old and living in group of four when she encountered it in 1967. It was a very playful and joyful animal. But unfortunately on December 31, 1977, digit was killed by poachers; he got killed trying to defend his group, allowing them to escape safely. He was stabbed multiple times and his head and hands were severely injured. Eventually there would be more deaths, including that of the dominant silver back uncle Bert, and group 4 would disband. It was then that dian declared war against the poachers.
DIAN FOSSEY DEATH.
Dian was found dead in her cabin on the morning of 27th, December, 1985. She was struck twice on the head and face with a machete. There was evidence of forced entry but no signs that robbery had been the motive. The theory of her murder has been not varied but has never resolved until today, she was laid to rest behind her cabin at Karisoke in volcanoes national park of Rwanda, next to her beloved friend digit.