1 Day Rwanda Gorilla trekking excursion
Remarkable 1 Day Rwanda Gorilla trekking excursion
Overview
The 1 Day Rwanda Gorilla Trekking Safari Excursion is an exciting experience that you cannot get anywhere else in the region. This brief gorilla encounter gives an opportunity to the limited time visitors to track gorillas and view the endangered Golden monkeys. Boast to be part of those few individuals in the world that have had a chance to encounter these critically endangered species and contribute to their conservation and protection.  The excursion can commence from Kigali city but it would definitely be better for the traveller to have an overnight in a hotel near Ruhengeri to avoid early morning transfers.
This gorilla encounter will necessitate a visitor to wake up in the wee hours of the morning, as early as 04:30 am to begin the 116km distance which is approximately 2- 3hours' drive to Volcanoes National Park where gorilla tracking activity is done. The drive will require you to pass amidst the magnificent rural landscapes of Rwanda while it is still dark, however you will be surprised to find the Rwandese already out as early as that time carrying out their daily errands.
By then you will have reached at the Park Headquarters' Kinigi at 8am for briefing. The park rangers will be able to give you the regulations  that apply during gorilla trekking and the various dos and don'ts for very activity though arriving prior offers you an opportunity of sipping a thrilling Rwandan coffee while being entertained by the interesting Intore dance exhibiting the authentic and rich Rwandese culture and history respectively. Embark on the real gorilla tracking that involves hiking across the wild  jungles of the Volcanoes in search of the respective gorilla family assigned and in company of those other colleagues in the team of eight individuals that have been put together with you to track a given gorilla group.
The regular time period for the gorilla tracking activity tends to fall between 2 – 8 hours but the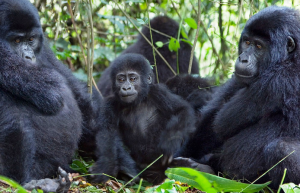 encounter is more thrilling. The hike across the thick jungle while watching the melodramatic views of Rwanda's flora and fauna, the impressive and vistas of the Virunga landscapes would definitely leave you in a state of bewilderment. You will eventually be allowed to have a one hour direct encounter with the mountain gorillas, while enjoying the beauty of their thick smooth fur and probably be entertained by the playful and excited young gorillas; this immediately puts your thoughts at rest deriving a memorable experience, worth the high charges of the gorilla permit.
Return from this amazing experience and embark on the travel back to Kigali city to mark the end of your 1day trip.
End of the safari with Love Uganda Safaris
Please book this tour now via our 24/7 hot line +256 392 177127 / 414 697719 OR via our email info@loveugandasafaris.com.
We are warmly waiting for your inquiry!
OR: FIND US AT OUR PHYSICAL ADDRESS
PLOT 83 SEMAWATA ROAD, NTINDA
KAMPALA, UGANDA